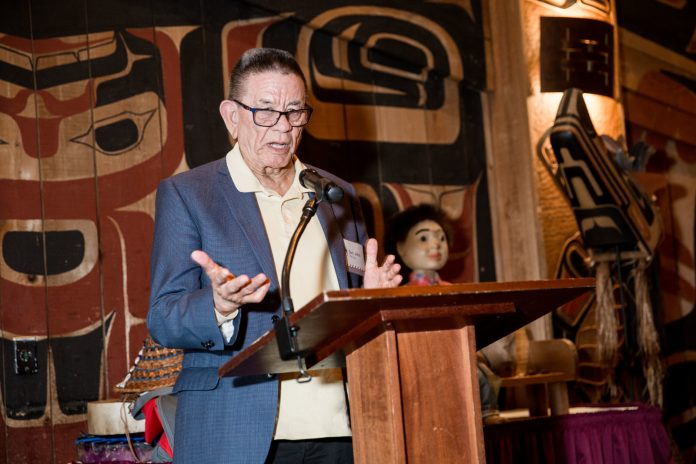 Submitted by The Evergreen State College
The Evergreen State College will bestow an honorary Master of Public Administration degree upon retiring state Sen. John McCoy during the college's virtual commencement ceremony on June 12, 2020. McCoy will also be recognized as 2020 Public Official of the Year by the college's Master of Public Administration program. Additional plans are underway to endow a scholarship in the senator's name to support future MPA Tribal Governance students.
Evergreen's faculty voted unanimously to bestow the honorary degree on June 3. Evergreen President George Bridges referenced the senator's leadership in the Washington State Senate, statewide contributions to education including passage of the Since Time Immemorial Legislation, legislation establishing tribal compact schools in Washington state and co-founding the Tribal Leaders' Congress in Education.
"Senator McCoy has provided extraordinary educational leadership for us at Evergreen," said Bridges. "He and his tribal nation helped establish the Tribal Governance concentration in our Master of Public Administration program, which faculty emeritus Alan Parker (Chippewa Cree) and Linda Moon Stumpff (Apache) co-founded. We look forward to celebrating the graduation of our 10th MPA Tribal Governance cohort this year."
In a recent interview conducted by Puanani Nihoa (Kanaka Maoli), MPA assistant director, the senator shared perspective on prioritizing education throughout his career.
"When I first came home and started to work on building the tribe's resources, one of those resources was getting our tribal members educated. Getting them educated was very important so that we could build on our resources and help our people grow," said McCoy.
"The motto of our MPA program is 'be the change'," shared MPA Director Dr. Michael Craw. "Senator McCoy has personally shaped the education of many of Washington's leaders as an adjunct faculty member in our MPA program and as the sponsor of numerous internship opportunities for MPA students. In his courses, Senator McCoy has provided the wisdom of experience that can only come from a skilled practitioner of governance and public administration. Senator McCoy truly has been, and continues to be, the change we hope to see in Washington and the world.
McCoy played an important role in the college's Enduring Legacies Native Cases Initiative which is now the largest academic Native case collection in the US. He also co-chaired the Evergreen Longhouse's capital campaign to build a 2,000-square-foot carving studio in 2019.
Evergreen Provost Emerita Dr. Barbara Leigh Smith, and Vice President for Indigenous Arts, Education and Tribal Relations Tina Kuckkahn-Miller, J.D., have joined forces to establish a scholarship in the senator's name.
"We are working toward an endowed scholarship fund that will allow the senator's educational and public service leadership to continue to impact current and future generations," said Kuckkahn-Miller (Ojibwe). "We encourage anyone who has been inspired by Senator McCoy's leadership to contribute to the fund at The Evergreen State College Foundation, which we hope to begin distributing during the upcoming academic year."
Donations are now being accepted for the Senator McCoy Scholarship.