Aristotle once said that "Quality is not an act, it's a habit." This is true of Olympia's Lasting Touch Memorials where they strive every day to make remembering your loved ones a comforting, streamlined process each step of the way. Thanks to a new partnership with granite suppliers in Ohio, your memorial headstone, bench, marker, or columbarium can be created, transported, and placed quickly and professionally.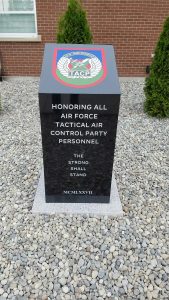 "It previously took 5 months to receive granite from overseas," explains owner Tony Ward. "Now it's 90 days or less. The turnover time is incredible!" Most quarries for headstone materials are on the east coast so stones are harvested, sent to Ohio for shaping, and then head west to Lasting Touch Memorials for the etching of names and dates before final placement.
Ward and his team do many projects for regional service members in and around Joint Base Lewis-McChord's Post Cemetery. One recent military memorial was a stunning square column engraved on behalf of fallen soldiers from the Air Force. Dedication participant David Devine described the final product as "amazing" and praised the whole process. Ward has also done work for the Mountain View Funeral Home in Lakewood, including two large pieces paid for and honoring the local Vietnamese community throughout the area.
Losing a loved one is never easy but having a place to visit helps. Find a gallery of headstones, benches, urns, and other products in Ward's online gallery or stop by the shop at 3700 Pacific Avenue SE to see a variety samples and examples. Lasting Touch can handle the entire process—including transportation and stone placement—at cemeteries nationwide. Let them craft the perfect marker for your family so you don't have to feel bogged down by red tape, delays, or specific cemetery restrictions. Call 360-458-9070 with questions.
Sponsored