On February 24, 2018, a large crowd of Mixed Marital Arts fans and curious spectators will be gathering in Nisqually to watch the inaugural promotion from local business duo, Frank and Haley Wellman.
Dominate FC, currently a twelve-fight card, including eight professional fights and four amateur matches, will bring MMA to Thurston county, local athletes and many enthusiasts. The co-main event, a 135-pound championship match, features two of our own: Eric Cronkhite and Justin Hugo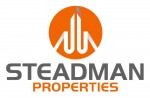 Fighting out of Eatonville and training in Yelm with Brad Pole at Elevate Martial Arts Center, Eric Cronkhite is a striker with a 4-3 win/loss record in MMA. His amateur record was 11-6, so this 23-year-old has some experience under his belt. His plan is to change that belt to a Dominate FC Championship one.
"I'm going to finish him in the first round," Cronkhite said of his opponent. "It's not going past that. The belt is mine. I've never been more confident for a fight.  I like him (Hugo), but I whole-heartedly believe he's not on my level."
Brad Pole clearly agrees with his fighter. "I'm not going to predict how we are going to win because Eric can pretty much win in any fashion. He can knock somebody out. He can submit them. He may want to drag Hugo to the judges. Depends on how much he (Hugo) pisses him off between now and then."
Pole, a Navy veteran who has been training fighters since 2004, is confident but focused on the work they still have in the coming weeks. "This is the longest notice we've ever had for any of Eric's fights. They (fight offers) are normally very short notice. I think we still have a lot of work to do. This is Eric's first time going down to 135 pounds, so on that end there is some work to do, but we are on the right track," Pole explained.
The underdog who plans on an upset in this bout is a 26-year-old from Olympia, Justin Hugo. 10-5 as an amateur and 3-3 in professional matches, Hugo was a wrestler in high school like many MMA athletes. One day someone suggested he try his talents in the cage, and something clicked. "For some reason when I fell into it (fighting), I fell in love with it," said Hugo. "I wasn't really big about getting punched in the face, but then I was like 'Well, this isn't that bad.'"
Hugo is at his best on the ground in grappling and submission situations, which make for a classic matchup against a striker. This is no surprise to either fight camp. "We want this fight on the ground," Hugo's coach, Brian Johnson, admitted. "We are conditioning his ground game and his striking, but Eric is at a whole other level of striking than Justin is. Within a short, 8-10 week training camp Justin is not going to be able to close that gap on Eric's striking, but, in my opinion, Justin is the superior grappler. That's where we are going to want the fight to be, and they know this."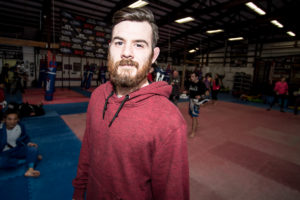 If anyone knows what it takes to prepare for a fight, it is Johnson. With 200-300 fighters trained to fight professionally or participate on the amateur side during his 17 years teaching on College Street in Lacey, Johnson is passionately confident in his fighter.
"I would not bet against him," said Johnson when asked about Hugo's chances. "Justin is that guy that takes chances and risks. A lot of times he gets a reward from it. He'll win when he's supposed to lose. I told Justin, 'Hey, they offered up this fight for you versus Eric. He's super tough and super well-rounded. Do you want it?' He didn't hesitate. He said, 'Yes!'"
Cronkhite did not sound concerned about where the fight ends up. "I'm gonna beat him everywhere no matter where the fight goes. Justin thinks he's a wrestler, but I'm not impressed. He can't take me down. I have two wins by knockout and two wins by submission, so I'm comfortable wherever the fight goes."
With so much dedication and motivation it is a shame someone has to lose. Hugo is trying to make MMA a full-time job to fully support his wife. Cronkhite, who suffered from bullying as a kid, wants to show current sufferers that someone out there cares about them. He says that wrestling saved his life.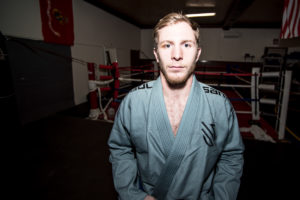 Such is the world of MMA: two young men, confident in their skills, ready to put their blood, sweat and tears into less than a half hour in a cage to prove themselves and make it to the next level.
This style of matchup is interesting not only to fight fans but the promoter as well. "Eric is a powerhouse with his knockouts and Justin has sneaky submissions," said Frank Wellman.
Wellman, co-owner of Vivid Fightwear with his wife Haley, is focused on providing a safe night of fights that brings entertainment and business dollars to Thurston County. He is doing that by making smart match-ups that make sense, selecting fighters early, being transparent with local gyms wanting a spot on the card and paying the fighters fairly.
"Everyone has been really positive in the community," Wellman said. "The promotion has been really easy on the support side."
Part of that support comes from keeping the sponsorships local. The major business sponsorships include 507 Motorsports in Roy, Steadman Properties based in Lacey, Mr. Doug's Restaurant in Yelm and Prairie Hotel also in Yelm.
The other secret to Dominate FC's success is Frank's wife. The areas that include details and "flair," as he puts it, are covered expertly by Haley Wellman, who has run a photography studio, graphic and sign shop and a custom embroidery and apparel shop.
Win, lose or draw, in the end these local fighters and coaches who all know each other will still be friends. Their respect and admiration for one another was clear even while pumping themselves up for the event. They will remain buddies in the end, but on February 24, 2018, the gloves go on, and they will see who gets to wear that shiny new championship belt.
The fighters will weigh in at 6:00 p.m. Friday, February 23 at Red Wind Casino's Coho Sports Pub. The public is invited to come watch the fighters as they see each other for the first time, pre-fight. This event is free and open to the public.
Dominate FC is taking place at the Nisqually Youth Center on February 24. Doors open at 6:00 p.m., and the action starts at 7:00 p.m. With an energetic crowd expected, a sell-out is possible, so get your tickets soon. $40.00 is the cost for general admission, $60.00 for VIP and $100.00 if you want to sit ringside and really feel the action. Tickets are available at www.vividfightwear.com.