William Shakespeare is one of the most highly acclaimed playwrights in history. In fact, most people have at least one of his works during their high school career. He's written dozens of plays, however, Romeo and Juliet may arguably be one of the most popular and well known. Capital High School is currently staging their own production of Romeo and Juliet.
Unlike your typical Romeo and Juliet story, this play takes place in a dystopian setting. The style is futuristic, similar to The Hunger Games or Divergent, showcased in the costumes and setting. Other techniques include projections used to change the setting, many of which include a destroyed city to enhance the dystopian setting.
Kristina Cummins, director of Romeo and Juliet, explains the main focus in telling this story is positivity and finding hope within darkness and desperation. She says the settings, costumes, and text support this. Jenna Cusack, assistant technical director of Romeo and Juliet says, changing the time period and setting of the play gives it a different perspective. However, the text itself has not been changed, keeping it authentic to the original play. CHS's Romeo and Juliet also includes several intense and entertaining fight scenes and a fantastic soundtrack.
The less heard perspective on any production comes from the students who work backstage. There are many different roles needed backstage to make a production come together. Cusack says they often switch roles with each new play to learn a new part of the production process. As the assistant technical director, Cusack explains some of the similarities and differences of working backstage versus performing. "We're all telling the same story, we just have different methods of telling that story," she says. "The actors main focus is to become a character. So for this show, Juliet has to study what her character's motivations are. She has to study why Juliet makes the decisions she does. Now let's say the sound designers, for example, have to look at the sound around them, and what's going on. They have to study what different sounds evoke different emotions related to what the characters are doing."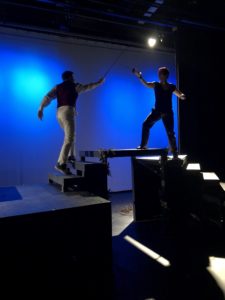 Cusack has participated in theater for six years, involved in many aspects of a show. With her vast experience, she explains some of the difficulties faced during production, the biggest of which is coordination. She says it's easy taking everything apart when you are learning it all. It becomes difficult once you start adding everything back together as there are many pieces that have to come together all at the same time. Timing and coordination are essential in bringing the production to life effectively.
After weeks of rehearsal and after working through challenges, Cusack reaches her favorite aspect of production. "Near the end of tech week, when everyone finally gets to that point where we feel like we have the show ready, there's a moment when it stops being hectic. It's not scary anymore, going through your cues. It feels natural."
Cusack also reveals some new innovations for this production of Romeo and Juliet. Not only will visual projections be used to change the setting but original composers have been added, which is a new feature for CHS's theater group. Cusack thinks it's an interesting way of incorporating the media we use everyday. These features will help enhance the style of the play and give new power to the story.
Although, it's a well known play, it's an important story to tell, even today. It brings up the topic of suicide and starts a conversation. "It starts this conversation for our society, which is something I think we shy away from. But mental illness and what's going on in teenagers lives is something that is really important," says Cusack. "The more we can talk about it the more it helps open that dialog."
Come see this unique and entertaining performance of Romeo and Juliet at Capital High School's Performing Arts Auditorium located at 2707 Conger Ave N.W. in Olympia. Doors open at 7:00 p.m. and the show begins at 7:30 p.m. The show runs January 18-20 and January 25-27. Tickets can be reserved in advance or purchased at the door and are $10 for general admission and $8 for students/senior citizens.
Visit the Capital High School Drama page or call the box office at 360-596-8053 for more information and to reserve your tickets.