Justin Hugo had returned from Belize a couple days before, but was still technically in honeymoon mode when he received the call.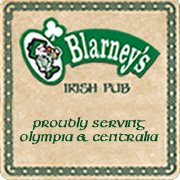 His trainer, Brian Johnson, was on the other end. A fight had fallen through at an upcoming CageSport mixed martial arts event in Tacoma and they were looking for someone to step in.
It had been a little more than 18 months since Hugo had made his professional MMA debut. He was coming off an impressive victory for the same promotion, but that was back in March. A lot had happened since then.
Tops on that list was his June 18 marriage to Alicia, followed by their trip to Central America where training took a backseat to things like enjoying the Caribbean Sea.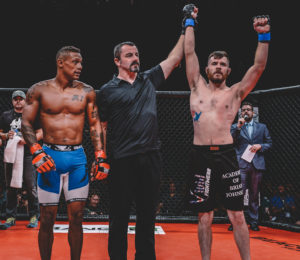 "I was probably 160 (pounds) when I was in Belize," said Hugo, who fought his first four pro fights in the 135-pound bantamweight division. "When Brian called I was probably 155."
Hugo asked Johnson, a six-time world sports karate champion who owns and operates the Brian Johnson Academy in Lacey, if he could have the night to think about taking the match.
To prepare for his previous fights, Hugo's training usually lasted two-and-half months, if not a couple weeks longer.
This fight was in six days.
"People thought it was crazy, taking it on such a short notice when I hadn't even been in the gym," Hugo said. "I figured I had maybe two rounds in me."
Turns out, Hugo didn't need it. He won by armbar submission 2 minutes, 5 seconds into the first round of his featherweight (145 pounds) bout against Jordan Mackin on July 15.
"The whole thing was kind of surreal," Hugo, a resident of Lacey, said. "As soon as (Mackin) got a hold of my arms I said, 'This is going to suck.' I knew I wasn't going three rounds. When he took me down I immediately felt him grab behind my head. As soon as that happened I went for his arm."
Next was the tap out followed by the roar of the audience.
"Before the fight my jujitsu coach J.J Martin (of CapCity Jujitsu) made me a bet and told me if I could sub him he'd give me a blue belt," said Hugo, who celebrated the victory by jumping on the side of the cage and shouting "six days" to the sold out Emerald Queen Casino crowd.
To the outsider, the win seems like it happened in a flash, but the truth is, Hugo's path has been headed towards this since he first started wrestling at the age of 6.
"I can't image my life without it," the 24-year-old Hugo, who wrestled collegiately at Highline College, said about MMA. "For some reason, fighting was my outlet."
His usual days start around 4:00 a.m. when he begins the 90-minute drive down to Longview where he works as a roof loader – a physically demanding job where many would opt to take it easy following a day's work.
Hugo, after making the long return trip back home, however, follows up his workday by training until 10 p.m. at the Brian Johnson Academy.
"This is really my first home," Hugo said about the gym. "My second home is my house where all I really do is sleep. I work, train, go home and then start all over again the next day."
It was a type of life his new wife was unfamiliar with when they first started dating three years.
When he initially told her what he did she responded with confusion.
"She didn't understand what MMA was," Hugo said. "She asked what I did and I told her I get in a cage and punch people. She said, 'Ok. That's weird.' I was an amateur when we met. The first time she saw one of my matches was about two weeks into the relationship. I was fighting in a title fight in Aberdeen. The whole time she was freaking out."
Hugo won a championship that night, in addition to a new fan.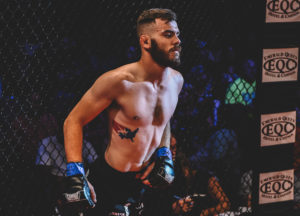 "She's awesome. She puts up with everything that comes with it – all the traveling, not being home until 10 at night," Hugo said. "I'm fighting to give my wife and my family a better life. That's pretty much all I am thinking about when I'm in there."
A perfect 2-0 in 2017, Hugo is making a push to challenge for the CageSport bantamweight championship at the promotion's next show on October 14 at the Emerald Queen Casino.
"I told Brian I want to be fighting the best on the best shows. CageSport is where people get recognized. That's where I want to be," Hugo said. "Here in the Pacific Northwest, the 135-pound division is stacked with a lot of great fighters. These are the people I want to fight. I feel if you give me a three-month training camp, I'll beat anybody. Obviously, the goal is the UFC."