Submitted by Washington State University 
Sink your teeth into a colorful assortment of tomato varieties, and the difference in flavor from one to another is obvious and delightful. But what about spirits made from different varieties of grain? Could different barley varieties provide the basis, for instance, of distinctively flavored whiskeys?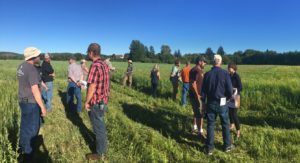 About forty attendees gathered at Hidden River Farms outside of Montesano, WA in July to learn about just that. That is the site of a research project, supported by funds from the Center for Sustaining Agriculture and Natural Resources BIOAg program, to evaluate germplasm in the WSU barley breeding program for craft malting, brewing and distilling.
One outcome of the work could be release of a barley variety specifically suited for these craft beverage markets. With a little work, market development, and a lot of supply chain teamwork, researchers also hope the work supports development of a high-value market for western Washington grain farmers.
The field walk, and research project, was organized by a diverse farmer-distiller-researcher-Extension collaboration, including the operator of Hidden River farms (Evan Mulvaney), owner of Sandstone Distillery in Tenino, WA (John Bourdon), the Thurston County agriculture faculty (Stephen Bramwell), a WSU barley breeder (Kevin Murphy), and a WSU distillate analysis expert (Tom Collins).
During the event, attendees learned about the end-use characteristics and agronomic performance of seven barley breeding lines and two named varieties. Planted to a total of a half-acre each, the varieties (upon harvest) will be divided out across a micro-malting facility at Oregon State University, Bourdon's micro-distillery in Tenino, and a University of Wisconsin lab for analysis. Most of the harvest (about 1,000 pounds of each variety) will go to Bourdon for distilling.
Also in attendance at the event was Shauna Stewart, Executive Director of the Olympia-Lacey-Tumwater Visitor and Convention Bureau. Stewart told attendees that the majority of tourists today are travelling for food-related experiences. Craft spirits, distinguished by variety and region, could be very attractive to visitors to the region, she said. With strong partnerships up and down the supply chain, such products could create a lucrative market at a time when many grain farmers in south Puget Sound are idling combines due to poor prices and lack of markets.
Following distillation at Sandstone, samples of the unaged whiskey will be sent to Tom Collins at the WSU Richland Wine Science Center. There, Collins' team will evaluate the product for differences in chemical flavor compounds, followed by evaluation by a sensory panel. The unaged spirits will provide the best opportunity to detect impacts of variety on flavor, before barrel aging introduces variables that could mask subtle differences.
Ultimately, the research team wants to cultivate interest among producers and consumers of craft beer and spirits, and translate that interest into grain prices that will inspire south Puget Sound farmers to fire up their combines. For more information contact Stephen Bramwell: bramwell@wsu.edu.