There's nothing better than taking a leisurely summer trip to the beach. Escape the hustle and bustle of Thurston County and head west to the beautiful, pristine north beach area of Grays Harbor. It's the perfect weekend getaway. Copalis Beach is just a mere 90 minutes away. And for the perfect addition to your short road trip, stop in Aberdeen to caffeinate at the South Bay Coffee Company. From lavender lemonade to mouthwatering mocha, you'll find the perfect sweet treat for your drive.
Once you arrive in the north beach area, you'll find plenty to do from taking in the beautiful scenery, razor clam digging (in season), bird watching, fishing, great hiking and lots of aquatic sports. But where, exactly, to start? Here is a quick and easy guide to help you plan the perfect north beach vacation.
Moclips and Pacific Beach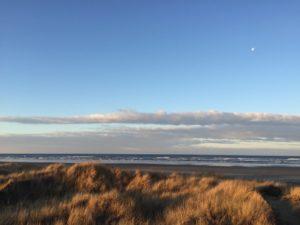 Besides being renowned for its gorgeous beaches, Moclips is also well known for the Museum of the North Beach. This local treasure is chock full of fascinating historical items and interesting curios. You'll find records from the 1964 tsunami and a fully restored 1910 wedding dress from the region's first "royal" family. Plus there is a train room showcasing an assortment of memorabilia from the Northern Pacific Railway Company. And visitors love looking through the growing exhibit of recent Japanese tsunami debris collected from local beaches.
While you're in town be sure to stop by the Sea Gate Restaurant & Lounge for a casual and delightful meal you won't forget. The burgers are big and juicy and the pizza is top notch. Afterward stop into Emily's Confections in Pacific Beach for a delicious treat. Then take a nice stroll around town to discover the many hidden treasures it has in store.
For a great place to stay, check into the Ocean Crest Resort. This local gem has been family owned for three generations. The resort is ideally located between the forest and the sea, so guests can enjoy both. Its clifftop location also offers breathtaking views that will make the experience all the more memorable. Ocean Crest Resort also offers the best in comfort with a spa, indoor pool, health club, restaurant and cocktail lounge.
Or for lodging right in town that's nearly beachfront, try the Sand Dollar Inn located in Pacific Beach. This property offers stand-alone cottages, a romantic penthouse and suites with kitchens, ideal for any size family. With its location adjacent to Pacific Beach State Park, this property is perfect for those travelling with camping friends, who prefer a "real bed." 
If you're looking to expand your trip, a short thirty minute drive to the northeast will bring you to the breathtaking natural landscape of Olympic National Park. This area treasure abounds with lake-shore beaches, scenic glacial peaks and waterfalls. It is also home to the breathtaking Lake Quinault and the only temperate rain forest in North America. 
Copalis Beach
This quaint coastal community is ideally situated where the Copalis River meets the sea. This scenic area is laced with hiking trails and offers excellent razor clam digging starting in the fall, beach combing, bird watching and fishing. Be sure to stop into the Green Lantern Pub for some great food in a fun and unique environment. The new owners are making this long-time local hangout a family-friendly gathering spot for the community.
For a little adventure, bring a canoe or kayak and paddle to the Ghost Forest. This unique red cedar and spruce forest was turned into a salt marsh by a large earthquake over 300 years ago.
Nearby Iron Springs Resort offers completely renovated cabins with new kitchens, fireplaces or wood burning stoves, enlarged bathrooms, flat screen satellite TVs and DVD players. Guests enjoy restored hiking trails and private beach access. You can easily take a relaxing stroll along Copalis Beach or head over to Pacific Beach State Park. At the end of a fun day, enjoy a beachside fire pit as the sun sinks into the Pacific.
Plus Iron Springs Resort is pet friendly. They go out of their way to welcome your furry friend with dog bowls, towels and a washing station in each cabin. Plus, you get a free tennis ball with a treat at check in.
Seabrook
This delightful coastal community has something for everyone. Guests enjoy a wide variety of amenities including a horse barn, pool, parks, tennis courts, playgrounds, dog parks and more, all within easy walking distance. In addition, the town offers many delicious restaurants, quaint boutiques and the luxurious Spa Elizabeth.
Seabrook was built around principals of new urbanism, which means the town was created with an emphasis on walkability and connectivity. It shows. This town is so great, that it was featured as Sunset Magazine's original Idea Town. It was also named one of Seattle Magazine's Best Pacific Northwest Vacations in 2017 and one of Coastal Living magazine's Best Places to Live in 2017.
The town is surrounded by a series of environmentally conscious trails weaving through breathtaking spruce forests and amazingly preserved coastline. Visitors can follow a winding trail of crushed oyster shells and reclaimed cedar to the beach where they can stroll for miles, hunt for the perfect shell or simply kick back in a beach chair and relax.
There's no better place to spend your carefree summer days than Seabrook. Rent a bike from Buck's Bikes for a leisurely ride through town or rent a surf board and wetsuit and hit the waves. Take a meandering stroll through the town's unique shops, grab a savory slice from Frontager's Pizza Co. and get creative at Imagine That! Pottery Painting Studio. Be sure to take in the elegance of The Stowaway Wine Bar and Cheese Shop and grab a sweet treat at Red Velvet Bakery by the Sea or Sweet Life ice cream parlor and candy store.
If your furry friend is along, be sure to stop by the dog park and The Salty Dog which hosts "Yappy Hours" and other dog-friendly events. All town activities, shops and restaurants are open to all but for the full experience, be sure to book a stay in one of the many rental homes located around town.
You can book one of the town's many attractive vacation rentals through  seabrookwa.com which donates one percent of profits to the Seabrook Community Foundation. This foundation provides scholarships for local students and supports local organizations.
Roosevelt Beach
Just three miles south of Seabrook you'll find Roosevelt Beach. This amazing beach is flat, spacious and you can drive your vehicle right onto the sand. Abundant sea life including crabs makes strolling along this beach fun for the whole family. The beach is dotted with little lagoons offering the perfect place to jump and wade safely for little ones, far from the pounding of the breakers. Beautiful cliff-side views make this beach particularly memorable. Bring a blanket, chairs and a picnic lunch and make a day of it. You'll find plenty of space to run, throw a Frisbee or fly a kite with no crowds in sight.
Grays Harbor's North Beach is teeming with awe-inspiring and beautiful sights. You'll find plenty of fun activities to keep you busy for an afternoon, a week, a month or more. The deeper you explore, the more fascinated you'll become. Be sure to include this spectacular area of Grays Harbor County in your summer plans.

Sponsored