Food can have an extreme influence on society. Expressing the essence of time and culture through a simple recipe can promote potential as fast and natural as the butterfly effect. Eastside Big Tom continues to use classic recipes and familiar flavors as a vessel to communicate a nostalgia and respect for the past, speaking to both young and old.
It was 1960 when Chuck Fritsch started working at Eastside Big Tom, then known by another name, Eastside In and Out Hamburgers. The concept and goals of the restaurant were to serve efficient and accessible drive-thru food, in an "In and Out" fashion. The owners at the time, Russell and Millie Eagan, had built the business from the ground up, including the famous "Goop" recipe. Offering Goop may not sound extraordinary, but it is a surprising contributor to the success of the restaurant over the years.
Millie Eagan would pack up the family in their Plymouth sedan and drive to the well-known Manca's Cafe in Seattle. What awaited up north was a fascinating burger with inspiring accoutrements. After many test runs, and endless saucy burgers for dinner every night, Millie had perfected, and could consistently replicate, her own specialty sauce. The literal mileage that was endured during the makings of Goop is a good representation of value, persistence and happy stomachs during Millie's trials and errors.
After nearly a decade as an employee of the Eagan family, Chuck Fritsch bought the restaurant from them in 1969.  To this day, Eastside Big Tom is still in the Fritsch family and is managed by the oldest son, Michael. There is still Goop as far as the eye can see.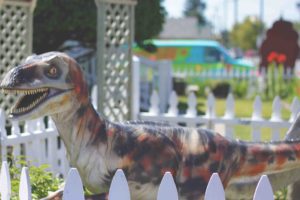 The Eastside Big Tom experience is different than what you might imagine when driving past the quirky Mystery Machine and dinosaur statues. A secret and beloved burger and ice cream oasis sits comfortably on the corner, a 100% kid-friendly eatery with pop culture relics from some of the greatest entertainments. "I'm just a big kid," says Michael, "still connected to my childhood. I fondly remember my great grandparent's toy box. I've replicated that box with the toys of my youth and also updated it to reflect popular culture."
The extravagant decor can be compared to a local roadside attraction and many stop in for the colorful character cut-outs and kitsch as much as for the food. "If I make you react, good or bad, I win the advertising game," Michael explains, noting that many kids just want to go to the "dinosaur restaurant". The restaurant truly is unforgettable and Michael shares how "I enjoy making memories for them. I hope to have them grow up and say, 'Do you remember us going to the place with the full-size dinosaurs?'"
Eastside Big Tom is a local treasure to be cherished and one that subdues the cravings for classic flavors and experiences of the past. Big Tom provides consistency as well. "Customers want their favorites from their youth. For nearly seven decades, the menu items that took away their blues or helped them celebrate their milestones haven't changed." Michael notes that there's nothing more satisfying then having a customer tell you that the burger you just made them "tastes exactly how they remember it from years ago."
With a menu that includes mostly burgers, dogs and their fried side-dish partners including fries, tots and rings, it's comfort food at its finest. For those who live on the creative side, specials like the Holy Cow – a beef burger with bacon, jalapenos, pepper jack, chipotle, mayonnaise, lettuce and tomato – and the Dirty Bird – a chicken version of the above – won't disappoint. Shakes are another classic crowd pleaser that Big Tom does in style. Special shakes, like birthday cake on Michael's grandmother's birthday, draw the crowds and buy one get one free soft-serve cones every Monday make Big Tom the perfect after-school treat stop. By keeping things simple and classic, Fritsch ensures his customers know what they are coming in for, and they get it.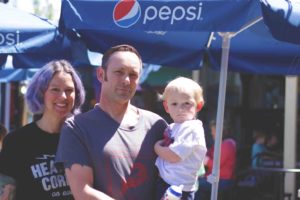 The classic eatery is now accepting debit and credit cards, a much-anticipated and welcome addition for loyal visitors of the drive-thru. It has a large lot for parking but plans are in the works to convert it to a 9-hole Putt-Putt golf course, sure to be a favorite among young and old. Goop galore and weekly specials make Eastside Big Tom a place everyone in the family can agree on. And, the staff creates an environment that compliments the food. There is no "man behind the curtain" here or fancy window dressing. What you see is what you get and that's just how Michael likes it.
The formula for Washington's oldest drive-thru burger joint is simple: make people happy with food that brings back fond memories and can create new ones. When you get down to its roots, Eastside Big Tom is a family business in the business of bringing together families.
Eastside Big Tom
2023 4th Ave E. Olympia
360-357-4852