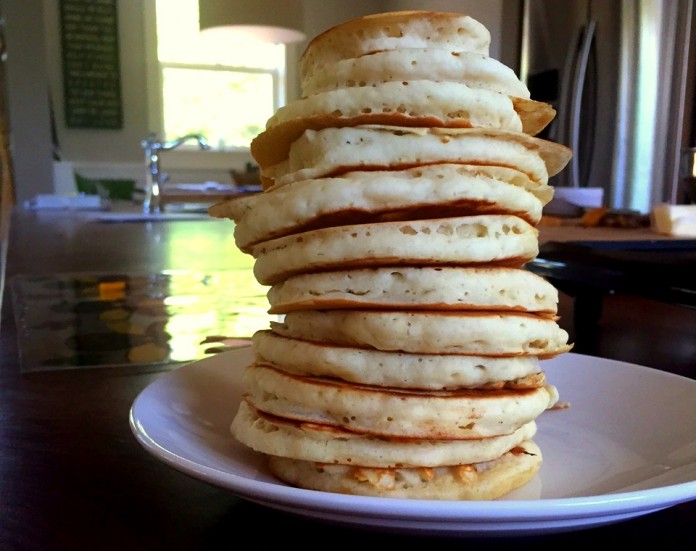 By Mary Ellen Psaltis

Call the first meal of the day breakfast, but call it delicious any time. Imagine your ideal morning feast. Is it crab cake benedict? A foamy cappuccino? Belgium waffles drenched with maple syrup and berries or eggs your way?
Many delicious options for a tasty breakfast are available in and around Thurston County. Early risers may have the most choices. Some restaurants don't serve it all day, but many do. Weekends will give you the chance to sleep in and get a meal that will keep you smiling the rest of the day.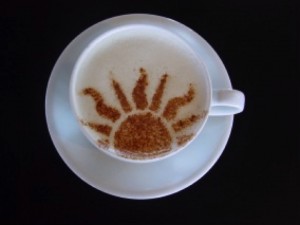 Traditions: Explore the treasures from around the globe before or after eating at Traditions Café and World Folk Art. Their full menu is available all day beginning at 9:00 a.m. on weekdays, 10:00 a.m. on Saturday, and 11:00 a.m. on Sunday. Breakfast connoisseurs might choose the quiche or the house-made granola. Most items are organic. There are tables for dining both inside and outdoors.
Quality Burrito: If you don't have to have breakfast before 11:00 a.m., you can fill up on a burrito with bacon, house-made chorizo or tofu. Plop into a booth at Quality Burrito and soak up an Olympia experience. The QB even delivers from 11:00 a.m. to 3:00 p.m.
New Moon Café: You can imbibe in a mimosa since the downtown Olympia establishment acquired their beer and wine license. Soon you can order a sake Bloody Mary. Kat Darger, one of the worker-owners, reminds you that, "We make everything in house, including our dressings, marinades, biscuits, and legendary blackberry jam."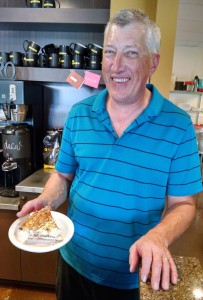 Martin Way Diner: This location (lasting through multiple ownership changes) has been serving classic American breakfasts for many years. The coffee is on every day at 6:00 a.m. If you order one of Martin Way Diner's breakfast plates, you will leave totally sated.
South Bay Pub & Eatery: Saturday and Sunday brunch starts at 8:00 a.m. and runs until 11:00 a.m. The South Bay Pub has been an excellent addition to the northeast neighborhood, but everyone is welcome!
Pat's Café: What looks like an old house delivers breakfast six days a week beginning at 7:00 a.m. This long-time location near the corner of Pacific Avenue and Carpenter Road is home to many regulars. Open 7:00 a.m. – 2:00 p.m. except Wednesdays.
Forza: Owner Tom Forrey and his mother-in-law Maureen McLemore are making their famous quiches with ingredients from ham to feta to vegetables. Almost everything in their glass case is made on site. Enjoy muffins, scones, banana bread or a breakfast burrito or sandwich. Lighter appetites might want a yogurt parfait. Yes, Forza has plenty of coffee, too.
Zoe Juice Bar: Maybe too much food too early is not your style. Zoe Juice Bar whips up smoothies and blends raw juice that might be easier on your stomach. Check out their acai bowls. Weekdays they are blending at 7:30 a.m. and weekends at 9:00 a.m.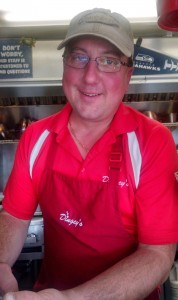 Consider the Olympia Farmers Market when breakfast comes to mind. The variety is impressive and most of the vendors open around 8:30 a.m., which is way ahead of the market bell that rings at 10:00 a.m. Although there are no inside tables, you can eat under cover.
Dingey's: Dan Ricklick is curing sockeye salmon with real maple syrup for your breakfast pleasure. The crab cake benedict is popular. Dingey's Puget Sound Cuisine includes a Swantown fry featuring fresh oysters grilled with bacon, onion, spinach and cheese.
Bavarian Wurst: Gordon Allen is a Waste Center volunteer at the Market who gently guides people to recycle properly. He's enthusiastic about the Bavarian Wurst Breakfast scramble. He said, "It's the best breakfast I've found in Olympia!" With fresh tomatoes, green peppers, ham, bacon and more, it's quite a combination. Pancakes, cinnamon french toast and country fried steak are a few more of your choices.
Heyday Café: Of course, they'll brew your favorite coffee drink, but if you are ready to eat, Heyday serves Belgium waffles, breakfast sandwiches, and yogurt with berries and granola.
Pithos Gyros: Mix your roasted potatoes with eggs, vegetables, tzatziki, and feta for a fine start to your day.
Los Tulenos: Chorizo is spicy sausage and you can use it to stuff your burrito. A burrito is an any-time meal. Find out more here.
Want even more options?  Try Mercato with donuts from the dessert menu. The Reef serves breakfast all day. Paco's Tacos opens at 9:00 a.m. Peppers offers delivery.
Breakfast is fun and ready when you are, Olympia.
Eat Well – Be Well