By Donna Wilson
On the 10-year anniversary of Hurricane Katrina, a group of Olympia High School students volunteered to spend their spring break building houses and helping families in New Orleans. The experience was so powerful that they already knew how they would be spending their next spring break.
Two years ago, Olympia High School (OHS) Principal, Matt Grant, learned about Shirts Across America, a student organized Seattle-based organization that helps move families into new homes in New Orleans and Mississippi. Principal Grant told his OHS students about the organization and its mission. To his surprise, 24 students were interested in offering up their spring break to lend a helping hand. Most of these students were in the OHS club Students Together Advocating for Non-Violence and Diversity (STAND).
The group of 24 students and four adult chaperones prepared for the trip earlier this spring by learning more about the injustices happening in New Orleans such as poverty and racism. Grant says one aspect of the trip was to learn more about the situation. "We need to understand the social systems that made this happen," he explains.
As students, educators and parents prepared, a few of the students were trained as core team leaders to help chaperones facilitate the trip. These students went on a leadership retreat and spent time learning about New Orleans. "I am much more tuned to the needs of people and communities outside of what I see before me," says core team leader Sitara Nath. "To be in touch with the world and aware of your role and impact is a real gift, and I was lucky to find that during this very meaningful week. The trip impacted my goals in that I plan to prioritize this kind of service throughout my life so that I always remain in touch with that strong dedication and desire to change the world, one step at a time."
When the students landed in New Orleans, they got straight to work, spending 6 to 8 hours a day building, painting, cleaning, putting floors down, and building fences with AmeriCorps students. The rest of the time was spent exploring the town through a series of scavenger hunts.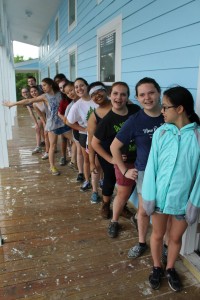 In addition to making a difference in the lives of others, students agree that a highlight of the trip was enjoying the food, arts and entertainment that New Orleans is known for. "One night we went out to the French District and ate together as a group — all 200 of us — at an amazing historic restaurant called Antoine's," says future core team leader Claire McGahern. "[It was] super fun and had fantastic food. That's another thing I learned about New Orleans, you can't go wrong with the food."
When the group returned, they shared their experience with their peers during an "Oly Love" assembly. Sharing stories and memories, the students didn't even think twice about it — they knew they would have to go back again next year.
Sixty students have already signed up to go back to New Orleans this coming spring break. "I love talking about meeting the homeowners of the houses I worked on," explains Claire. "People brought us food, gave us hugs. They were so thankful. It was really touching."
Julisa Brock will be a core team leader this coming year. "I came home and shared the amazing experience I had down there and how it has impacted my life and that problems don't just go away," she says. "I do know that I will want to continue to go to New Orleans, and continue to make change for people who do not necessarily have a voice."
A common theme for everyone that went on this trip was that they felt very blessed and thankful for the lives they have. Student Eric Carpenter says, "The trip to New Orleans has made me want to give back to my community and country. It really made me realize how well off I am compared to many others. In my future I would love to be able to go back and help more people get back into their homes. For me the hardest part was seeing all the people who still couldn't return to their homes because they couldn't afford to repair them after the hurricane."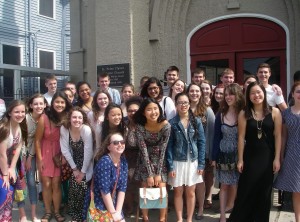 Feelings of gratitude and a desire to give have propelled this group of students to return to New Orleans next year, but the insight and perspective these students have gained is much more far reaching. "I've definitely gained a greater understanding of my role in a larger community outside just OHS or Olympia," Sitara explains. "There's so much that still needs to be done in New Orleans but what I did in that week suddenly showed me that as individuals, we have a responsibility to live up to our roles in communities in and outside our own."