by Mary Ellen Psaltis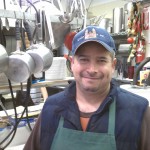 Food tastes best when it's fresh and fun, and it is even better for me when I know who is doing the cooking (or growing). Buying almost anything at the Olympia Farmer's Market gives you the chance to have all three of these criteria met. I want to help you with the names and faces.
Let's begin with a peek inside Los Tulenos, the eatery at the edge of the food row (that's the end closer to Anthony's). Chances are your order will be taken by the lovely Beljica Angeles who has worked there many seasons.  Then the friendly and enthusiastic Roberto Perez, co-owner, will be at the other window to hand down your Mexican delights. It's harder to spot Saul Serrano, the other owner, as he is usually away from the window busily cooking and filling orders, but he is there.
Both Perez and Serrano come from the Union of Tula in Mexico, not a tourist destination but it appears to be a great place to acquire cooking skills. Their food is lovingly prepared and brings the classic south of the border taste to us right here in the tropics of Olympia. You will find their menu items to be fresh, fast and fun.
The highlight of my visits to Los Tulenos is the sunshine that radiates from the heart of Roberto. It might be a gray day according the weather, but a little visit with Perez and a plate of chili verde (or taco salad, or chicken mole', or you pick) always brightens my day.
Mexican food may not be too not difficult to prepare, but some sauces have many ingredients and need hours to simmer the flavors together. You won't have to wait but a few minutes if you decide to eat at Los Tulenos. Tell them Mary Ellen sent you.
Eat Well –Be Well.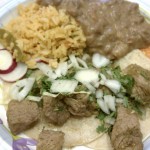 Chili Verde is a stew of tender pork and classic Mexican spices. Adjust the recipe to feed two or twenty-two. Here's a way to make some at home.
Pork – Chopped into bite sized pieces
Tomatillos
Green enchilada sauce or green chili sauce
Onion
Garlic
Cumin
Oregano
Cilantro
Lime juice
In a pot, simmer tomatillos with cumin, oregano, chili powder along with some green enchilada sauce and/or green chili sauce. Cook on low and be sure to stir it.
In a sauté pan, brown pork pieces with chopped onion and minced garlic. Add to green sauce and keep simmering. Cook for 2-3 hours. As the meat tenderizes, taste for spice level. Just before serving add a touch of freshly squeezed lime juice and chopped cilantro.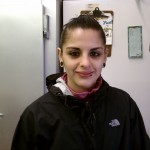 Your recipe could include any number of chilies such as Serrano, Anaheim, or jalapeno. Experiment a little. Remember the rice and beans, too. Ole!
Horchata is a creamy, rice drink that goes down like silk. Los Tulenos makes their own version. People who grew up with horchata have strong ideas about the way it should taste. Recipes on the Internet abound. It is a combination of rice, sugar, milk with vanilla and cinnamon. Some soak the rice, some cook it. This is another chance to experiment. Here's an idea: let Los Tulenos introduce you to horchata, and you can go from there.
Los Tulenos
700 Capitol Way N
Olympia, WA 98501
(360) 956-1404