By Heidi Smith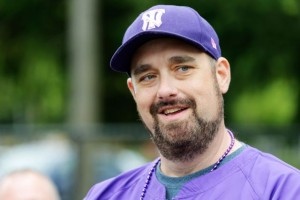 Unlike most school shootings, the one that occurred on April 27, 2015 at North Thurston High School did not end in tragedy. Advanced Placement social studies teacher Brady Olson was able to tackle the shooter, a sophomore who had recently transferred to the school, before he could inflict any damage.
At a recent Rotary Club of Olympia luncheon Olson, North Thurston Public Schools (NTPS) Superintendent Raj Manhas, and Communications Director Courtney Schrieve shared factors that contributed to the successful outcome that day and what they have been doing since to prevent such incidents from happening in the future.
As Manhas made clear, it's never possible to really be prepared for such events, but even before it happened, North Thurston Public Schools had been actively collaborating with surrounding districts to address school safety.
"Back in February 2013, Olympia, Tumwater and North Thurston got together and talked about having a safety summit," he says. "The purpose was to really raise the level of awareness in all of us that this was a serious problem. This was right after the Sandy Hook tragedy."
The conference they eventually organized included the sheriff's office, local police chiefs, fire officials and some of their staff, in addition to personnel who work with the school systems. "It was very well attended," he says.
Meanwhile, Olson was quietly thinking about what he would do if such an occasion ever arose. "I'm weird," he says. "When I go in a movie theater, I think, where's the exit? When I'm on a plane, I count the rows to the exit door because I know it probably won't be well lit if something goes down and I need to get my family out."
So when the day of the shooting arrived, two things happened. First, Olson performed a heroic act in tackling the would-be shooter. "People kept asking me what I was thinking in that moment," he says. "To be honest, there was nothing going on in my head because I had already thought about it a whole bunch: 'What happens if?'"
Next, local law enforcement and emergency services converged on North Thurston High School and effectively took over. "I was amazed and impressed," says Manhas. "Everyone was working as if they knew exactly what to do. The Lacey police and cities of Olympia and Tumwater were there. Everyone came. The summit that we had done really made everybody aware that we are together in this. I was so happy that that kind of support from our community was there."
In the aftermath, Manhas has continued to work with Olympia School District Superintendent Dick Cvitanich and Tumwater School District Superintendent John Bash to coordinate efforts and share knowledge. They've identified several key aspects of prevention that they are working toward in the new school year. The most important is continuing to build relationships.
"When incidents like this happen, you invariably find out that someone, somewhere, knew in advance," says Bash. "If you followed the Marysville Pilchuck shooting, you heard that multiple people, young and old, knew that this was going to unfold and didn't say anything. A focus in Tumwater School District this year is making every single classroom, every school, and our entire district a place where people feel safe enough that when they see something or hear something, they say something."
At North Thurston Public Schools, two programs are working toward that end. The first is called Positive Behavior Intervention Support (PBIS), a proactive approach to developing social and emotional learning in students through direct instruction. "It's not only about academics, it's about whether anything is going on at home or if they are struggling in any area," says Manhas. "On a regular basis we do student assessments and connect with our social services where parents and families can get some help. That has done amazing things for us." One significant result: Discipline issues are down 50% in the whole school system.
Another program NTPS has initiated is called Compassionate Community and it teaches students how to treat each other with kindness and respect by following the International Charter for Compassion. "Kids go home and they tell us that they're telling their parents, 'This is how we should behave with each other,'" reports Manhas. "We're educating them on how to take it out into the community." The partnership will expand to include City of Lacey this year and the district and City are planning a compassionate community event in January 2016.
The districts have taken more concrete steps as well, several of which were in place before the incident. "We have new surveillance cameras, safety alarms and video cameras for all of our buses," notes Schrieve. "We've added supplies in case of lockdown and visibility improvements. However, you can have all of these in place and something can still happen."
The next step is bringing in Jesus Villahermosa from Crisis Reality Training for an evening with parents and the community at Olympia High School in October. Villahermosa is a crisis management expert who was a guest speaker at a recent event in Chehalis. "He has a very interesting perspective," says Cvitanich. "A lot of the work that we do has been through school leaders eyes and not through the eyes of the people who perpetuate these situations or the people who plan for them professionally – like law enforcement."
For Cvitanich and the other superintendents, understanding how to think differently about the problem has become a top priority. "We've got a high performing school district in terms of instruction and student performance and we're really proud of that," says Cvitanich. "But at this year's administrative retreat, literally I had to say, 'That's number two. Number one is the safety and security of our students.' The instruction will take care of itself we but can't be relaxed about this."