By Nikki McCoy
When ThurstonTalk first reported on Zoe Juice Bar, the company was in its infancy, opening a small location next to Ralph's Thriftway in Olympia. Serving fresh, raw juice with exceptional service was the goal.
Now, 18 months later, Zoe Juice Bar has surpassed that goal – by making smoothies, offering cold-pressed juices, acai bowls, cleanse plans, and extending hours. Zoe Juice has recently transformed their location in Tumwater into a micro-juicery. From this location they now produce all of their popularly cold press juice and offer local delivery.
Recently, I met with co-owner Jason Phillips. Jason runs Zoe Juice Bar with wife, Briana. We met to talk about their growth, and what's next for Zoe Juice Bar.
Zoe Juice Bar has a clean, stream-lined feel. A menu highlighting fresh raw juices, smoothies, shots and boosts, like chia seeds, bee pollen and coconut oil, adorns the back wall, and a staff member bustles behind the bar.
I settle on the Green Goodness juice, with spinach, kale, apple, cucumber, celery and ginger. Jason orders the same (with extra ginger) and my 5-year-old, who sometimes comes interviewing with me, gets fresh raw apple juice and a chocolate chip cookie (gluten-free).
One of the first things we talk about is Zoe's cold-pressed juices and their use in their juice cleanse plan. I had oddly enough just watched the documentary "Fat, Sick and Nearly Dead," where a man turned his life around by juicing. While researching Zoe, I found they were inspired by the same film.
"I was like most people. Very few people eat the recommended amount of fruits and veggies," says Jason.
Zoe Juice Bar also bottles their own juices. Use six of their custom blends as part of the Zoe Juice Cleanse. Four green blends, a pineapple fusion, and a root blend that uses a base of beets and carrots are bottled and ready to go. Nearly two pounds of fresh fruits and veggies end up in each bottle, creating a nutrient dense beverage.
Also new on the Zoe menu is Acai Bowls, with options like The Oly Bowl with a blended base of acai berries, blueberry, blackberry, apple juice and almond milk. Topped with granola, banana, Goji berries, shredded coconut and cinnamon, Jason says many people enjoy it as a meal alternative.
Smoothies are one of the company's more popular items. With whole fresh fruits and veggies and names like Tropical Mist, Orange Bliss and Daily Greens, it's clear why these items are frequently ordered.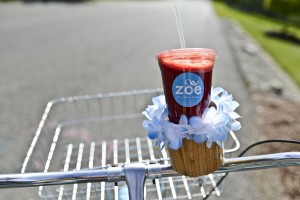 "I like Zoe juice bar because they use fresh ingredients," says customer Christina Rieland after ordering her favorite drink, a Green Garden smoothie. "It's kind of hard to find green smoothies around here that feel healthy."
Another important part of Jason and Briana's business plan is community involvement. On Wednesdays, you can find Zoe Juice Bar at the Tumwater Farmers Market, with cold-pressed juices available for grab and go. (They recently handed out small orange juice freebies to kids). The couple sponsors the Capital City Marathon and supports a variety of wellness fairs, fun runs and the Boys & Girls Club of Thurston County's Tumwater branch.
"We try to do as much as we can," says Jason. "That's something we really like doing – from the beginning, we just wanted to give back, even in small ways."
One small way is their partnership with local farmers. Zoe Juice Bar uses nearly 4,000 pounds of fruits and veggies, resulting in a lot of left-over pulp. Some local farms, like The Farmstead, pick up the juice pulp. Jason says one local farmer claims her hens lay better than ever.
All of the philosophies that Zoe Juice Bar encompasses are perhaps summed up in their name – Zoe is the Greek word for life.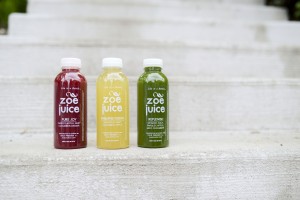 "We picked that name because all of our juices are alive. They're fresh, they're raw, and they're not pasteurized," explains Jason.
There are many documented benefits of juicing, and while Zoe Juice Bar doesn't make any specific health claims, those who drink juices, smoothies and shots are getting nutrient dense doses of vitamins, minerals and enzymes, many that are anti-inflammatory and high in anti-oxidants.
And all this goodness is presented from trained staff – individuals who are professional, friendly and knowledgeable.
"We highly value exceptional customer service," says Jason adding that the fun environment also creates an opportunity to deliver amazing customer service. "We want the whole experience when people come in to be fast, friendly, and efficient while getting great, quality product at the same time."
Up next is juice delivery, and providing cold-pressed nut milks from raw, cashews or almonds, with added nutmeg or similar spices to sweeten it up. With Zoe Juice Bar, the goodness just keeps on growing.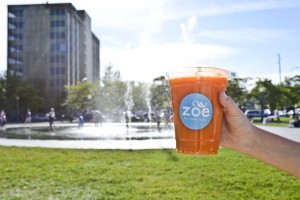 Visit Zoe Juice Bar online at www.zoejuicebar.com.  Follow Zoe Juice Bar on Facebook.
1851 State Ave NE, Suite #101 in Olympia
Open Monday – Friday from 7:30 a.m. – 6:00 p.m. and Saturday and Sunday from 9:00 a.m. – 6:00 p.m.