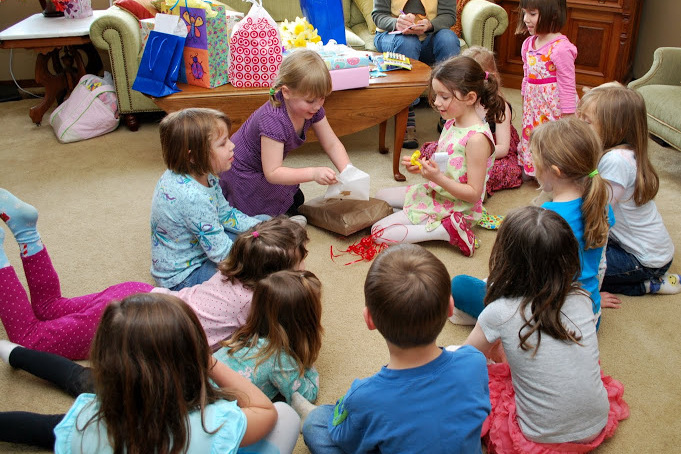 By Kate Scriven

Any parent understands the competing reactions that occur when a birthday party invitation comes home from school or arrives in the mail. The child is elated and can't wait to attend. The parent feels less enthusiastic, knowing a party entails seeking yet another gift to wrap and deliver.
What to get? Do they need more LEGOS? Do they have this Fancy Nancy book? If you get the Frozen sticker book from Costco, will other parents do the same?
Step out of the aisles of Target or Toys R' Us and think outside the big box. Choose meaningful and unique gifts to create happy kids and happy parents. Better yet? Give a gift that doesn't need to be wrapped. Intrigued? Read on.
Support a Hobby
Gift a Garden – Purchase a plant or two (tomatoes and pumpkins or flower starts are good options) and pair them with child-sized gloves and tools to start a garden of their own. Check out Bark and Garden or The Barn Nursery for supplies.
Bike Bling – Make biking more fun with cool accessories including spoke lights, biking gloves, cool water bottle and cage, or basket for the front. Bigger kids may love a compact pump or Camelback for longer mountain bike rides.
Swim Like a Fish – Does the birthday kiddo love to swim? A cool beach towel, stylish cover-up, swim fins and a mask or fun floaties can create fun all summer in the pool or at the beach.  Throw in a pass to open swim at Discover Aquatics to top off the gift.
Get Creative
Kids cooking classes, offered at Bayview School of Cooking, engage students and provide real skills.

Craft It Up – Create a craft kit in a lidded (please!) plastic tub and include items to spark creativity, many of which can be found at The Dollar Store. Ideas include pipe cleaners, googly eyes, puff balls, tape, scissors, glue, colored feathers, origami paper, paper plates, plastic cups, Styrofoam balls, beads, unfinished frames to decorate, and more. Get creative but please do not include glitter! Captain Little has some unique craft sets as well.

Costume Box – A trip to the thrift store can net a load of new dress up clothes for just a few bucks. Start with a container and fill it with accessories such as purses, hats, jewelry and shoes (women's size 5 shoes work great). Hit the racks for anything sparkly, shiny, or funky. Don't forget some belts to cinch up the new ensembles. Our secret? "Fancy" nightgowns. They convert instantly to princess dresses.  Try Seattle Children's Bargain Boutique in West Olympia and turn your purchase into a donation to benefit other children's health care.
Cooking Kit – Is the birthday child a budding chef? Create a cooking kit complete with a fun recipe and all the ingredients for a culinary creation from start to finish. Make a visit to either Bayview or Ralph's Thriftway stores and include an apron or chef's hat to complete the package.
Gifts of Experience
Gift Certificates for Fun – Avoid giving more "stuff," with a certificate for an adventure around town. Ideas include a painting or pottery studio visit, subscription to a kids magazine such as Ranger Rick, passes to the movies, a play at Olympia Family Theater or concert, a certificate for a banana split or sundae at Grandpa's Ice Cream or a make-your-own-treat at Twisties.  Select a day pass to the Point Defiance Zoo, Northwest Trek or Wolf Haven, certificates for a manicure or pedicure, passes to the Bayview School of Cooking's Kid Classes, family tickets to Laser Fun Zone, Aztec Lanes, or Marvin Road Mini Golf and Batting Cages.
Have Fun Together – Pair your gift of experience with a gift of time. Invite the birthday child to join your family for an outing, possibly from the list above. Create a custom gift certificate (even better, have your child create one) and present it at the party.
Non-Gift Party Ideas For the Hostess – Not interested in adding to your playroom's collection of unused toys? Create a party where your child isn't drowning in birthday gifts, but the spirit of giving is still alive and well.
Ask party attendees to bring a favorite school supply. Then donate the supplies to the Little Red Schoolhouse which distributes the supplies prior to the start of the school year.

Favorite Book Exchange – Each child brings a favorite book, new or gently used, to the party. Books should be wrapped and ready to be swapped. Each child picks a new book to take home. As a parent, I suggest having little ones unwrap at home to avoid comparisons and disappointments and for older kids to open together so the giver can share why it's a favorite. Stop in to Orca Books if you need a suggestion.

Balloon Bouquet Party – Who doesn't love a shiny, fancy balloon? Ask each party guest to bring a fancy balloon for the birthday child. What's more special than one fancy balloon? Fifteen fancy balloons!
Pinata Party – Many parents have experienced the hidden cost of stuffing the piñata but do it anyway because the kids love it. Share the joy (and expense) by asking each child to bring a bag of candy, small toys, or other items to add to the piñata. Kids help stuff it all in before breaking it apart.
Non-Profit Party – Forgo gifts all together and ask children to bring along a donation for a charity of the birthday child's choosing. Give families the option to donate online prior to the party by setting up a page on FirstGiving.com when asking for monetary donations or have kids arrive with food or clothing for a local group. A meaningful charity for kids is Heifer International. Party attendees pool their donations and choose an animal to purchase for a family in a developing nation. Send kids home with a finger puppet of some of the Heifer animals to help them connect to their good deeds.  For more local ideas, read some of the articles in our non-profit section.
When that next invitation comes home, think beyond plastic toys and mass produced trinkets. Give something unique – something they'll remember long after the party is over.
Thrifty Thurston highlights inexpensive family fun in Thurston County. The weekly series focuses on family-friendly activities throughout our community. If you have a suggestion for a post, send us a note at submit@thurstontalk.com. For more events and to learn what's happening in Olympia and the surrounding area, click here.