By Morgan Willie
I'm a bargain hunter. I'm tremendously frugal, and shelling out loads of cash to buy clothing just isn't an option. Over the years, I shopped at places such as Value Village and Goodwill to clothe myself because they provided excellent prices. However, digging through multiple dirty clothes racks and sifting through enormous amounts of shoes just wasn't my idea of the perfect shopping trip. I scanned around town and came up with three alternatives to those stores. Let me tell you, the results of my search were incredibly inspiring.
One option is to stop in at Worldly Girl Consignment and Treasures (4715 Lacey Blvd SE). Don't let its modest outer appearance dissuade you from paying a visit – this shop is loaded! There are multiple rooms filled with all sorts of apparel, accessories, and kitchenware priced for people on a budget. Chic purses and sunglasses fly off the rack at half the cost you'd pay in a designer store.
Worldly Girl is both thrifty and flexible. When I spoke to the owner, Shelli Gray, she commented, "Our goal here is to help anybody find what they're looking for at a very reasonable price. Our clientele is everyone from male entertainers to the retirement community." Shelli enjoys making conversation with people from all walks of life. She is dedicated to helping others find exactly what they need without breaking the bank.
As I strolled around the store, finding new pieces of clothing to try on, Shelli was keen, but unobtrusive in taking my items and setting them in the dressing room. I was glad to be in company that took my shopping needs to heart. One of the nice aspects of Worldly Girl is that, if you spend forty dollars, you always get five dollars off the purchase and this deal never expires. Many blouses and jeans are around ten dollars and the selection is fantastic.
Another place that has a plethora of stylish selections is Retro 360, located at 4812 Pacific Avenue SE. Owner Teena Dial-Krieg is a bubbly and vivacious character. You can only catch her on the weekends, because she has a shop assistant to manage the business while Teena works her fanny off back at home. "All of my clothes are cleaned, they're ironed, they're steamed," she told me. "I put a lot of time into it."
When I asked Teena how she would describe Retro's inventory, she responded, "We have a little bit of everything. We have modern, we have vintage, we have retro, western, rockabilly and pin-up. It just keeps growing." If the versatility in selection doesn't make you gasp, well, get this: the age range of Retro 360 customers is from nineteen to ninety! Sure, the majority of people stopping by are within their mid-30s to early-60s, but the store lends itself to a big variety of younger women to seasoned elders.
Teena takes great pride in her store, and she has absolutely all the reason to do so. It's bright and cheery, clean and dashing. As we browsed her assortment of dresses, I couldn't help but giggle when she fondled over one in particular with "motherly" affection. She exclaimed, "I love this little dress, this pink one. Isn't it cute?" Of course it was! Whether I'm looking for a new outfit for swing dancing, or a pair of jeans to roam around downtown Olympia, I know I'll be able to find something wonderful at Retro 360.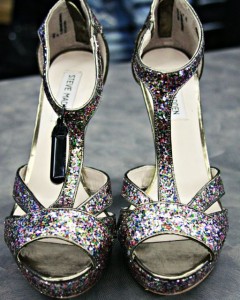 Last, but certainly not least, is the fabulous Fashionation (5831 Lacey Boulevard). This place is making a change among the younger community. Store manager, Emily Wagner assured me that Fashionation has "made second hand shopping cool. It's helped people to understand that it's not so taboo to go and buy something that someone else has already owned." For those looking for a high-end retail experience without the retail price, this place is absolutely perfect. When I asked Emily to comment on Fashionation, she said it was the best way for people to "get brand name clothing for a lot cheaper. You can come here and spend fifty dollars and get three different outfits as opposed to spending fifty dollars and getting two shirts from the mall."
One thing that makes this shop unique is that it's constantly stocked with a fine array of brand new jewelry alongside gently-used clothes. Plus, most jewelry is priced between five and ten dollars, which is extremely reasonable for firsthand items. Everything in the store is hand selected by either Emily or her well-trained employees. You can always feel confident that your purchase is without holes or wear-and-tear. I highly recommend spending a couple hours at Fashionation. When you leave, your shopping bag will be full and your wallet won't be empty!
All three of these stores have embraced the idea of customers spending less and getting more.  I dare you take a peek at Worldly Girl, Retro 360, and Fashionation. Stay trendy, my bargain hunting friends!