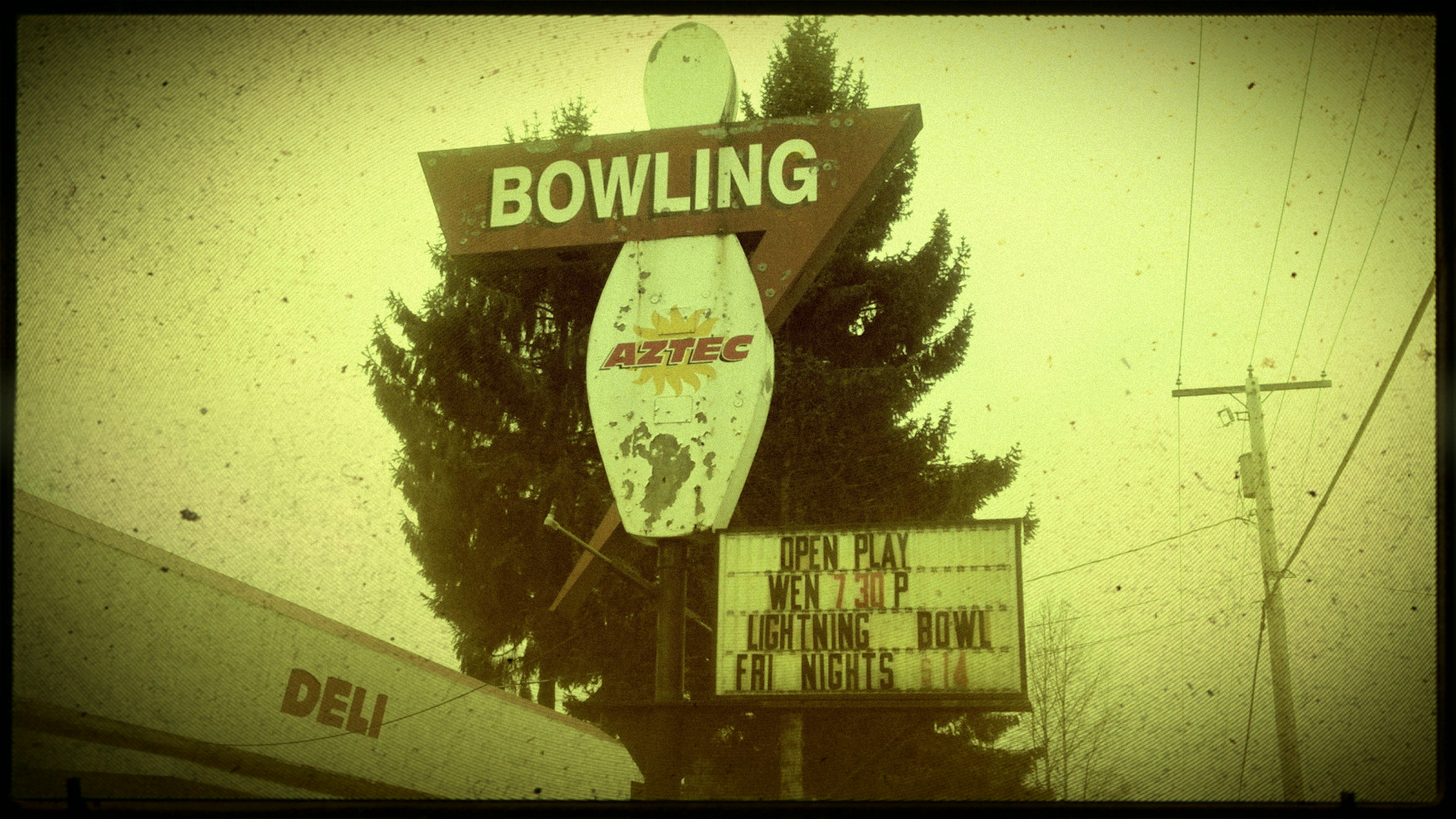 Friday night: It's Music and Lights at The Aztec
Music videos pulse on the screen and great music blasts from speakers. Lights are turned down, and black lights come on instead.  Wearing white will make you glow. LEDs transform the bowling pins to resemble rainbows and some are lit up with chasing patterns. Bowling balls are illuminated by the lights as they travel down the lanes and crash into pins.
Friends, co-workers and office parties are gathered in the café, which serves homemade pizza, cheeseburgers as well as beer and wine.
Friday night: It's Music and Lights at the Aztec from 9:30 p.m. until midnight. "It was created to attract the teenage crowd, but it turns out that office parties and people in their thirties make up the majority of bowlers on Friday nights," said Dan Brathovd, owner.
Aztec Lanes no longer resembles your grandparent's bowling alley, and the transformation is quite a story:
Obscure Bowling Fact # 1: In bowling lingo, a turkey refers to three strikes in a row.
A Thurston County Landmark: From Capitol Lanes, to The Bowl and now Aztec Lanes
Aztec has a long history in Thurston County. It was first located near the brewery until fire destroyed the building. After the fire, the owners relocated to the current location on Martin Way which was once a Studebaker shop. "My grandfather bought it in 1972. For a while he leased it out to someone else," Brathovd said. Those were the dark days of the lanes. The official name of the bowling alley was "The Bowl", but Thurston County residents preferred to call it "The Hole." Needless to say, the bowling alley was not thriving.
When the managers stopped making payments, Dan's grandfather took back control of the bowling alley. That was 1991 and in the spirit of transformation he decided to change the name to Aztec Lanes after a road trip through Corpus Christi, Texas inspired him. They did a complete remodel of the interior of the building and the business rebounded.
In 1993 Dan graduated from high school and took over management of the lanes. His grandfather passed away four years ago, but by then the business had been completely moved over to Dan.
Today, Dan and his wife, April, are busier than ever managing the bowling alley, coaching teams and creating programs to encourage a new generation to join the sport.
Obscure Bowling Fact # 2: A ham bone is one better with four strikes in a row.
New Generations & Crowded Leagues
"We have leagues that have been bowling here since the 70s.  They are getting up there in age, and now their family members often come instead. We love to see generations from different families learn to bowl and become fans of the sport," he said.
Aztec currently has 11 leagues. It is tough to get on a league, due to limited space, so Dan is trying a new type of short season league that runs 10 weeks instead of the usual 30+ weeks. It is working: The short season leagues are filling up. "We now have men's leagues, women's leagues, senior leagues, youth leagues. You name it," he said.
Obscure Bowling Fact # 3: Seattle is the headquarters of the Professional Bowling Association.
Bowling is a Competitive High School Sport
Aztec Lanes is the home center for North Thurston, Timberline and River Ridge high school bowling teams. Dan is the coach for North Thurston High School and his daughter is on the team. The high school season runs from November through January and the teams practice four days a week.
Dan also runs a Pro Shop at Aztec Lanes. "We sell bowling equipment.  We also fix, repair, size and custom fit the bowling ball to the bowler's needs. I'll watch them bowl for a while to see how the ball comes off their hand and then I take measurements. I work with them to make sure it is a good fit. They need to be happy and comfortable bowling. When they get a good fit, they keep coming back and it is a win-win for everybody," he said.
Obscure Bowling Fact # 4: Indoor bowling lanes made their debut in 1840 in New York City.
Scholarship Money
Dan is very excited about the Youth Bowling Program which meets every Saturday at 9:30 a.m. They have three certified, volunteer coaches.  Adult leagues sell raffle tickets to generate money for the youth teams. Last year they donated $9,000 in scholarship money managed through United States Bowling Congress (USBC) Scholarship Fund. Youth Bowling runs 28 weeks beginning in mid-September but spots are still available. "We have kids as young as seven and the oldest is 17. Parents can bring them in, get them set up. Most parents stay and watch. They are all having fun bowling," he said.
Obscure Bowling Fact # 5: Bowling has a long history and originated in ancient Egypt!
Dan and April are working hard to make bowling fun for everyone. If you are interested in learning more about Youth Bowling, High School Teams, Leagues or Children's Birthday Parties, visit their Facebook page, or give them a call at 360.357.8808.
See you at the lanes on Friday night.
2825 Martin Way East
Olympia, WA 98506