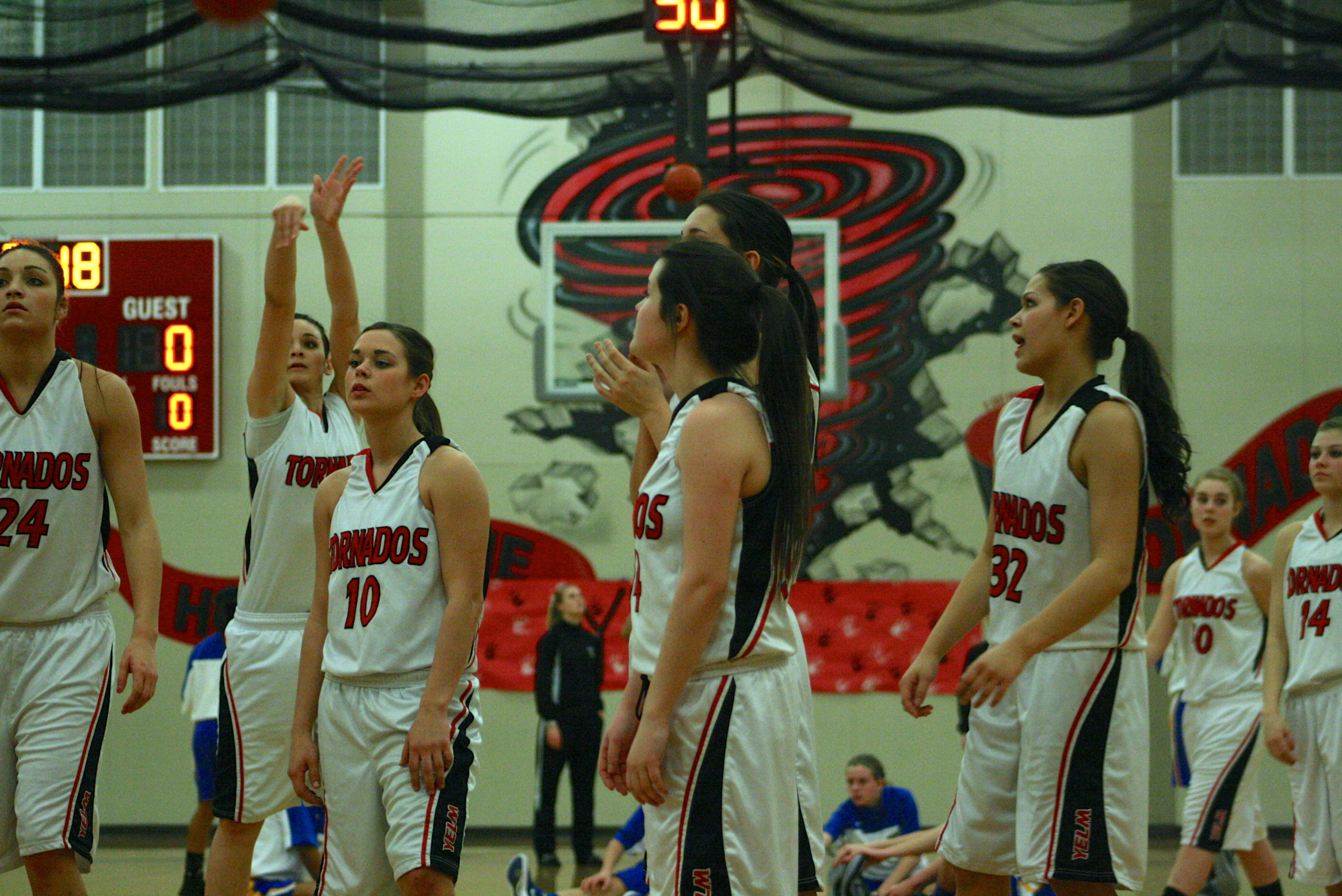 By Tom Rohrer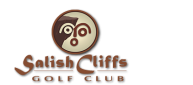 For nearly two decades, Yelm High School girls basketball head coach Russ Riches has led the Tornadoes on the court.
The coach at Yelm for 17 seasons, Riches has helped build a program through consistency and instilling a hardworking attitude in his team.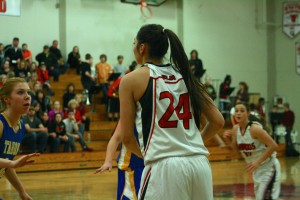 However, having a roster full of talented players helps as well, and that combination has led Yelm into the WIAA 4A State Regional tournament this weekend.  In their first year as a 4A school in the Narrows League, the Tornadoes won the league championship.  The team beat defending champion Bellarmine Prep twice (who had not lost a league contest in five years) and earned third place in the 4A West Central District II tournament this past weekend
Yelm (20-4 overall) will now face Skyline in the regional tournament on Friday, Feb. 22. at 8 p.m. at Rogers High School in Puyallup, with the winner moving on to the state tournament in the Tacoma Dome next week.
Prior to the Tornadoes loss to Todd Beamer High School in the semifinals of the regional tournament last Saturday, Yelm had won 12 straight contests dating back to January 4, a night in which the team had a wakeup call that has propelled them to the brink of a trip to the Tacoma Dome.
"The loss against Gig Harbor on January 4 was big and we knew on paper it was a team we should beat. I challenged them that night and said, 'we have seven seniors on this team and this is your opportunity to take a stand,'" Riches said. "They took that to heart and made sure that they would be focused for every opponent."
By having a talented senior class, led by first team all-league performers Anushka Maldonado and Karli Shaw, the Tornadoes had the experience this season to handle adversity and put forth the hard work necessary to succeed.
"We know that we have to work hard every game, no matter what, to stay at the level we want to be at," Maldonado said. "It's fun to know everyone will work their hardest."
"We have a lot of seniors that have pretty much played together since middle school," Maldonado continued.  "So, our chemistry is there.  I feel it's the same with the juniors because they've been playing together since they came up too."
Thanks in large part to Maldonado's 28 point, 10 rebound performance, Yelm was able to defeat Union on Monday, Feb. 18, 52-51 to earn the third seed out of the district.  However, there have been plenty of other players that have stepped up in key moments this year, and having a deep roster is a benefit for any team and coach.
"I basically have six starters for five positions.  McKailea Tyler came off the bench in the second game against Bellarmine that won us the league title and she had 26 points. We could tell she was on and everyone said, 'feed her the ball,'" Riches said. "We've been fortunate to have kids that get it and understand they can fill a variety of roles."
Tyler, a junior, was second team All-Narrows League while Dalia Bader, Tessa Matthews, and McKenzie DeVore were each named to the honorable mention team.  As one of the premier players in the league, Maldonado garners attention from opposing defenses each game, something she can use to her advantage.
"Sometimes I draw a lot of attention, and then the defense doesn't guard other cuts or players as well," she noted.   "I can see that and make plays.  My height helps me see those lanes.  Plus, I know my teammates can all make plays too."
Riches noted that his team sometimes over-passes the ball on offense, and can be too unselfish.  That can be considered a champagne problem for the coach, as his team feeds off giving each other the ball.
"That momentum you get with passing the ball, everyone starts to become a part of the offense," Maldonado said. "When you know you made that extra pass to get an assist, it's an amazing feeling."
That 'team first' mentality is something Riches stresses every day, and he believes it's a product of the consistency within the program.
"Our theme this year was 'all in and together as one.'  Those are two things we emphasize over and over in our program and kids know what to expect coming in here," Riches said. "I have a great coaching staff, my JV coach has been here with me 17 years and my assistant has been with us for seven years.  All these kids we saw as second and third graders coming to our camps.  To watch them grow up has been fun.  They know what we expect and how important it is to be team first."
Maldonado believes the high team unity is a cause for this year's success.
"We're extremely close, everyone knows everything about everyone," she said.  "There are no secrets on this team, and we know what everyone is feeling and what buttons to push if need be."
As a first hand witness to the development of the program, Riches is thankful for his players, the support they have received from the Yelm community and the exciting possibilities ahead.
"I give the kids credit for their work ethic and banding together and that's something we've tried to make a label as our program," Riches said "It's a great community to be a part of and having that expectation to be in postseason play every year, it's fun to see that grow."
"We're looking forward to the journey this year and hoping to go as far as possible," Riches concluded.
Maldonado is confident in her team's ability to play any team, anywhere at anytime.
"I believe we can make it anywhere as long as we play our game from start to finish. Everyone has said we can't go anywhere, but I have faith and I love my team," she summarized.