By Kelli Samson

When I think of my daughters and the gifts they will receive this holiday season that will clutter their already-stuffed bedrooms even more, I cringe.
Who really needs more stuff?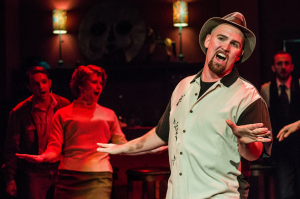 Think of that hard-to-buy-for person on your list. Imagine their surprise and delight when they find a unique gift this year that involves a little bit of fun right here in Olympia, all from wonderful, thoughtful you.
And a little help from me, of course. Think of me as the little elf who has done the leg-work for you so you can use your time to do more important things, like drink more cocoa.
Behold, I bring you good tidings and a few handy ideas for a memorable gift to give to that tricky someone.
Step into Harlequin's "The Stardust Christmas Commotion"
This season marks Harlequin Theater's nineteenth Stardust production. The show this year is set in 1958 and features songs from the Rat Pack and early rock and roll. It runs from now through New Year's Eve.
If you have a lover of musical theater on your list, why not give them a Chuck Berry album with a ticket to a show tucked inside, or maybe a gift certificate to Harlequin? Better yet, how about you purchase tickets for both of you and enjoy the show together? Blitzen's Bourbon Punch will be available in the lobby, so don't miss it.   Read a complete story about the show here.
Other holiday-related concerts and events can be found in this article.
Pop into Painted Plate or Let's Paint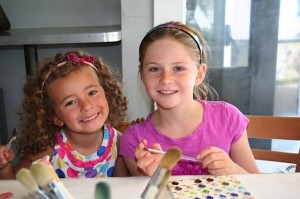 A terrific gift for a kid or just a kid at heart is a gift certificate to an artist's shangri-la.
The Painted Plate has been helping Olympians get in touch with their inner artist since 1996. A gift certificate for a parent/child art escape is $30 ($15 for each additional child) and includes ice cream or a beverage for each of you, in addition to something for each of you to paint.
A date night package is also offered, which includes two beverages and two items to paint, for $40.
Each of these packages is not available until after the holiday rush subsides, beginning January 6. That makes this the perfect way to extend the holidays. But if you don't have that kind of time, they are offering a seasonal special on ornaments right now, $8 to paint one, or $30 to paint four.
Next door is Let's Paint, an opportunity to express your creativity while spending time with a friend or family member.  The monthly calendar gives you a snapshot of what image will be created during each session.  Add your own expression and hang your masterpiece on the wall to remember the family-friendly activity.
Gift an Olympia Film Society Membership
We are so fortunate to have such a special gem in our town like the Olympia Film Society (OFS). It's a non-profit organization that's been around since 1980, and it's been housed in the historic Capitol Theater (where Nirvana played) for many of those years. They make the best popcorn in town and have recently begun to take plastic instead of just cash or checks.
I know that I personally would love to find a DVD beneath the tree with a membership card and schedule for OFS tucked inside. I sure hope my husband's reading this. It's also a fun gift to give because you can enjoy an outing to OFS together.
And if you're thinking about filling up your advent calendar, why not add OFS to your plans for December 20? They will be showing the Jimmy Stewart family classic, It's a Wondeful Life, at 4:00 p.m. It's free for kids twelve and under and is sponsored by Captain Little.
Cook at Bayview School of Cooking
I am very lucky that my brother-in-law is a very adept gift-giver. The best gift he has given me was when he signed both of us up for a cooking class together at the Bayview School of Cooking (BSC). He gave me more than just a gift because he gave me a little of his time, too.
BSC's got your holiday list covered, as they have cooking classes tailored to cooks of all ages. This winter their schedule holds classes about soups, making cheese, an always-coveted class with Christine Ciancetta, and even a visit from Phoebe Martinson of Phoebe's Cafe.
You truly can't go wrong. Sign them up for a class or purchase a gift certificate and tuck it into a new cookbook for a delightful surprise.
Climb at the Warehouse Rock Gym
This climbing institution has been in Olympia now for ten years. They are all about safety and fun. The gift of a monthly membership, an individual lesson, a day pass, or a pack of passes would each make an awesome treat for someone in your life who is active or wanting to try something new.
Tucked into a copy of an outdoor magazine? Perfection.
Spend an Afternoon at the Nisqually National Wildlife Refuge
Remember when I said that the best gift you can give someone is your time? It's so true.
We are all so busy, especially during this time of the year. Are you searching for a way to unwind when it's all over? Head to Nisqually National Wildlife Refuge with someone and take a walk on the boardwalk. Look for birds. Bring your camera. Bring a picnic. Breathe in the fresh air. Decompress.
It only costs $3 to park at the Refuge. Make a home made gift certificate and pair the gift of your time with a book about birding.  To make the gift even more special, pick up tickets to see a National Geographic photographer speak at The Washington Center.
Commemorate a Special Moment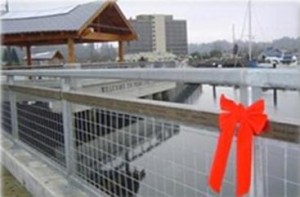 Want your message to a loved one to live on forever?  Send a message into the future by dropping a note in a Washington State time capsule.  The time capsule will be opened in 2389, 500 years after Washington reached statehood.  Get details here.
Another option for a lasting impression is to add a name to the Percival Landing rail.  This is a great gift idea to someone who adores a stroll along the boardwalk, gazing at ships and marine life.  Take the kids to the playground and then go on a hunt to find the name.
Supply the Veggies for Dinner
Thurston County is home to an ample supply of farmers.  Give the foodie on your list a sample of locally grown fruit, vegetables, cheese, bread, or yogurt in a subscription box.  Deliveries usually start in late Spring and last through October giving you a nice bang for your buck through the year.  A gift of a Community Support Agriculture box (CSA) can be customized for just the right amount.  Learn more in this article.
Pair a gift certificate with a collection of spices from locally owned Buck's Fifth Avenue.  Proprietress Anne Buck has organized delightful samplers to make it easy to gift.
Gift a Hands On Children's Museum Membership
Grandparents – take notice.  A gift of Hands On Children's Museum membership is great for families with young kiddos.  No need to pack and ship a hefty box.  Call HOCM (360-956-0818) or fill out their online form and magic will arrive in the mail.  If the family already has a HOCM membership, leave a legacy by adding names to a frog or salmon that hangs throughout the Museum.  To join the Salmon Run or Chorus of Frogs, click here.
There you have it. Happy Holidays!
You can thank me later.