Submitted by City of Olympia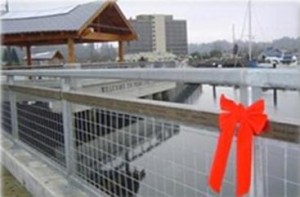 Have you considered adding your name or that of a loved one to Percival Landing's structure and history? A donation to Percival Landing makes the perfect Holiday gift! Contributions are still being accepted for the Percival Landing Railing Project. Names of contributors are sandblasted into the stainless steel railing plate – donation levels are $50, $100, $500 and $1000.
Names received by December 1, 2014 will be installed by the Holidays later in the month.
Forms are available at www.olympiawa.gov/percival-railing.
Call Olympia Parks, Arts & Recreation at 360.753.8380 for more information.