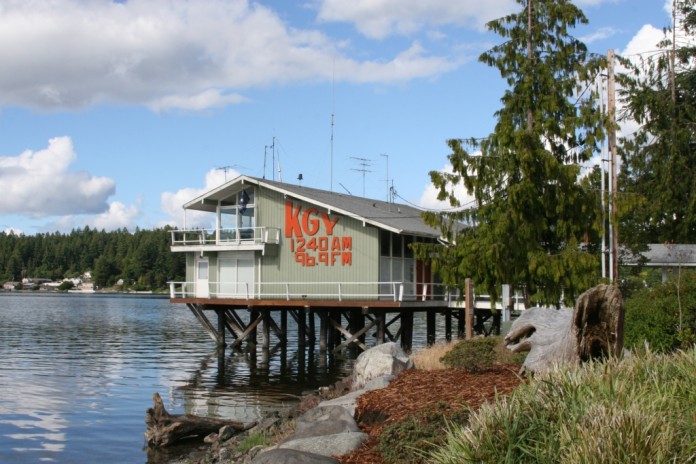 By Gale Hemmann
You know the saying: "Everything old is new again." Old films and cars become classics; young hipsters embrace vintage styles from their parents' era.
Then there are some things that are both old and new. Oldies KGY 95.3 FM in Olympia, for example, is a historic radio station. It was one of the first stations in Washington to sign onto the air in 1922. Yet they continue to adapt to changing listener needs and a new digital landscape. Serving the community with factual news and entertaining hosts never goes out of style, and as KGY's 90-plus years attest, it is a timeless fixture of Olympia life.
At the helm of KGY (also home to the regional station South Sound Country 96.9 KAYO) is a talented staff who genuinely love connecting with the people of Thurston County and beyond. One of these people is Nick Kerry, Business Manager. KGY has been family-owned by the Kerry's since 1939, and Nick is the great-grandson of Tom Olsen, who first brought the station into the family. (Read about the history of KGY in this ThurstonTalk article.)
I met with Kerry at the historic waterfront KGY building (fun fact: KGY is the only radio station in the country known to be built on the water) to learn more about what it's like to be part of the KGY family legacy, and what his great-grandfather might think of radio today.
At 25, Kerry is a well-spoken professional and proud to represent "the younger face" of KGY as well as his family's near-century of hard work.
Kerry graduated from Capital High School, and began working at the radio station at age 17. He attended Western Washington University, where he majored in political science. Throughout college, he spent summers working at KGY and maintained an interest in radio. He participated in a semester-long program at Western's KUGS 89.3 station.
After graduating, Kerry came to work at KGY full-time. It wasn't a sense of obligation but genuine interest that led Kerry to the family business. He says his experience in radio had helped him "come out of his shell" and grow as a person. "Radio gave me a way to talk to anyone," Kerry says.
KGY was also a very special place to Kerry – it was where his grandmother, Barbara Olsen Kerry, who ran the station for many years, had spent countless hours. He associates the business with her memory. "The energy and vibe here were just appealing to me right away," says Kerry. He also describes the first time he operated the radio equipment as memorable and exciting. Clearly, he shares the family bug for radio.
Of course, he also grew up immersed in conversation about the station. KGY was a big topic around the dinner table and at family holiday gatherings. He also had a natural affinity for classic rock, alongside more contemporary artists.
Though Kerry didn't know his great-grandfather (he passed away before Kerry was born), he knows the family stories about him well. An Olympia native, Tom Olsen was active and well-known in the local community, and was known to be very progressive-thinking about technology. He was always tinkering with the latest "gadgets" of his day. "He was absolutely ahead of his time," Kerry says.
Kerry thinks his great-grandfather would love the technology available today, from computers to smartphones to iPods. He believes Olsen would no doubt be fascinated by KGY's Android and Apple apps, digital streaming and the internet. He also notes that his grandfather would be happy to know that the family spirit and community service mindset at KGY continue to thrive.
Kerry says he started in an entry-level position at KGY, and was asked to do a range of menial tasks around the building before working his way up. "They put me through the paces," he says with a laugh.
As an employee at KGY, Kerry was frequently at various community events, including Capital Lakefair and the Mason County Fair. He was surprised by the number of people who stopped by the booths to share what KGY meant to them. He says the experience was "eye-opening" about how deeply people cared about the station, and it cemented his decision to "invest time and make a difference" in his career there.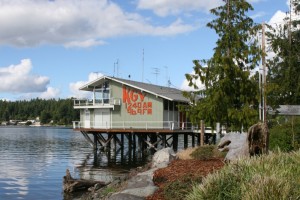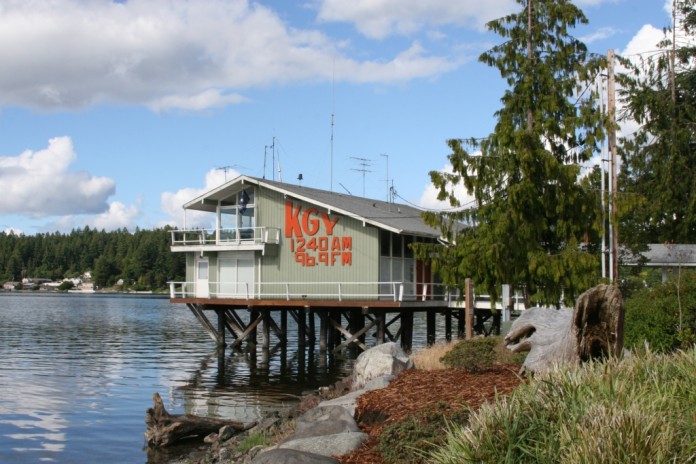 A lifelong resident, Kerry feels a deep attachment to Olympia. Aside from working at KGY, he enjoys getting out and about downtown. He has an interest in architecture and is fascinated by all the wonderful mid-century homes in Olympia. He also is an avid photographer, and was on the yearbook staff while at Capital High School.
Jennifer Kerry, Nick's aunt, is the President of KGY. She currently serves in an advisory role. Many of the Kerry family still live in Olympia. For Nick, Olympia, KGY, and family all go hand-in-hand, and that's as it should be.
KGY: What's in it for younger listeners?
I asked Kerry about the appeal of KGY for younger listeners. What would Nick's peers, people in their 20's and 30's, find appealing about the station? First of all, the timeless appeal of classic rock is undeniable. Myself and many people I know are just as likely to rock out to the Beatles or Stones as something more contemporary.
A younger audience also listens to the "young country" offered on South Sound Country 96.9 KAYO. KAYO plays everything from Keith Urban to Lady Antebellum, representing the best of new country with local DJ's and country music news mixed in. (You can follow KAYO on Facebook.)
In addition, KGY has always been and remains the place to get your up-to-the-minute local news you can't get anywhere else. KGY provides the hyper-localized information, such as up-to-the-minute traffic alerts, you need to start your day.
They also feature local high school sports highlights on the weekly "Red Zone Talk" program. Local sports personality Meg Wochnick hosts athlete interviews, and covers game highlights and scores each Friday morning (find her on Twitter at @MegWochnick). And Seahawks fans will enjoy "Hawk Talk" with Stephanie Hemphill and Kevin the Brit on Thursday mornings.
Another great way to connect with KGY is through their social media channels. Social media is becoming a popular way for listeners to interact with the station and its personalities. You can follow KGY on Facebook, Twitter, and Instagram.
You can also stream KGY from anywhere through their website and apps. No matter what your listening device, KGY makes it convenient to tap into local news.
Listeners can win event tickets and other prizes through the station's contests, and they also host special events around town.
So what's next for the area's oldest radio station? Kerry is optimistic about the future. "No matter what technological changes come, we want to continue to bring our listeners value – to make a difference in their lives."
I ask Kerry if he thinks his great-grandfather, Tom Olsen, would be proud of what KGY has become today. "Yeah," says Kerry thoughtfully, "I think he would."