By Gail Wood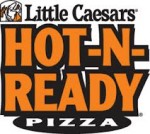 Since 1975, Ed Stevens, Jack Swarthout, Wayne Sortun and now John Johnson have coached the Capital High School football team.  During that same time, one thing has been consistent.  For nearly 40 years, Terry Norberg has rarely missed a Cougar game. He's almost like the national anthem – a part of the game.
Since the late 1970s, Norberg's been there at the games, video taping nearly every play, every touchdown and every tackle.
"It's been fun, Norberg said. "I like it."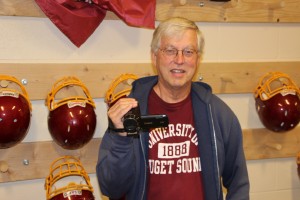 As a teacher and editor of the school's Capital News Service, Norberg first began capturing the games on video in the late 70s. The footage Norberg shot would then be shown on the school's closed circuit station. Sometimes, the coaches studied Norberg's video of the game. Eventually, Norberg videotaped the games just for the coaches.
"I started shooting the games in the late 70s because we had a news program," Norberg said. "Most years, I've done every game."
In 2008, Norberg retired from teaching after 38 years, spending all but five of those years at Capital. But Norberg, a 1962 graduate from Wahkiakum High School in Cathlamet, didn't want to retire from being the Cougars videographer. He's having too much fun.
"I like the games. They're exciting," Norberg said. "And I like the people."
Norberg can recall and recap some of the biggest moments in Capital football. He has videoed every play in the Cougars run to state titles in 1996 and 1998. He remembers the scores, the players' names and the plays of that run.
"My favorite game was the first year we won the state title in 1996," Norberg said, setting up his detailed account of the team's playoff run that year.
First, there was a pigtail game on a Tuesday at R.A. Long in Longview. Then on a Saturday night in Memorial Stadium in Seattle, Capital beat No. 1 ranked O'Dea.
"They had only given up one touchdown all year," Norberg said. "We beat O'Dea 37-7."
Darren Tinnerstat, who is now an assistant coach at Capital, was the Cougars big-play quarterback that game. And Kyle Camus, who is now also an assistant coach with the Cougars, started at tackle.
"Here's a sideline story for you," Norberg said as he began to set up a scene about the game. "There was a guy from Kennedy standing up behind me shooting the game."
That fella was hardly an O'Dea fan.
"We blocked a field goal and one of Frank O'Conner's kids ran it back for a touchdown," Norberg said. "I turned around and looked at the guy from Kennedy and he said, 'Well, I enjoyed every moment of that.'"
Lots of plays stand out in Norberg's memory. One was about Jordan Carey, the sure-handed speedster who went on to play wide receiver at the University of Oregon.
"We were up at Bothell," Norberg began. "They were ahead of us."
Then John Oatman, the Cougars' quarterback that day, tossed a deep pass 50 yards to a sprinting Carey.
"Jordan, who was named the Seattle Times player of the year, caught it in full stride and ran for a touchdown," Norberg said. "But we were still behind. We get the ball back and we're driving."
Carey, Norberg said as he recounted the play, lined up on the right side. Tony Davis, who was a sophomore and would go on to play at Eastern Washington University, lined up on the left side.
"Knowing that they'd be watching Jordan, they ran the play to Tony Davis," Norberg said. "And nobody even put a finger on him. He scored a touchdown."
To get the best vantage point to video the games, Norberg always headed for a spot above the field. Often, that was the press box. But sometimes those vantage points were less than ideal and hard to reach.
"We had a playoff game maybe two years ago down at Richfield and I was shocked," Norberg said with a chuckle. "You had to climb up this medal ladder with round rungs. And it was quite a ways up the ladder. I thought oh my goodness – are you guys nuts?"
Adding to the challenge was a steady rain.
"I don't know what they're thinking with the liability issues," Norberg said. "You fall down that sucker you're dead."
At Ingersoll, where Capital has played all its home games for 39 years, Norberg used to climb up on the roof of the stadium to shoot the game. Eventually, for safety reasons, that was stopped and now he crowds into a press box that's often packed.
"You count over 20 people and you count the average weight and you start to wonder if this is really a good idea," Norberg said with a laugh.
Through all these years, Norberg has had an understanding and supportive wife.
"My wife loves football, but she also likes doing things," Norberg said.
Recently, to help satisfy that desire, Norberg, along with his wife and daughter, headed for Yosemite. But Norberg had a timeline on their trip.
"I definitely wanted to get back by the time we played Wilson, because the game was at Stadium," Norberg said. "In my 30 some years, that's my favorite place to shoot a game."
And even after all these years Norberg hasn't lost his love and passion for being at the game, capturing it on video.