By Jennifer Crain

When I was in Buck's Fifth Avenue once, buying a gift for a friend, the owner and I got into a conversation about the unusual items in her store. Anne Buck said she used to go to trade shows so she could see the items everyone else was buying – and avoid them.
It's true. You won't find a garlic press or a Microplane at her spice shop in Olympia. But if you need a Masala Dabba, bamboo grater, coconut shredder, or Feemster vegetable slicer – or any of the more than 400 spices in the store – this is your cooking haunt.
Anne Buck has taken both her gift for creativity and her eye for identifying gaps in the commercial landscape and turned them into a business strategy she's used successfully since 1970, when she opened her first shop in the same downtown building.
Buck's initiation into business was necessitated by the death of her husband only one year after the family moved here from Illinois, when he was just 40 years old. Thrust into the work force, Buck relied on her powers of observation. The Olympia area was full of nurseries with plants for the garden, she noticed, but no garden variety store with objects to pretty up the yard.
"Since we only have a six-week dormant period here in the Northwest," she says, "I thought it would be nice to [sell things that would] make a garden lovelier."
So she started paying rent on a retail space and stocked it with birdbaths, bird feeders, and garden furniture.
Soon, she noticed that it was difficult to find cotton children's clothing, even in Seattle (this was the 1970s, remember). So, she bought some sweat suits, hats, and tiny smock dresses and expanded into the space next door.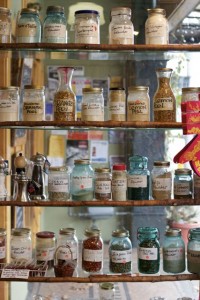 "I was born creative and didn't know it," says Buck, who worked as a housewife and mother to their four children. When they moved to the area, Anne and Charlie Buck's two youngest were in their teens.
With an entrepreneurial mix of curiosity, realism, and imagination, Buck's ideas continued to bubble.
"I finally ended up putting in a tearoom," she says, "because everybody was opening up coffee shops."
The Chattery, as she called it, would carry her through the next two decades. It was operated in part by British friends she hired from town to work as "English maids," who served patrons finger sandwiches and sausage rolls at high tea on Wednesdays and Saturdays. The rest of the week, customers came in to stock up on bulk teas and eye the antique china sets.
The business gained notoriety and became so successful that Buck was able to buy the building and open a full-scale restaurant, The Chattery Down, that filled the bottom floor of the building. She moved the tearoom upstairs and added a Winnie-the-Pooh Parlor where they could accommodate a flock of elementary school kids who would show up for a birthday party and an etiquette lesson from a "Nanny." They would spend the rest of the time trying not to squirm or lick the jam and crumbs from their fingers.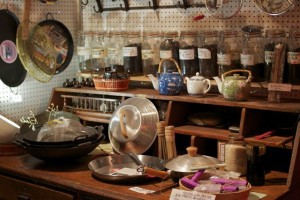 Buck says she started her current business, which is located just across from the Capitol Theater, because it was difficult to find interesting spices for her restaurant.  She began by stocking dried porcinis and Polish ceps. Now the store stocks spices from every imaginable culinary tradition. She carries the standards, and then some, often stocking multiple versions of the same spice. They mix all their blends in-house. But the shop's specialty is tracking down hard-to-find spices such as fennel pollen or Scorpion peppers.
"There isn't a single thing in this place that hasn't been requested by a customer," she says. "The customers run it. Whatever they want, we get. And if we can't get what they want, we make it."
The resulting cacophony is what makes Buck's so intriguing from the sidewalk. A display with several varieties of cinnamon is visible beyond a beaded curtain that rattles against the front door when you open it.  Jars and jars of spices line the shelves inside the windows and along the walls. Ethnic cooking implements, prayer flags, and baskets hang from racks and bamboo poles. A wooden cabinet in a corner holds teapots, jars of loose-leaf tea, and stacks of woks. The back display case is full of gift-sized spice collections.
Chefs and home cooks in the Olympia area aren't the only ones enamored with the store. It made the Sunset Magazine 2010 Travel Guide and has been mentioned twice in Cook's Illustrated. Other publications that have picked it up include Saveur, Gourmet, and Better Homes and Gardens.
Despite the fact that she doesn't advertise, Buck says they ship to customers all over the world. Many of them send her a recipe they've seen in the media, asking for the proper spices. The shop will custom measure, package, and send them off to Hawaii, England, or Indonesia (to name a few). Once, they even hand-delivered a coconut grater to Guam. Buck says gestures like these are the center of their success.
But despite their worldly endeavors, Buck is grateful to be anchored in "a charming little city with lots of diversity."
To that end, she launched a new endeavor this year, The Loft, located upstairs. It's a Food and Art Learning Center comprised of a series of artist's studios, a simple demonstration kitchen, and gallery space. Right now it features Buck's own portraits and houses artists-in-residence Christopher Gerber, Sally Penley, and Ryan Walker. Buck says the space is her gift to the city she admires for its kindness, quirkiness, beauty, and sense of humor.
"I love Olympia," she says. "Olympia has been good to me."
Buck's Fifth Avenue – Culinary Exotica
209 Fifth Avenue SE, Olympia
360-352-9301
Visit Buck's on Facebook here.