Did you know that the Capitol Theater opened in 1924 as a silent movie house? Or that singer Judy Garland once graced the stage? The Capitol Theater, located on Fifth Avenue in downtown Olympia, has been bringing films and live entertainment to audiences for nearly a century. Today, the theater is run by the Olympia Film Society (OFS), a non-profit group who work hard to bring independent and unique movies and live shows to Olympia.
The Capitol Theater has always been a vibrant fixture of Olympia culture. It was built by local entertainment moguls Edward Zabel and William Wilson, and had an audience of 1,000 on its opening night. The Zabel family owned the theater for several decades, bringing premiere films and vaudeville acts to the stage. In recent decades, the theater has continued to be a cultural hotspot in Olympia, hosting legendary alternative rock concerts in the 1990's (now-famous bands such as Sleater-Kinney once played there), and remains a landmark today.
The Olympia Film Society formed in 1982, as a group of individuals who got together to hold a monthly film screening. They have since grown into a large organization with a substantial volunteer base. Their mission is to bring the best independent, international and classic films to Olympia. They also host many popular community events throughout the year, including live music shows and arts and craft bazaars. They feature local artists' work on the mezzanine, and rent out the theater at-cost to non-profit groups.
Joyce Mercuri is a long-time OFS volunteer. She has volunteered for eight years, serving on the board and helping with many projects. When interviewed for this article, she said that it is really the day-to-day volunteers, running the projectors and taking tickets, who make OFS great. They come from diverse walks of life, ages, and physical ability levels, making OFS truly a community group.
"Once they get started, people just get hooked on the theater, the people, and the mission of OFS and become very dedicated," says Mercuri.
Aside from volunteering at OFS, Mercuri is also a huge fan. She says, "OFS is important to me as a resident of Olympia because of the entertainment options it provides – showing films you might not see elsewhere, producing a wide variety of live music and events for affordable prices, and providing an affordable rental space for locally produced music and events (the Backstage at the Capitol Theater was the starting place of several bands that went on to national fame).  I think of OFS and the Capitol Theater as the 'heartbeat' of downtown."
I also spoke with Audrey Henley, Capitol Theater Manager. Henley has worked with OFS for eight years, and prior to that, she enjoyed attending festivals, concerts and movies there. She even went on her first date with her husband at the theater, trekking down from Seattle for the 1994 Olympia Film Festival. A self-described music aficionado, she is passionate about bringing exciting music and film to the Capitol Theater.
"Concerts are always so memorable at the Capitol Theater – the sound is great, the vibe is friendly and there isn't a bad seat in the house," notes Henley.
Created in the Mission-Revival/Beaux Arts style of the 1920's, the Capitol Theater itself has a fascinating history.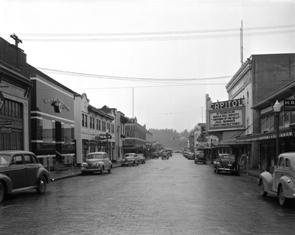 The theater originally boasted a pipe organ and models of the state Capitol building flanking the stage. A fire gutted much of the building in 1937, and many restorations have been made over the past decades. OFS is dedicated to preserving the building. In 2012, the beautiful stained glass windows on the façade were replaced, and in 2014 a capital campaign will be underway to continue renovation work. (Fun trivia: You can still see the giant "C," installed in 1924, at the top of the stage – look for it while you're there.)
But perhaps the Capitol Theater is most well-known for its annual Olympia Film Festival, which draws over 5,000 visitors each year, some from as far as New York City. Each year's festival brings dozens of films and celebrated guests to town. The festival is known as a world-class film event, and is recognized by the Academy of Motion Picture Arts and Sciences.
The thirtieth annual Olympia Film Festival will take place from November 8-17, 2013. This year's festival will feature over fifty films, with something for everyone. You can enjoy a 3D production of Jaws, check out Thurston County's filmmaking talent at the "Locals Only" event, or take kids to the eclectic mix of children's film shorts.
The festival will also feature live entertainment – I will be rocking out to the music of my youth with 90's rock icon Kathleen Hanna, performing on opening night with The Julie Ruin. Visit the OFS website for festival and ticket information.
For a fun, eclectic movie experience, check out the film festival or other upcoming screenings at Capitol Theater. They have a concession stand with very reasonable prices (if you're feeling adventurous, try the famous nutritional yeast popcorn topping – it's surprisingly good). Capitol Theater was built with the goal of being "a monument to amusement lovers in Olympia." Though many of the films go far beyond amusement, this spirit holds true today.
Capitol Theater
206 – 5th Avenue SE
Olympia, WA 98501
Tickets and box office information can be found here.