By Tom Rohrer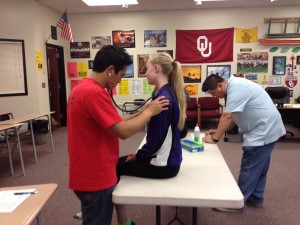 A doctor who understands and appreciates a patient's activities can produce terrific results.
A standout athlete on the gridiron and baseball diamond when he was a student at Capital High School, Dr. Leyen Vu of Olympia Orthopaedic Associates can relate to the patients and athletes he treats.  Vu relishes in the opportunity to work with driven patients.
"I've always been interested in athletics but being able to work with a population that is motivated and active is something I appreciate," said Vu, who began working at Olympia Orthopaedic Associates in October 2012.   "Sports medicine isn't just focusing on high school, college or professional athletes. It's a population of people who are involved in recreational activities that want to get in better shape, and work to control their own health. That's always what drew me to medicine, really empowering patients to be in charge of their own health."
Following his undergraduate studies at the University of Washington, Vu attended the Arizona College of Osteopathic Medicine to receive his medical degree.  The Olympia native then returned to his hometown to complete his residency in Family Medicine at Providence St. Peter's Hospital before attending the University of Utah in Salt Lake City to complete a Fellowship in Sports Medicine.  After the stint in Utah, Vu returned to the Olympia area again, and now has a sports medicine practice, providing non-operative orthopaedic treatment to patients with sports related injuries.
Dr. Vu, who is board certified in Family Medicine and Sports Medicine, also works within Olympia Orthopadeic Associates walk-in orthopaedic-urgent care center, which also opened in October 2012.
Along with his duties at Oly Ortho, Vu is the head team doctor for the athletic teams at Saint Martin's University, The Evergreen State College, and Olympia High School.  He also works with the athletic training staffs at most of the other high schools in the Thurston County area.
"Working with high school kids and college kids gives me a chance to really impact their lives.  I can be a role model to a college kid and motivate them to do things we're doing," said Dr. Vu, who attended Griffin School on Steamboat Island before his days at Capital.
"I have to have a close, personal relationship with the high school athletic trainers. They're pretty much the first line defenders and health care providers for the schools," explained Vu.  "By going to the schools and covering some games, I've familiarized myself with the faculty and athletic departments. That's part of how I've built my practice."
During his senior year at Capital, Vu started at middle line-backer and helped lead the Cougar football to the 1998 WIAA 3A state championship with a 29-27 victory over Mariner High School in the title game.  The previous spring, Vu was a member of the Cougar baseball team that defeated Kennedy High School 14-3 in the 3A State Championship game at Tacoma's Cheney Stadium.
His extensive, competitive sports experience allows Vu to combine his medical and athletic perspective when working with athletes.
"One of the big advantages is that I'm familiar with a lot of the coaches, so they know who I am and where I'm coming from. From an athlete's perspective, they know that I've been involved in sports and bring along that medical perspective," Dr. Vu said. "When I'm on the sideline, my number one focus isn't the game, it's the safety of players.  Although the game is very important, safety is the overriding rule."
Like all professionals in the sports medicine field, Dr. Vu is part of a cultural change in the way concussions are diagnosed, treated and prevented.
"We're a lot more vigilant on how we're treating concussions and being aggressive on prevention and treatment but being conservative on return to play," explained Vu. "There has been a change in the way concussions are looked at that is different from when I was playing.  There wasn't the knowledge of the cumulative effects of concussions, and the treatment was just way more nonchalant.  Now, the coach's mentality of being tough and playing through concussions has largely gone away.  Coaches are more conservative and vigilant as well, and they take a step back in terms of managing these head injuries because they're being educated how severe it can be."
Through his work with local schools, Dr. Vu has noticed the thorough and professional job done by the high school athletic trainers.
"We have great athletic trainers around here and they're up to date with all the guidelines," commented Vu. "We are on the same page right away."
By working within Oly Ortho, Vu can use the knowledge of his colleagues as a resource during the rehabilitation process of a patient.
"Most sports injuries are non-operative, but If I need a surgical opinion, it's nice having these professionals to consult.," said Dr. Vu.  "If they need surgery, then I can follow their progress in the training room. I see myself as a liaison between Oly Ortho and the local high schools and colleges."
A state champion, certified doctor and mentor to students and professionals alike, Dr. Vu is seeing the good times continue in the area that shaped him.
"Olympia is different now that I'm older versus growing up, but it's one of those places that seems to stay the same," said Dr. Vu, whose parents still live in the area. "Living away from the area helped me appreciate it more, especially the collegial environment in the medical field.  But it's great to be here working in this community.  I guess 'It's the water.'"
For more information on Olympia Orthopaedic Associates, visit www.olyortho.com or their Facebook page.