By Alec Clayton

Few theater companies in the world have ever produced a long-running series of plays such as Harlequin Production's Stardust series. Stardust is a series of stage musicals set during Christmas, mostly in the same New York nightclub, with loosely connected stories covering a decade in the lives of many of the same characters. Each "episode" has been written by Harlowe Reed and features a galaxy of the best and most popular of local actors across generations, beginning in 1993.
Counting this year's The Stardust Christmas Commotion, which opens Nov. 28, there have been 19 Stardust shows in 21 seasons. That includes a couple which were revised. All but Operation Stardust (1996 and revised in 2007) and Stardust Cavalcade (2003) have been set in the Stardust Club in Manhattan during World War II. Typically, the entertainers and workers in the club are stranded for one reason or another, and as their stories play out they find opportunities to sing and dance to the hit tunes of the day – the swinging big-band songs of Benny Goodman and the Dorsey Brothers, and the Andrews Sisters. Exceptions to the rule were Operation Stardust, in which the gang found itself stranded in a supply depot in Tunisia during the WWII campaign in North Africa; and Stardust Cavalcade, in which the gang performed a variety show in another theater.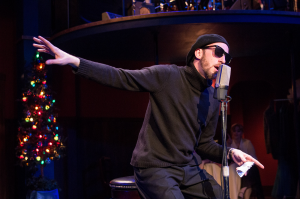 Stardust Serenade in 2011 was billed as the final show in the series. In it, a Charlie Chaplin-like character (impersonated by Christian Doyle, who has been in the last three shows in the series) had a running battle with IRS agent Hobson Bierce (Scott C. Brown, a dramatic actor who was hilarious in his first musical role). But it wasn't the last in the series, which was quickly revised and updated to the 1950s with rock and roll instead of swing music in Stardust Blizzard in 2013. Now they're back with another rock and roll Christmas musical, this one set in 1958 with many of the same actors returning in the same roles.
Harlequin's Artistic Director, Linda Whitney, says the series was inspired by two events. The first being an ongoing series at Seattle's Bathhouse Theater and second being Harlequin's production of 1940s Radio Hour in their second season. Linda says, Bathhouse's artistic director at the time, Arne Zaslove, "is a genius of originality and has done an astonishing amount of impressive theater," and he produced an annual holiday offering for more than 17 years called The Big Broadcast. "These were recreations of the golden age of radio and they were hugely successful and highly entertaining. We were inspired by the possibility of literally inventing an alternative holiday entertainment on this model. But, unlike The Big Broadcast, we wanted the shows to each have their own plot and narrative line."
1940s Radio Hour did well, so they began to explore other options for revisiting the 1940s every Christmas. Discovering that there were very few holiday scripts set in the 40s, they opted to originate their own series — necessitating the invention of playwright Harlowe Reed (named after Linda's paternal grandfather).
"Setting it in a small nightclub in Greenwich Village seemed the most natural choice from the beginning because of all the story possibilities that neighborhood affords. It's one of the oldest American communities and has always been home to influential writers, artists, performers, and musicians, not to mention the social activism that was born there," says Linda. "Largely these shows have been situation comedies about the back stage life of performers and people trying to hold the business of entertainment together. They are Christmas card romances with happy endings that families can share. They are also alternatives or additions to traditional holiday entertainment fare."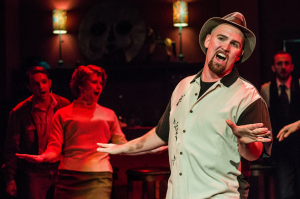 Linda's brother-in-law, Bruce Whitney, has musically directed almost every one of the shows and has played the part of band leader Nikolai Feyodorov, a Russian expatriate musician, which has provided him with rare opportunities to solo on a variety of instruments and have speaking roles (with a heavy Russian accent, no less).
"As with Linda, I can't quite remember how many Stardust shows I've been involved with, but all of them have been a privilege and a delight," says Bruce. "The operative word every year is 'fun!' Fun music, a fun, somewhat schmaltzy (in all the best ways) story set in lower Manhattan with a gang of performers who all have 'fun' on their resumes. For many years, it was set in the '40s – what a rich source of musical material! Now we've moved to the late '50s where the music is so different but still so great. The hardest part in developing each show is choosing which songs not to do. It's also amazing what a rich source of wonderful musicians and performers we have right here in Olympia."
"I feel very fortunate to be part of a company whose mantra for musical productions is, 'Let's make up our own show,'" continues Bruce.  "Don't get me wrong, I love many of the standard musicals, but the vast majority or our music shows – the summer rock revues and these Christmas Stardust original plays – are built from the ground up by selecting and arranging a great mix of songs and casting a great mix of performers. And this year is no different. Every night during rehearsal, at least one person can't help but exclaim, 'This is so much fun! I'm so glad we get to do Stardust again!'"
The 19th production in the series, Stardust Christmas Commotion, is once again set in the Stardust Club. It's mid-December 1958 and the club has been hired to host a hurry-up wedding reception for a mysterious couple. It's a race to beat the clock, further complicated by the arrival of a social worker looking for a fugitive from a foster home. But the show must go on, and the gang sings and dances some of the greatest rock and roll songs of the era in their search for holiday magic.
The story focuses on a teenaged boy played by 17-year-old Jackson Jones. He's knocking around Manhattan and has a part time job at the Stardust Club. Mark Alford reprises his role as Baxter, the overly enthusiastic sound man at the Stardust. Maggie Lofquist once again plays the part of Joy, the club's no-nonsense business manager. Amy Shepherd, Christian Doyle, and Bruce Haasl are all back again to reprise their roles from last year's The Stardust Christmas Blizzard. Also featured are Leah Scofield and Edsonya Charles. Musical offerings will include such early rock classics as "Makin' Whoopee," "Lollipop," "Come and Go with Me," "Sugartime," "Three Cool Cats," "Do Ya Wanna Dance?" and Christmas songs such as "Home for the Holidays."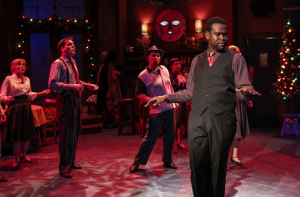 Alford says, "What continues to strike me about Stardust is the intensity of peoples' connection to the series. Stardust is a well-established family tradition and I've spoken with Olympians of all ages who have seen them many times and absolutely love them. I was at the Reef a while back and someone came up to me and told me their son calls me 'Runs Crazy.' Apparently they had seen last year's show and his son started calling me that, and whenever they see me on the street they say 'There's Runs Crazy!' Then a few weeks ago I was at a sales event and, when a woman in her 20s saw my Harlequin name tag, I watched as her eyes misted over and she told me her family had gone to every Stardust for years. There was a very specific mixture of nostalgia and joy in her voice. I recognized it as the way I talk about my family's camping trips when I was growing up, or of watching the Mariners with my dad in 1995."
Linda says, "Another aspect of the experience of putting these shows together is the opportunity to learn a lot about mid-twentieth century America. World War II figured large in the earlier shows and that is an intense realm of study. Now getting into the '50s and learning how – in the midst of all the cheer and optimism – the stage was being set for the upheavals of the next decade. With the advent of television a new realm of entertainment opened up to a new generation. Big band era stars became television sitcom stars and rock and roll found its way into the home through the tube."
The Stardust Christmas Commotion runs Nov. 28 – Dec. 31, at Harlequin Productions' State Theater, 202 4th Ave E in Olympia. Tickets can be purchased by clicking here or by calling the box office at 360-786-0151.