Teamwork.  We all know it's the hallmark of success in so many arenas.  On the field or court, teamwork is essential to get the "W" at the end of the game.  As families, we know that together we all accomplish more, and have more fun, when we work together.  And in business, the overall goals and success of the group can only be achieved with a solid team backing each other up.
Teamwork is at the heart of Boggs Inspection Services.  Not only does owner and founder Dwayne Boggs rely on his team of talented inspectors to complete timely and accurate inspections, but he relies on the exceptional support of his office manager, Heather Rowell.
For many years, Boggs was a one man show and he knows how lucky he is to have Heather keeping the expanding business running smoothly.  From scheduling inspections throughout the South Sound to managing paperwork to visiting realty offices around the area, Heather truly is an invaluable part of the Boggs Inspection Services team.
Heather joined the Olympia-based home inspector after many years as a stay-at-home mom to her two daughters, ages eight and ten.  Despite loving her time at home, she had her eye out for an opportunity to add to the family's income, yet remain flexible enough to still be a mom first.  A friend had worked with Boggs previously and when a life-change took her out of the area, she recommended Heather for the position.
Heather and her husband have lived in Olympia for 11 years.  She teaches Zumba at Lacey Ultimate Fitness where she's been leading groups in the fun fitness class for three years.  While she hadn't worked in a typical "office" job before, she learned quickly and enjoys keeping the "boys" on track.
"I do anything and everything office related for Dwayne," she shares. "I manage the marketing, scheduling, website, and all the paperwork."  Not only is she managing the in-office tasks, but reaches out into the community on behalf of the busy inspectors, meeting with real estate agents, running errands, and being "the face" of Boggs Inspection Services.
"It's not an industry I ever thought I'd be in, but I'm so grateful to be a part of this group.  I've learned so much about not only the home inspection side, but about the whole process of a real estate transaction," she shares.
Heather manages the busy schedules of Boggs Home Inspection's three inspectors – Dwayne Boggs, Tom Hitchman, and Keith Bowman.   The inspectors range within an approximate 60 mile radius of their Olympia home-base reaching as far north as Renton and Kent, throughout Pierce County including Gig Harbor and reaching south and west into Grays Harbor County and Lewis County.  Coordinating such far reaching locations takes savvy and Heather does it with ease.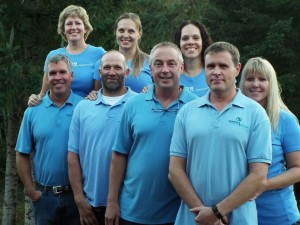 But when asked what she likes most about her role working for Dwayne Boggs it's not about the tasks she completes.  "It's been a wonderful experience working for Dwayne.  He has helped us go from a single family income to a two income household," she explains.  "But the best part is he loves my kids and loves my family – if I need to stop what I'm doing to help my kids or go to their school he understands and having that flexibility allows me to work and still be there for my kids when they need me."
Heather was able to set up a home office and utilize her cell phone to stay connected to the inspectors and the office line when needed.  "It feels like he is a part of the family.  He's respectful of family time and encourages me to include my kids whenever possible," she says.  "He really is caring and considerate – really, he's just a big teddy bear."
Local real estate agents may have a chance to say "hi" to Heather in person soon.  She'll be visiting local offices to deliver poinsettias for the holidays, a way to say thank you for a positive partnership through the years.
When not representing Boggs Inspection Services, Heather and her family can be found enjoying the outdoors camping and riding ATVs.  "We are camping from the time the sun comes out in the spring until the snow hits the ground," she laughs.  "We just spend a lot of time together – family time is really important to us."
And Heather now has another family with the Boggs Inspection Services team.  "We all work together so well – it's a true team effort."
And when asked to reflect about her boss, Dwayne, she smiles.  "Dwayne just wants to do the right thing.  He wants to make people happy and help them when they need it.  He's all about helping solve problems for people.  It makes me excited to be a part of it all."
To chat with Heather, or schedule a home inspection, contact Boggs Inspection Services at 360-480-9602.