At 2:30 p.m., Saturday, March 26, 1966 Olympia's new city hall (900 Plum Street Southeast) was opened to the public. The ceremony began with a flag ceremony by Boy Scout Troop 48 and a flag presentation by Veterans of Foreign Wars Post 318. Supreme Court Justice Matthew W. Hills gave a speech before architect Robert Wohleb and contractor Andy Johnson formally presented the modern, space-age building to the city. After the event ended, the city government held an open house, with refreshments served in the city commission (later city council) chamber.
Mid-century Olympia was undergoing a period of rapid change. The city's population grew after World War II, increasing from 13,254 in 1940 to 23,294 in 1970. Interstate-5 opened locally in 1958, changing transportation in the region. With suburbs expanding, Olympia's city government sought to facilitate the growth with improved public infrastructure. In 1959-1960 the city completed a comprehensive plan.
In 1960 the city commission appointed a "Committee for the 60's" to study a number of proposed projects. Chaired by Sherman Huffine, it was made up of around 50 private citizens. Most of the proposed projects were rejected (though some, like a new public library and a performing arts center, were built in later years). By the time that the city commission approved the committee's proposals for public vote, there were only three:
The cover illustration of the dedication program for the 1966 Olympia City Hall. Photo courtesy: Washington State Archives, Southwest Regional Branch

Extend Henderson Boulevard from the northbound I-5 exit to North Street, improving access to the new residential area around Olympia High School from downtown and the surrounding area.

Buy property and develop a park and swim facilities at the northeast corner of Capitol Lake (now Heritage Park).
Buy property and construct a new city administration building on the outskirts of downtown.
Voters approved these three proposals separately at the polls on September 11, 1962. The projects would be paid for by bonds rather than an increase in taxes.
For architect, the city chose Robert Wohleb (1916-1966), son of noted Olympia architect Joseph Wohleb. Joseph moved to Olympia from California in 1911, where he dominated Olympia architecture for decades, designing businesses, houses (including the Lord Mansion), factories, schools and even some of the office buildings on the state capitol campus.
Robert followed in his father's footsteps, graduating from the University of Washington with a B.A. in architecture in 1939. He joined his father's architectural firm in 1946, and the firm was renamed Wohleb & Wohleb. After his father's death in 1958, Robert reorganized the business as Robert H. Wohleb Associates. He had an active career, serving in civic groups and on the Port of Olympia Commission. In addition, he was chair of the Washington State Board of Architectural Examiners from 1954 to 1955.
Robert Wohleb worked on many Pacific Northwest projects. He became well known for designing breweries, including buildings for the Olympia Brewing Company in Tumwater. In Olympia, he designed the Memorial Hospital (1948), State Theater (1949), KGY radio station (1960), St. Michael Catholic Church (1966) and several homes in the Stratford Place Addition. At the height of his career, Wohleb tragically died in a drowning accident off Harstine Island a few months after the City Hall was dedicated.
Olympia City Hall
The new Olympia City Hall was a departure from Robert Wohleb's usual style and the more austere mid-century modern buildings that had come to dominate Olympia's downtown after the 1949 earthquake severely damaged the region. Early designs for the city hall show a more traditional rectangular building, but that idea was replaced by a fanciful expressionism (or neo-expressionism) style building.
This style experimented with a modernist emphasis on structural forms over decoration by making them more sculptural. The city hall is a round "o-shaped" building sometimes described as a "doughnut." A few have even described it as a "flying saucer" as a nod to its space-age design.
Offices and departments were to be located on the outside ring of the building, accessible both from outside and inside. The center, boarded by a moat with fish (since replaced by lawn) was the commission chamber. City Hall was built as a modular building, with exterior walls of Styrofoam and steel covered in marblecrete that could be easily moved to add additional office space in the future.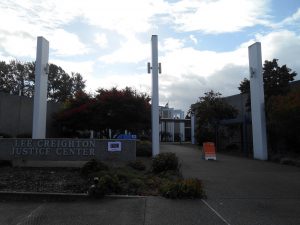 Local and regional businesses worked to complete the new building. They included Lassen Electric (electrical installation and fixtures), Capital Plumbing & Heating (mechanical installation), David F. Cody (painting), Hyak Company (vinyl flooring, carpeting and wainscoting), and G. & G. Electronics (piped music and intercom system). Coast Office Equipment Inc, Griswold's Office Supplies and Equipment and Martin Furniture Company provided office furniture.
The commission actually held its weekly Tuesday meeting in the building the week of the dedication. The commission (and later city council) used the building until 2011, when a larger city hall was built (601 Fourth Avenue East). The former city hall was turned into the Lee Creighton Justice Center. Named for the late Lee Creighton, Olympia's first elected municipal court judge, the structure is now used as the city's municipal court. Over 50 years since its construction, the building continues to serve the community that it was built for.