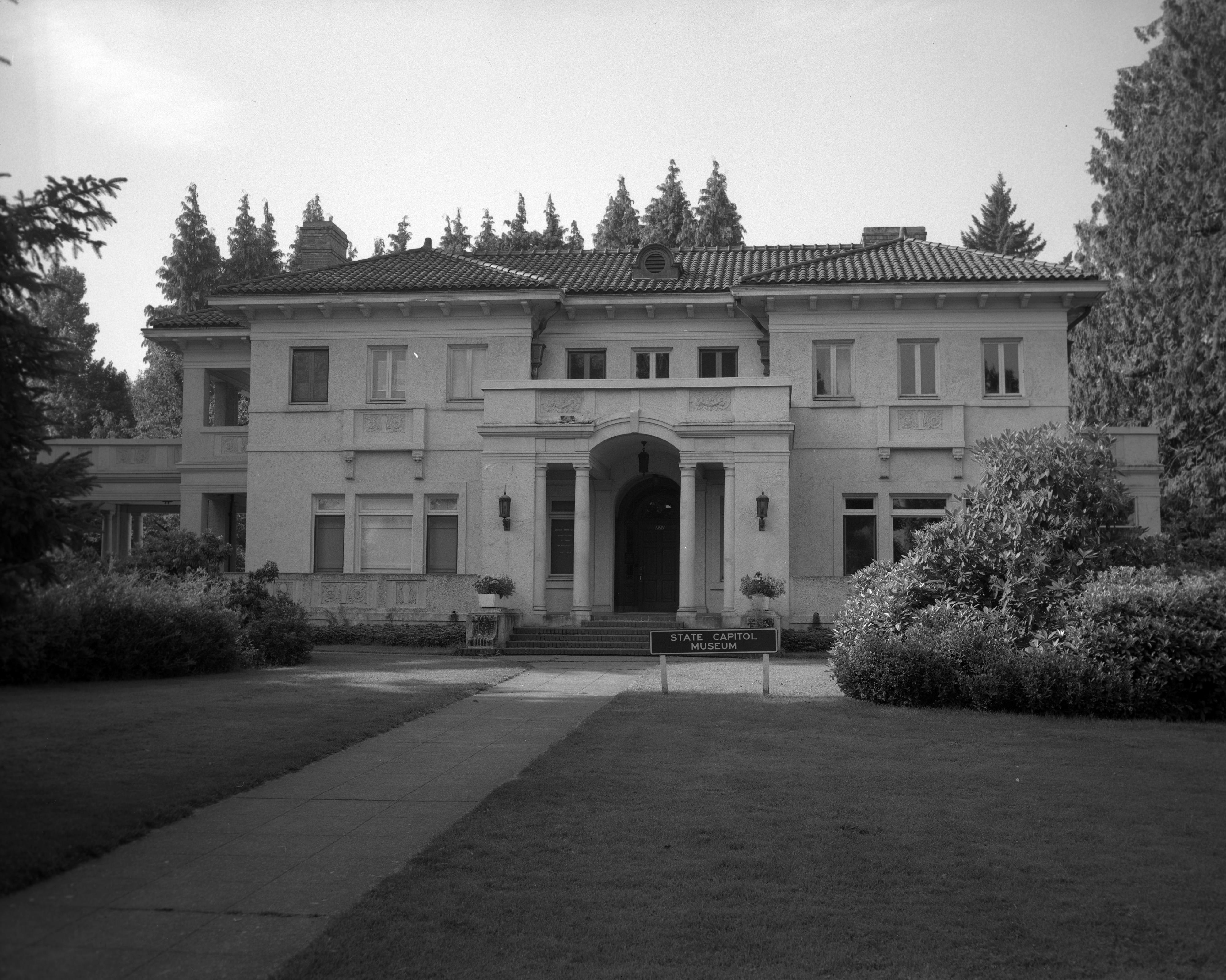 By Jennifer Crooks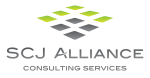 C. J. Lord was an important man in Olympia history.  The dominant banker in the community during his lifetime, he was also involved in politics and civic affairs. He has left an often overlooked impact on Olympia and Washington State.
Clarence Jefferson Lord was born in Louisville, New York, on August 16, 1863, the only child of Bela B. B. Lord (1840-1904) and Elizabeth C. Kirlton Lord (1850-1915). His father imported horses and Holstein cattle. Both of C. J.'s parents were active in the Grange movement. Raised on his family's Sinclairsville Stock Farm, C. J. attended Eastman's Business College in Poughkeepsie, New York, and became his father's business partner at age 21.
On September 3, 1890 C. J. Lord married Mary Elizabeth Reynolds. The couple would have one child, Helen Lord (Lucas) (1904-1987).  His wife Elizabeth has been credited with popularizing in Olympia giving children candy on Halloween, softening the formerly wild holiday.
C. J. Lord first came to the Pacific Northwest on business, but soon returned to establish a bank. Serving as cashier, he opened the Capital National Bank in Olympia on May 14, 1890. After two years. Lord had become the head of the bank, a position he would retain for virtually the rest of his career except for a brief interlude. Only 27 when he became president, he was one of the youngest national bank presidents in the United States at the time. His bank became popularly known as "Lord's bank."
Lord's career in politics was met with mixed success. Running for Olympia mayor in 1892 as a Democrat, he lost to Judge J. W. Robinson, an Independent.  Leaving the Democratic Party, Lord ran as a Republican in the 1901 election. He won and served as mayor from 1902 to 1903. Deciding against reelection, Lord began campaigning for governor. This attempt was met with much less success. After a fairly bitter campaign in Thurston County, Albert Mead was picked by the state Republican convention as their candidate. Mead won the election, serving one term.
His foray into politics over, Lord concentrated on banking. This led to a series of mergers and acquisitions. In 1928, Seattle holding company Marine Bancorporation acquired the Capital National Bank, paying much more than the book value of the bank. Shortly afterwards, Lord drove another hard bargain as a director of the National Bank of Commerce in Seattle, again receiving more than the book value for his stock. Lord helped arrange other acquisitions, as well. In 1933, with new laws allowing branch banking, the individual banks owned by Marine Bancorporation combined into the National Bank of Commerce (renamed Rainier Bank in 1974).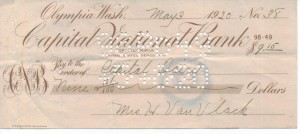 Besides his bank, C. J. Lord played a large role in activities that helped keep Olympia as the State Capital. He was heavily involved in keeping open the Hotel Olympia when it was facing bankruptcy. At one point he served simultaneously as president, treasurer and director of the hotel company.  In 1903, no one would purchase construction bonds for fixing the capitol building, so he bought them all himself.
In public affairs, during World War I Lord served on the State Council of Defense and chaired Red Cross and Liberty Loan campaigns. Also, he was a longtime member and leader of the Masons, Elks, Rotary Club, and the Washington and American Bankers' Associations.
C. J. Lord was also well known for his love of cars. He purchased his first in 1905, a $3,500 40-horse power Pope Toledo. The Olympia Daily Recorder described it as "the first high power touring car in town."  In 1909, Lord became the first chairman of the Olympia Auto Club.
Until his death on February 12, 1937, C. J. Lord continued as an active banker. The whole town noted his passing. Banks closed for the funeral and employees of his bank served as pallbearers.  Lord chose to be buried in the Lord family plot in Sinclairsville.
"The death of Mr. Lord means a great loss to the community. He was a fine friend, a sound banker and a good business man," early grocer J. F. Kearney said on the death of Lord when interviewed by The Daily Olympian newspaper. While many held Lord in high esteem, he had gained a negative reputation in the eyes of some. Perhaps his most famous nickname was "The Man with the Marble Heart," a title originated in June 1900 by the outspoken John Miller Murphy, editor of the Washington Standard newspaper. Being the bank president certainly made Lord a target for criticism.
Still it must be remembered that C. J. was always a dedicated supporter of Olympia. Two years after his death, his wife and daughter generously donated the family house (built in 1923) to the state to be a public museum. The building, located on 21st Avenue SW, opened as the State Capitol (later Capital) Museum in 1942. In 1993 the museum merged with the Washington State Historical Society. Despite many changes, the State Capital Museum continues to sponsor educational programs to this day. Perhaps it is Lord's most lasting legacy.
Further Reading
Newell, Gordon. Rouges, Buffoons & Statesmen. Seattle, WA: Hangman Press, 1975.
Rohrer, Susan. "From Mansion to Museum" in Crooks, Drew ed, Olympia Washington: A People's History. Olympia, WA: City of Olympia, 2009.