As a self proclaimed foodie and accomplished host it makes perfect sense that Jenell Arnold, owner and esthetician of Touché Beauty Bar, has created a thriving component of her business in special events and spa parties. Spa parties are the ideal way to celebrate with friends whether it be a birthday, wedding day, baby shower or a seasonal extravaganza. Arnold and her team at Touché Beauty Bar know how to throw a party.
Spa parties and special events seem to be a natural extension of what Arnold enjoys and who she is in her personal life. "I love festive gatherings. I host dinner parties at my house all the time. I am really good at my job because I enjoy hosting in general. And I am a foodie. I love to cook. Food is just another way of loving on people for me. I always say, 'Just let me feed you and we are bound to have a good time.'"
It is exactly this type of care, celebration and ambiance that convinced Lindsey May that she wanted to spend the morning of her wedding day in the care of Arnold and her team at Touché Beauty Bar. May has been a client of Arnold's for over ten years.
"I started seeing Jenell for my waxing and skin treatments. I instantly fell in love with her skills. So when I got engaged in August 2014 I knew that Jenell was the one I wanted to take care of me on my wedding day," shares May. "It was a morning of pampering for myself, bridesmaids and moms as Jenell and her team did our makeup and hair.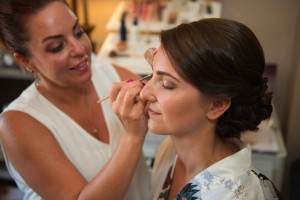 "Jenell and her team went above and beyond in making us feel comfortable and beautiful," continues the bride. "It was a truly amazing experience. It was so nice to have my family and friends all in the same place. The morning was perfect – we laughed, cried tears of joy, and reminisced about past times. The Touché team definitely made the morning of my wedding special."
Touché Beauty Bar has 3,000 square feet of space that can be customized to any type of event including bridal parties or other occasions where guests can rotate through specific stations and services. Touché Beauty Bar also hosts smaller events such as a Caprice's #9 birthday party. "We had a group of fifteen nine-year-olds come in for a birthday spa celebration. They all had hand scrubs and manicures in our new nail studio. It was a super affordable way for the young girls to get some pampering and fun treatments."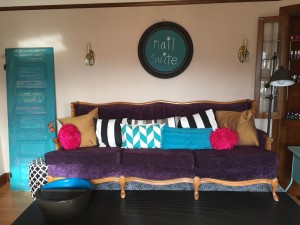 Arnold's reputation for taking care of her clients through thoughtful food choices, special events, and amazing gifts is most evident in her Fall Ball, which is the Touché Beauty Bar's biggest annual event. This last fall Arnold encouraged her clients to spice up their fall with autumn themed hors d'oeuvres including pumpkin hummus, pumpkin cupcakes and cocktails as well as pumpkin facials, pedicures and body scrubs. Festivities included complimentary make up color matching and numerous skin care product giveaways.
The Touché Beauty Bar Facebook page is the best resource announcing upcoming special events, new products and flash sales, such as the Botox parties that are typically offered every three months with well themed cocktails and snacks.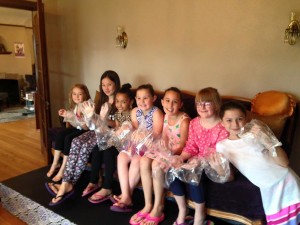 Arnold explains, "I have events to give back to my clients. People come to Touché and are so loyal. Our special events and parties are a way to give back to them. I want our clients to have fun, give them products, and have them enjoy the food and beverage I can make for them."
Touché Beauty Bar is a full service spa and nail suite that provides premium skin care, waxing, massage, nail services and lash and brow extensions in a beautiful, historic space in Olympia's Upper Eastside.
Touché Beauty Bar
1912 State Avenue NE
Olympia, Washington
360-972-2345
Sponsored