Olympia's runners may look forward to the dry spring and summer weather more than anyone else in town. After months of braving the rain and cold for the sake of fitness, or being confined to treadmills for most of the winter, they happily welcome the sunshine whenever it decides to make an appearance. Olympia offers plenty of great running spots when it's finally time to get back outside and make the most of better weather.
Priest Point Park Trails

Priest Point Park sits just off Puget Sound on Olympia's east side. It covers more than 300 acres and boasts a maze of looping nature trails that ensure runners will never get bored. Some trails stay far from the shore and provide plenty of shade, while others lead down to the mud flats at the water's edge. Priest Point is an ideal location for runners who prefer trail to pavement and enjoy a great water view at the end of their workout.
Garfield Nature Trail and West Bay Park
For those who like a mix of street and trail running, Garfield Nature Trail, between Rogers St NW and West Bay Drive NW on the west side, provides a short, quiet nature break between roads. Across West Bay Drive, West Bay Park leads runners down to the water for beautiful views of the Sound, the 4th Ave Bridge and the Capitol. When the clouds cooperate, Mount Rainier is visible from this spot as well. For those looking to push themselves with incline running, taking this route from West Bay to Rogers provides a significant uphill stair climb just before reaching the trail's end.
Capitol Lake and Campus
Runners who like to people-watch or have some company flock to Capitol Lake when the weather warms up. Each loop around the lake adds about 1.5 miles to a run, and you can't beat the view of the Capitol Building and the sunshine reflecting off the water. Distance can easily be added by taking the Hillside Trail off the lake, which zigzags uphill to the Capitol Campus. Runners can also follow Deschutes Parkway SW alongside the lake to Interpretive Park and Tumwater Falls.
Capital High School and Sunrise Park
Capital High School is located on Conger Ave NW. Runners who prefer a bouncy surface can make use of the high school's outdoor track. Trees and hills in the distance make a great view from the track on a clear day. For more distance, follow a larger loop around the school, using Conger, Cooper Point Rd NW, Limited Ln NW, and cutting through Sunrise Park.
Grass Lake Nature Park Trail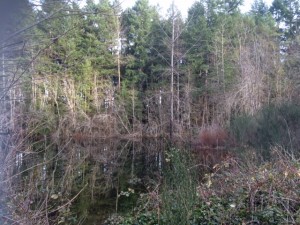 Grass Lake Nature Park, off Kaiser Rd NW, offers plenty of quiet, open space. With trail entrances at both Kaiser and 6th Ave NW, runners can come from either direction and tackle the one-mile loop inside the park, then take a break to enjoy a view of the lake.
The Evergreen State College Loop
The Evergreen State College is tucked away among gorgeous forestry in the northwest corner of Olympia. Runners can loop most of the campus using the Evergreen Parkway, Overhulse Place, Driftwood Rd NW and Geoduck Ln NW. Several paths lead from the academic buildings to the college's organic farm as well, providing a great place to enjoy the silence and the greenery.
Mission Creek Trail
Mission Creek Park covers 37 acres on Olympia's east side. There are several trail entrances, including pedestrian pathways on Lybarger St NE, Fir St NE, Etheridge Ave NE and Edison St NE. The park's soft-surface trails cover about one mile and are laid with crushed rock, promising good traction even on wetter spring days.
Beginners can make great use of the shorter loops in these areas, while more seasoned athletes, or those in marathon training, can combine two or more of these trails to further their distance. Whatever their skill level, runners of all kinds are sure to find a route they love with all Olympia has to offer.