First Christian Church of Olympia, on the corner of Franklin and Seventh Street, is remarkable for its vibrant congregation and partnership with InterFaith Works. Two individuals, special to the staff at First Christian Church, were once members of Camp Quixote, a tent camp for the homeless that was located in the church's parking lot. Don Hutchinson and Pat Gallaher stayed on after Camp Quixote relocated to a permanent site in 2013. They had a good reason: they are the church's gardener and custodian. 
Gallaher is a shy man with a gentle smile. He is originally from Pennsylvania. He's a handyman, a tree cutter, and a plumber. Years ago, back in his hometown, he made a couple of hundred dollars a day as a coal miner. He owned a house. He had five children. But then he got in trouble.
"I made some mistakes," Gallaher says. "I went to prison. But, my wife and I have been married for 33 years. We moved here to Washington to be close to her family. We didn't count on being homeless, but it happened."
Hutchins likes to stand instead of sit. He is a gregarious speaker. He was an aerospace mechanic in his past. He worked on the Airbus airliner and other planes for five years. He was married with a son. One day he came home and his wife was gone.
"I was steady. But then my wife left and I sort of lost it. My son and I lived in my truck for a while. I finally decided to take a chance and get well. I wanted to survive and face life," Hutchins says.
Gallaher and Hutchins ended up at Camp Quixote at the same time. They were drawn to the independence the tent camp offered. Their stories are unique, and yet, when a person is homeless there is one depressing truth: without a home, without a job, without hope, there is an absence of purpose. The two men didn't like that.
They noticed that a single custodian, Larry Fisher, was maintaining the inside and the outside of the church. With 30 people living in Camp Quixote, by the time he would finish sweeping the sidewalk, it was dirty again. Cigarette butts, newspapers, forgotten items of clothes, and errant bedding littered the grounds of the church. Gallaher saw it first. He decided to help. He cleaned up the flower beds. He made neat piles of fallen leaves. He found a broom and a dust pan and swept up every cigarette butt on the sidewalk and in the street. Soon he found cutting shears and started trimming the bushes facing Franklin Street. He didn't say much to anyone, but he didn't have to. His work spoke for him.
Hutchins watched Fisher maintain the inside of the church. Although the inhabitants of Camp Quixote were responsible for taking care of their living space, the extra people and their belongings were wearing down areas of the building. He picked up a broom and swept the walkways. Soon he found a bucket and mop and began mopping floors. There was a surprise task too—the church asked him to open the reader board each week and change the dates, sayings, and messages. Hutchins was the one responsible for sharing the word.
"Pat and me, we volunteered for a long time. Larry told us 'jump in, take a part of the load, it will keep you out of trouble and help me.'" Hutchins nods his head. "That was the thing. He needed us."
When it was time for Fisher to retire, Pastor Amy LaCroix of First Christian Church approached Don and Pat and asked them if they would like to become a part of the church's staff.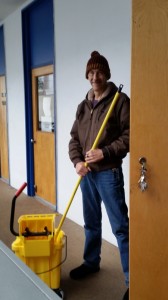 "We knew that Don and Pat were the people for the job. Larry had done all of the work around the church and it was quite demanding. It just seemed natural for Don and Pat to continue what they were already doing," says Pastor LaCroix. "They work hard. They also work together which we respect. Our church is about enlarging our circle and welcoming everyone."
Gallaher and Hutchins are now in the unusual place of mentoring people who find themselves homeless and in need of a bed at the Interfaith Works Overnight Emergency Shelter located in the basement of First Christian Church. Sometimes the stories they hear remind them of their difficult days on the streets.
"We tell them to do something. Get their minds going," Hutchins says. "We tell them about where to go for help – Bread and Roses, SideWalk, and other places. But nothing helps as much as a job."
"I tell them that if they are going to do a job they should it right," Pat comments. "I tell them that I am happiest when I am tired."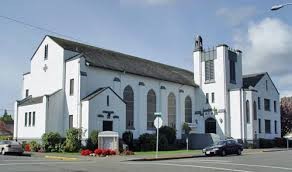 Visitors come to the church and the shelter for many reasons. They may need a place to sleep and a meal to eat. But they are nourished in another way. The beautifully manicured grounds and a clean welcoming church building tell the visitors that they matter. According to Gallaher and Hutchins, that's where hope begins.
Public Health and Social Services in Thurston County has information on homeless shelters and other kinds of assistance.