Megan Mikkelsen remembers an assembly in high school that talked about the negative impacts large feed lots have on the environment. This event set the stage for a lifelong passion of healthy living and eventually led to Megan starting her own healthy living company, Detox by Design, in the fall of 2018. She is like a personal organizer who specializes in detoxing homes—finding the chemical-laden products we use everyday and showing us safer alternative that still do the job we need them to.
After graduating with a master's degree in public health in 2003, Megan has worked in the public health arena, in various capacities, for 15 years.
And then she became a mom, right around the time the dangers of BPA in plastic bottles and other items was coming into the public eye. "You start looking through your home—'that's plastic, that's plastic, that's plastic'—all these different things you are using every day, putting your food in, your water, potentially microwaving, that started me thinking that what we bring into our home makes a difference. There are so many things in our environment we can't control, like air quality or even water quality. But let's control what we can and be as informed as possible. I wanted to open people's eyes to the fact that just because something is sold in a store, does not mean it's actually safe."
She goes on to explain that there are about 2,000 new chemicals produced each year, and no one really knows if they are safe or not. "For cleaning products, US regulations leave manufacturers in charge of determining what goes on the label and they only require that manufacturers disclose chemicals if they're on the 'chemicals of known concern' list," she explains. "What about chemicals that we don't  yet know are a concern?"
Detox by Design: Help for the Average Household
While there are more "natural" items on shelves now than there was two decades ago, Megan knew there was still a ton of work to be done. "Marketing terms often trick us into thinking products are safe when they're not," she says. "Marketing terms like 'natural,' 'botanical' and 'green' aren't regulated and are exactly that, terms used for marketing."
And her work in public health helped her realize gaps in educating the public on ingredients in items they use every day. "People need to learn and connect in different ways," she says, "and sometimes one-on-one coaching to remove the environmental toxins from the home is what is needed."
In 2016, Megan started helping people do just that by selling Crunchi, a toxin-free skincare and make-up line. A lot of what she does is education, including highlighting the lack of transparency when it comes to ingredients in things we put on or in our bodies every day. The regulations for cosmetics haven't changed in 80 years," she notes. And, she adds, considering how many types of make-up and skincare many people put on their body every day, those chemicals really add up.
Megan realized people wanted to use safer products, but that it was time-consuming and confusing to try and figure out which products to buy. And do they work as well as the product "mom always used" or would it just be a waste of money? So, in 2018, Megan started Detox by Design, a way for her to help people detox their homes in a simple and uncomplicated way.
She starts with a free phone consult to see which of her services is best for you. This may include a virtual home detox session, where you send her photos of the items in your home and she sends you back a detailed report on them, including harmful ingredients. Then she lists safer alternatives that she herself has tried and therefore knows they work. Or maybe you just have one or two items that you would like her to analyze, she can do that too. Her goal is to help you live a cleaner life, with less toxins, because it's not only healthier for your family, but also the environment she says.
Detoxing One Month at a Time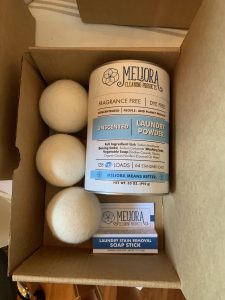 "It's kind of overwhelming to a person to think, 'Oh my gosh, I have to switch over all of these products. Laundry, dishwashing, deep cleaning.' It's overwhelming," explains Megan. That's where her subscription service, The Box, comes in. "With the subscription box service, focus is on one area of the home each month. The first month is laundry and it has everything you need to detox your laundry routine, ditch dryer sheets, ditch toxic stain remover, etc." The products are all tested by Megan so she knows they work well. For the most part, the products are made by small businesses. All are sourced in the USA.
"I got unscented! Which I like, and surprised me," says Dawn A., a The Box subscriber from Olympia. "We have a puppy, so I am doing lots of loads of towels used to clean up. I was super impressed that they came out smelling super fresh and clean with nothing scented."
You can join her Detox by Design Insiders Facebook group, to get more tips and education from Megan, as well as listen to her podcast, Toxin-Free Talk. Her podcasts seek to educate by giving you information on labels of popular household products, toxin-free alternatives, and other healthy living tips. To sign up for The Box or to get her Toxin Free Living Guide, visit the Detox by Design website.