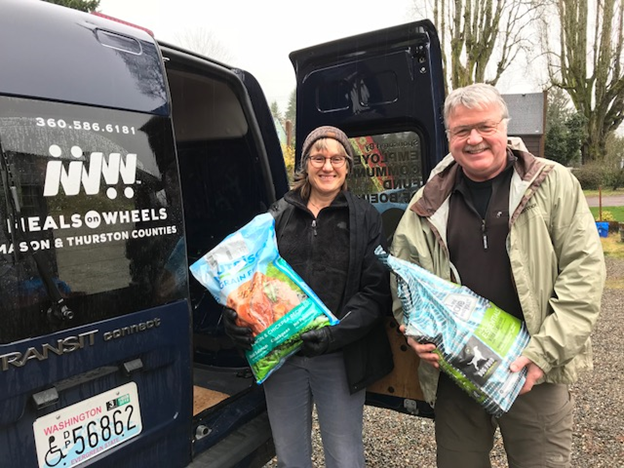 2020 has been a hard year for everyone. And while there may have been an uptick in pet adoptions as some people found themselves working from home with the perfect opportunity to bring in a new family member, others found themselves suddenly out of work and wondering about caring for their entire family, pet and human. While Concern for Animals had to shut their doors just like everyone else, they worked quickly to adjust the way they do things, including expanding their food bank, to make sure they could help everyone care for their pets through the pandemic.

"Our biggest goal is to support the animals in the community," says Cella Hyde, outreach development and coordinator for Concern for Animals. "We don't think the financial barriers should lead to an animal starving or an animal going without medical care."
Concern for Animals' programs are available for any resident of Thurston, Mason or Lewis counties that is low-income and on federal or state aid, a senior citizen or a full-time student. Cella says a lot of people on federal or state help such as AppleCare or food stamps, or military E4 and below, are not aware that they are eligible for the range of services that Concern for Animal has, including help with spay/neuter, emergency medical, and their pet food bank.
When the pandemic hit, they realized that their pet food bank was going to become an even more vital resource for even more residents and they wanted to make it more accessible, so they have changed their requirements for eligibility. "We didn't want people waiting," Cella explains, "because some folks are on the job hunt, they are not even applying for food stamps because they are so – day-to-day, go-go-go to try and find a new job – that they are not even thinking about the benefits that are applicable to them. So, we expanded our food bank to include people that have just lost their job or lost hours."
The food bank includes not just food for dogs and cats, but all manner of essential items as well as food and items for domestic, non-exotic, small animals like guinea pigs and ferrets.
Residents of Thurston, Mason and Lewis counties can use the food bank up to six times a year for up to three animals of the same species, with a six animal total cap. "Those were the caps we started with at the beginning of the year for 2020," Cella explains, "so not related to COVID. However, they are subject to change. If we see the community struggling in a certain way where our caps are not meeting the need, we will reassess and change as needed."
To keep everyone safe, another change is the way the food bank is run. Currently, you call by Monday to make an appointment for pick up on Tuesday. They can do contactless pick up, putting the items in your truck. "We've had some people not want to come because they are worried about safety and contact," Cella explains. "We are doing contactless pick up and can definitely place items in your truck for you so your animals can be taken care of."
Go Kits & Other Services
Knowing there are a lot of people who have been out of work for months who may not know that Concern for Animals has these programs, Cella says they have been working hard on getting the word out. "We are partnering and giving 'go kits' to groups like the Olympia Free Clinic, so they can give them to folks who might not know that we exist yet that have pets that can't afford to get the help they need as well." The go kits including donated supplies and bags from MudBay Pet Supplies, along with other donated supplies, including wet food, dry food, a toy, other necessities, as well as information about the Concern for Animals programs.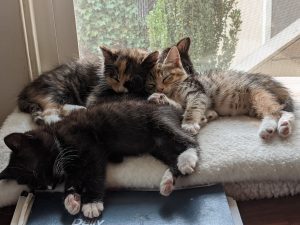 Another important service they can still provide during COVID-19 are their senior grooming vouchers. Senior residents can use their grooming vouchers with the mobile groomer Concern for Animals has partnered with, so they don't have to leave their house and walk into a grooming salon, making it safer for them to keep their pet well groomed, which is important to their overall health.
Still looking for something warm and cuddly to fill your lap? They are continuing their feral kitten adoption program, but it is now by appointment only. You can see the kittens they have available on their Facebook page and then contact them if you wish to fill out an adoption application and meet the kittens.
Annual Fundraiser Goes Virtual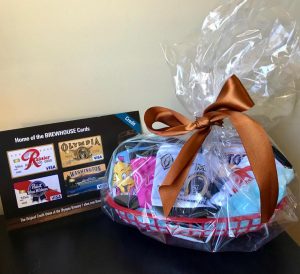 As people continue to lose work, housing and more due to the pandemic, Cella knows the demand for their services will only grow.  "We had people tell us they moved to the area for a job, only to find out the job no longer existed or was drastically cut in hours due to the pandemic," she shares. Often, they have families, including pets, that they now have to provide for. Concern for Animals is helping keep pets in their homes and out of shelters by providing necessary services and supplies. They do this through grants and donations from businesses and individuals throughout the year, as well their annual fundraiser.
This year, their annual fundraiser, Toast for Tails 2020, will be taking place virtually, allowing anyone who wants to join in on the fun for a good cause. The silent auction will be taking place November 9-14, with a special live auction happening on November 14. RSVP to the event on the Concern for Animals Facebook page to get up-to-date information, including previews on auction items. MudBay Pet Supplies is making a donation match of up to $1,500 and Stottle Winery will be donating 15% of their proceeds during the auction week to Concern for Animals. And there is even a virtual dessert dash with local restaurants. "We are trying to work with a lot of local business because we know they have been hit just as hard," Cella explains. "The more we can bring people to them as well, the better."
Together, we will all get through this.