Time has little meaning in all the chaos that is 2020. But the holidays are coming and their arrival will bring a bright spot to an otherwise murky year. Make your list and check it twice then head to The Rolling Pin for all your kitchen and culinary needs. You can even order online for local delivery or pick up curbside with same-day turnaround.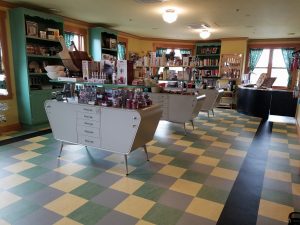 Whether you're cooking for a quarantined family or part of the Great Sourdough Craze, we've all spent more time in our kitchens than ever before. Over the past few months you may have realized that your baking supplies wouldn't last five minutes in the Bake Off tent or that online recipes aren't always reliable. It's time to seek help from a pro.
At The Rolling Pin, owner Alicia Elliott and her staff are excited that everything in-store is now also available online. "This expansion has always been in the backs of our minds but as we near the holiday season and we have a good grasp on our online ordering, now is a great time," says Elliott. "Turnaround time from order to pick up can be very rapid. The delivery option—once it's available—will probably be only twice a week."
The team hopes to offer delivery throughout Thurston County starting in late October. It will be for a flat fee and customers can choose between available days. Until then, simply order online or by calling 360-754-3955 and your order will be ready for curbside pick-up when you need it.
Not sure what you need? Don't worry, the crew is very good at suggesting alternate, additional or replacement goodies for any need. And over the summer, the store added more shelving and nearly doubled their inventory. Customer feedback is always welcome and drove this exciting growth. "The large part is from a suggestion list in the store," explains Elliott, "and we also receive phone calls and emails from folks looking for certain items. The requests have been all over the map, not so much for knives, but for gadgetry and utensils like electric tea kettles, popsicle molds, and waffle irons. You've asked and we have listened!"
Some of their iconic lines make a trip to The Rolling Pin unique. "The Rolling Pin is proud to be the only registered dealer for both Shun and Wüsthof cutlery in the Olympia area," says manager Marty Lauer. "Shun knives have a beautiful look about them due to their gorgeous Damascus steel construction, but their blades go beyond just looks. Every Shun knife offers a razor-sharp edge that provides outstanding performance, can hold up against repeated chopping for longer than traditional knives, and each blade is hand-crafted by artisans in Japan. Wüsthof, on the other hand, offers an assortment of blades that are more western in style and should feel very familiar to use, even to somebody who is picking one up for the first time. Additionally, Wüsthof has been crafting their knives in Germany for over 200 years, so it's safe to say that they have a lot of experience in forging precision blades!"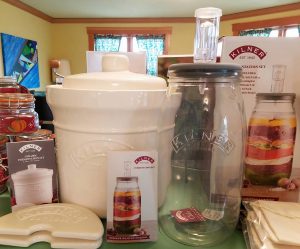 On a more local note they offer Ferrum cutlery from McMinnville, Oregon. "They might not have quite the same story as our international knife brands, but Ferrum has an interesting story of their own," explains Lauer. "Ferrum's knives use powdered metal with greater purity and density, which when combined with modern forging techniques, reduces production waste and results in blades that have fantastic cutting performance. The handles of their knives are crafted from reclaimed Oregon Black Walnut, and their special burnishing technique and oil rub give every knife's handle a luster finish. Plus since they are based in Oregon, all their knives are locally made."
Already splurged on some quality knives? Bring them by for professional sharpening services to extend their usefulness and overall lifespan. Call the store to find out specifics, what types can be sharpened, quotes and availability.
Home cooks and bakers are also invited to browse. "Beyond our cutlery, we strive to carry products that are USA-made whenever possible," says Lauer. "Brands like Vermont Rolling Pins, USA Pan, and Hearth & Harrow are perfect examples of brands whose products are all made here in the USA. Vermont Rolling Pin are crafted by hand, and naturally, they come from our friends in Vermont. They offer all of their rolling pins in a beautiful selection of either Cherry, Maple, or Walnut wood. USA Pan bakeware is proudly built in Pittsburgh, PA, where it has been for over 50 years. All of their bakeware features a unique fluted surface, which helps maintain the strength of the pan and keeps food from getting stuck to the pans surface. Lastly, Hearth & Harrow are a small company based out of a barn off the coast of Maine and they specialize in designing and hand-printing nature-inspired towels and napkins, as well as other home goods and apparel. Every piece from Hearth and Harrow is lovingly crafted by hearts and hands!"
The Rolling Pin is located at 1909 Harrison Avenue NW above The Park Side Cafe. Follow them on Facebook for the latest offerings and updates then fill that shopping cart today. The holidays will be here before you know it.
Sponsored