The leaves are slowly changing from a vibrant green to burnt orange and red. It's just another sign of fall in Thurston County. Those leaves are quickly blown from their secure branches to the sidewalks, yards and playgrounds below. While many residents throw those leaves into their yard waste bins, consider doing something different and it may just become your new very autumn tradition.
Getting the Leaves
You may be lucky enough to have a beautiful maple tree in your yard. If that's the case, you have a bountiful source of leaves to collect. If you aren't so lucky, finding leaves that you can bring home is the first step in our journey. Start by looking around your neighborhood and local parks. Mornings are the best time to gather as the leaves are still moist and fresh off the branches rather than the afternoon option that may be dried out from the sun. City sidewalks are often covered in beautiful fallen leaves.
If your family prefers to take an outing for leaf collecting, stop by one of the many beautiful parks in our area to fill your collection bags. Olympia's Priest Point Park plays host to over 300 acres of trees and shoreline. Big maple trees drop leaves that are perfect for any autumn craft project. While you're there, consider taking advantage of the shoreline to collect other novelties that may go well with your creations.
For an all-day excursion of leaf spotting and exercise, local families can walk or bike the Chehalis-Western Trail. Thurston County owns 22 miles of the trail from as far east as Yelm and south to Tenino. Many varieties of trees can be found along the path in multiple shades of fall colors. If the weather permits, be sure to bring a picnic to enjoy along the way!
Leaf Decor & Crafts
Now that you've collected a load of leaves, it is time to put them to good use! Consider decorating with your fallen specimens. With a little bit of Mod Podge and a paintbrush, glaze the individual leaves you want to preserve. Place them on a piece of parchment paper to dry. Once dried, these leaves will keep their color and can be used to decorate just about anything and everything for the season from your mantel to a centerpiece on a dining table.
Step up your arts and crafts game with a little bit of pumpkin decoupage. Pick out leaves with the most interesting shapes before deciding on your pumpkins. Both traditional orange and spooky white pumpkins will work great for this project. An adhesive spray is the best way to go to keep these leaves stuck to the gourd you've selected.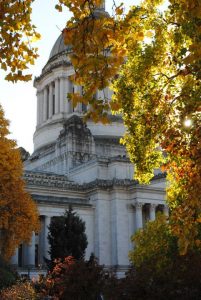 Maybe you don't want to give the kids access to Mod Podge and spray adhesive. If that's the case, consider one of these options. Autumn suncatchers can easily be made using a paper plate and contact paper. Cut out the inner circle of the paper plate leaving a frame along the outside. Kids can decorate this frame with markers, glitter glue or paint. Then, use the hole in your frame to stencil the needed contact paper shape. Stick the contact paper onto the plate and let your child add leaves in any pattern they please. When finished, hang along a window where the whole family can enjoy your artwork!
And if you have any paper plates left over, cut a hole in the middle and have your child add a layer of leaves with glue along the outside. This wreath of sorts will be their very own creation they can hang on their bedroom door. Consider hitting the local craft store to find fall themed stickers or letters that allow them to put their name on it. It's inviting, easy and fun.
Thrifty Thurston highlights inexpensive family fun in Thurston County. The weekly series focuses on family-friendly activities throughout our community. If you have a suggestion for a post, send us a note at submit@thurstontalk.com. For more events and to learn what's happening in Olympia, Lacey, Tumwater and the surrounding area, visit our complete events calendar.