Whether it is a weekend snowstorm or the nine-month rainy season, they are plenty of reasons to cozy up indoors in Thurston County. In homes from Rainier to Olympia, and Yelm to Rochester, board games, and their card-game cousins, have taken up residence on coffee tables and dining room tables throughout the region. While the old classics are easy to locate, if you've only ever played Monopoly or Life, you are missing out.
Over the past year, the types of games people are purchasing have changed as party games have made room for smaller two to four-player games. Some have even found themselves surprised to find that there are one-player board games available. "People are looking for two-player games to play with their families or roommates," says Frank Hussey, co-owner of downtown Olympia's Danger Room Comics.
Another change to a rather timeless hobby has come about in the last year as well. By their nature, most board games are relatively low tech, requiring no batteries or WIFI connection. However, as most of us have dramatically increased our time at home, reducing our in-person social circles, avid board game fans have taken their board-gameplay online, utilizing applications like Zoom and Discord to play board and card games online with friends and family near and far. Chess, battleship, and Yahtzee all easily translate to online play. And Dungeons & Dragons fans have also taken their play online. The Timberland Regional Library's popular Dungeons & Dragons Club for Teens has shifted online since library hours and in-person services have temporarily been reduced.
If you've played your fill of Monopoly and are looking for something new to play, check out these local retailers for the best selection of board games.
Gabi's Olympic Cards and Comics
4230 Pacific Ave SE, Lacey
If you are looking for a board game, odds are you will find it at locally loved Gabi's Olympic Cards and Comics. They carry hundreds of board games of every shape, size and style. From fantasy and science fiction to horror, you can enter new and exciting worlds with your friends as you move through dungeons or challenges competing for treasure and level-ups. Other game types include city or world-building games where you compete for resources, strategy games, farming or planting games, and even food-themed games. There are styles and types of games in every category you could imagine and you are sure to find a game to meet your interests and play style.
Olympic Cards and Comics owner Gabi Trautmann has created a store that encourages fun indoor play. "We really are a rainy day store," she says.
Trautmann looks forward to the days that she can open her upstairs game room again. The game room hosted game events and tournaments but was also a place where friends and families could simply hang out and play from a vast selection of games at no cost. Trautmann's inclusive community gathering space is merely one example of what makes Olympic Cards and Comics so well-loved in the community. Even though the store has been busy selling games and comics the past year, health and safety have necessitated a reduction of gathering and hanging out. "It's really is too quiet these days, and I miss everybody," she says. "I can't wait to see them all again."
Danger Room Comics
201 4th Ave W, Olympia
Located in downtown Olympia, Danger Room Comics is not just a comic book store. They also have a nicely curated games section. Though the section is vastly smaller than Olympic Cards and Comic's game selection, co-owner Frank Hussey has amassed a wonderful selection of games designed for smaller groups. "People are looking for those fun two-player games right now, and they are excited to find games in the styles they enjoy, made specifically for fewer people," Hussey says.
Danger Room Comics shines when it comes to matching customers with a game that they would enjoy. Hussey's solid knowledge of every game he stocks allows him to make thoughtful recommendations about games that might interest players based on their past game enjoyment.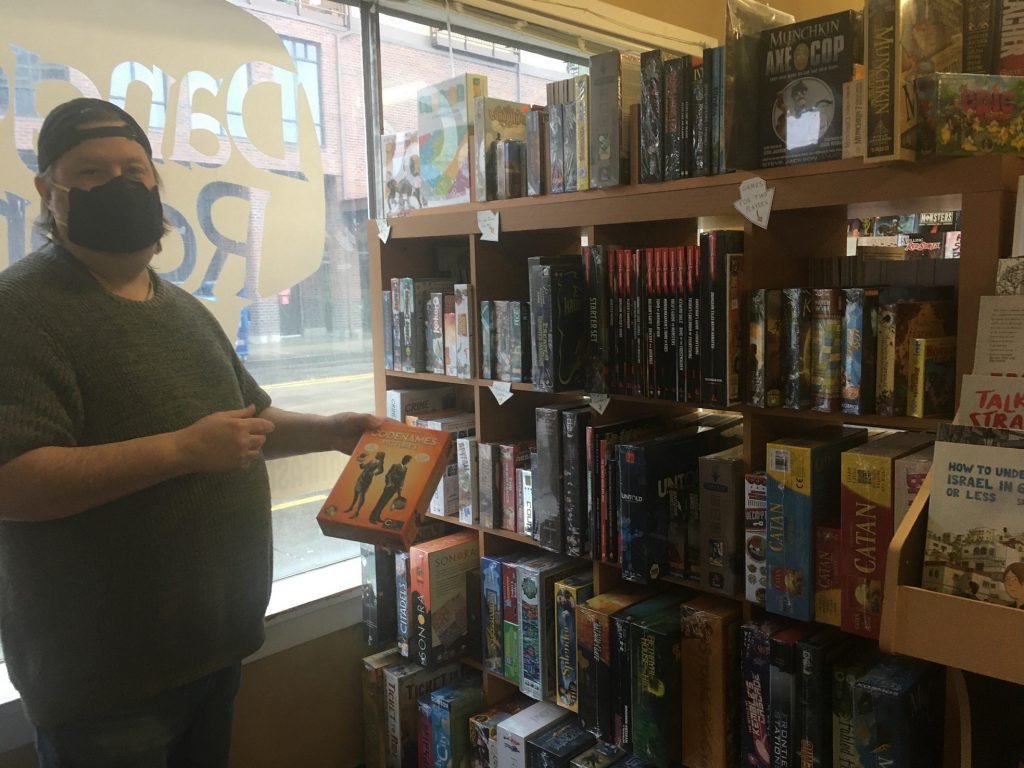 Captain Little
121 5th Ave SE, Olympia
The downtown Olympia toy shop, Captain Little, stocks a wide variety of board and card games. They have a wonderful selection of kids' games, especially for some of the youngest players. If you are looking for something beyond Candyland or Guess Who, try out one of their cooperative games that encourages players to work together toward completing a shared objective as a fun alternative to competitive games. And if you have an animal-loving child in your life, you will find Cat Bingo, Dog Bingo, Bird Bingo, and more. The stellar selection of learning games encourages learning through play
Heart of the Deernicorn
If you aren't just looking to purchase a game locally, but are looking for a game that is actually made in Thurston County, then look no further. Heart of the Deernicorn designs and creates a variety of story games in their workshop in downtown Olympia. Owner Ross Cowman has designed Fall of Magic, BFF!, Night Forest, Life on Mars, and Serpent's Tooth and is excited about a Kickstarter to fund a new game called City of Winter—a story game about building a family saga of tradition and migration set in a world of fantasy.
No matter your preference, you are sure to find a fun board game to match your interests here in Thurston County.