Our region is known for its stunning beauty, vibrant eco-culture and delicious Northwest cuisine. Olympia is synonymous with the "It's the Water!" slogan coined by Frank Kenney of Olympia Brewing Company in the early 1900s. Today, Brewery Park at Tumwater Falls is an iconic landmark with big revitalization dreams thanks to the Olympia Tumwater Foundation.
Native Americans long maintained a permanent village at the resource-rich site. Called Steh-Chass, it was on Squaxin homelands and associated with the Nisqually tribes and their villages on the watershed. "Steh-Chass village residents had a reverence for the natural environment and its many resources: fish, shellfish, mammals, birds and plants," says author Drew Crooks. "Steh-Chass served as a gathering place for both trade and winter ceremonies. Native people from near and far came together for these activities, which frequently included feasting and storytelling. Stories often involved natural landmarks such as Tumwater Falls and nearby lakes. Participants in the events included Squaxin, Nisqually, and Chehalis Tribal members. Even Si'al, the famous Suquamish and Duwamish Chief for whom the city of Seattle is named, made visits to the area."
More recently, pioneer settlers were drawn to the Falls in 1845, explains Crooks. They were "attracted to South Puget Sound by the series of falls on the Deschutes River and their promise of waterpower. They established New Market, the first permanent American settlement on Puget Sound. Grist and sawmills soon went into operation. In time the pioneer community transformed into the city of Tumwater."
The Olympia Tumwater Foundation manages the private Brewery Park, which hosts more than 250,000 visitors annually, generating over $1 million in economic impact each year. But six decades later, the visitor center building is ready for a new start. After thorough analysis, Olympia Tumwater Foundation members are ready to kick off some exciting updates.
Once funding is obtained, the Foundation hopes to break ground in late 2023 and complete the $7.5 million project in roughly one year. In conjunction with Thomas Architectural Studios, plans have been drafted that include 4,800-square-feet of event, exhibit, office and maintenance space, as well as restrooms and accessible common areas. Their analysis shows that the new Brewery Park Visitor and Event Center will create 40 full time jobs and produce over $11 million in economic impact and $510,000 in state and local taxes to Thurston County during construction alone.
Site improvements have already begun on nearby existing park features, thanks to the Foundation's generous civic easements. The Washington Department of Fish and Wildlife's salmon hatchery completed a recent $9 million expansion and the City of Tumwater sponsored a $2 million ADA compliant walking and bicycle trail along the rushing river.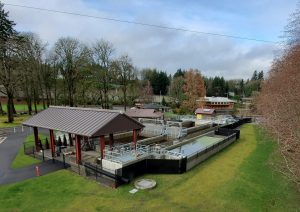 It's no surprise that the Olympia Tumwater Foundation is the driving force behind such a project. They were organized in 1950 by Peter G. Schmidt Sr, son of brewery founder Leopold Schmidt. The Foundation has awarded more than $2 million in annual scholarships, maintains the historic Schmidt House and provides Brewery Park as a landmark tourist and educational destination.
"This is one of those projects that ties multiple community assets together through community collaboration" says Dan Jones, Olympia Tumwater Foundation board member. "The project will provide value to Thurston County well into the future."
The new building will fill a county-wide need for event space and makes educational opportunities easier for the busloads of local school children who make their annual pilgrimage to the site. It can be rented for weddings and other gatherings and a professional event firm will be brought on to manage operations. It also ups the Park's economic impact by $500,000 annually.
Though still in its infancy, the Foundation has received letters of project support from the City of Tumwater, Thurston County Economic Development Council, South Puget Sound Community College, Washington Department of Fish & Wildlife, Squaxin Island Tribe, Olympia-Lacey-Tumwater Visitors and Convention Bureau and Secretary of State Kim Wyman.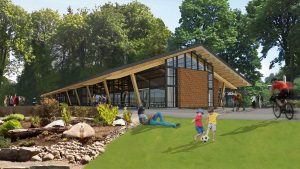 The Squaxin Island Tribe is also providing input on decorative art and building features. Its thoughtfully designed Native American longhouse layout will pay respect to their storied local history and become an artistic destination in and of itself.
Though the park is currently closed due to state Coronavirus guidelines and recent construction, officials hope to reopen it on Thursday, April 1. Follow the Brewery Park at Tumwater Falls Facebook page for updates and specifics. Follow upcoming events and openings on the Foundation's blog or consider making a donation to their programming. As a public charity, all gifts are tax deductible.
Washington's waterways are the bustling arterials of Puget Sound's beating heart. They are a source of food, industry, education, inspiration and activity. Keep them strong and vibrant so that generations to come can learn, explore and marvel. When the Visitor Center reopens, head over for some masked, socially-distanced fresh air amidst the thunder and natural beauty of Tumwater's famous falls.