A neurosurgery internship candidate who mentors youth and runs his own landscaping business while earning top grades and participating in two campus clubs. An immigrant mother of two, maintaining her GPA while balancing roles as a full-time student, Phi Theta Kappa member, writing center tutor and director of club events for her college's student association.
These are just two examples of community college students recognized at last year's All-Washington Academic Team Ceremony, an annual event that celebrates high academic achievers who have demonstrated a commitment to the communities where they live. "They're top students in terms of both strong academic records and a history of community service," says Kelly Green, executive community relations officer at South Puget Sound Community College (SPSCC). The ceremony will be held virtually at 12 p.m. on April 15.
Phi Theta Kappa (PTK), the International Honor Society for Two-Year Colleges, developed the All-USA Academic Team in 1994 and Washington launched its state program in 1996. Every community college in Washington can nominate up to two students for the national team, and those students automatically become part of the All-Washington Academic Team. Typically, the ceremony recognizes between 65 and 70 students.
In Washington, one unusual feature is that for the past 25 years, every student on the All-Washington team has been getting a $250 scholarship from Key Bank, one of the event's sponsors. For the past 10 years, the top 16 team members have also been receiving a $750 scholarship from WSECU, another sponsor. "That doesn't happen in every state," says Green. "In most places, this is just a recognition. It's really special that here, we've been able to work with these funders who consistently step up to make sure that these students get some support, no matter what their next plan is."
This year, segments such as Governor Jay Inslee's keynote address and speeches by representatives from Key Bank and WSECU as well as other organizations connected with SPSCC will be pre-recorded. A presentation of each student's award will follow, and every school will receive a packet of items that students would typically receive when the ceremony is live. "They get a nice certificate, a medallion, and a scholarship check" says Green.
In the beginning, the event was hosted by different colleges around the state every year, but all of that changed with the Nisqually earthquake in 2001. "The college presidents agree that because most of them are already coming to Olympia in March anyway for legislative work, they should keep the ceremony here," Green explains. Ever since, SPSCC has served as host for the ceremony, which is usually held in the student union building.
Students fall into two categories: those transferring to four-year colleges and those entering the workforce. Awards recognize the highest scoring student from every state. Students who are nominated for the New Century Workforce Pathway Scholar award should be planning to enter the workforce after completing a certificate or associate degree, and students nominated for the New Century Transfer Pathway Scholar award should be planning to transfer to a four-year college after graduation. The top scorer from each state gets special recognition from both PTK and the top two or three are also awarded by the Coca-Cola Foundation. In the past, transferring nominees have ranged from Army Reserve medics with plans of earning a doctorate in biology, genetics research and rehabilitation to a Running Start student planning to become a pediatric surgeon.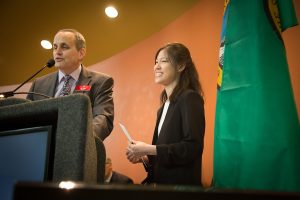 The program opens doors for students who make the team, according to Green. "In addition to whatever monetary scholarship they get through the program itself, it creates opportunities for transfer students," she notes. "They get special scholarship options that vary from school to school. That's one of the most significant aspects."  Central Washington University and Eastern Washington University provide $1,000 scholarships, while Saint Martin's University offers $5,000 and Gonzaga University, between $13,000 and $24,000.
This year's event will be a video premiere on YouTube. You can learn more on SPSCC's All-Washington webpage.
Sponsored