There is nothing like a good book. Whether you like fantasy, murder mysteries, romance or even comic books, reading is a great escape from the real world for a bit. Even better is reading a book crafted by someone within our own county! From a hellish comic to fascinating local history, there is something for everyone on this list of local Thurston County authors.
Alec Clayton
Alec Clayton is an Olympia author who has written for almost every news and media outlet in the area, as well as publishing books and being an accomplished artist with gallery shows. He has written many books. His novels are full of wit and heart, and include romance, murder, coming-of-age, history and "hot" topics like civil rights and LGBT. His most recent work is "This Is Me, Debbi, David," a funny romance about two people who go their separate ways and learn a lot in the process.
Rick Taylor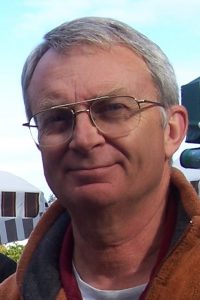 Rick Taylor is a Thurston County author whose first book is a young adult adventure set in Viking Russia. The book. "The Ballad of the Blacksmith's Son" follows Keri, the teenaged blacksmith's son who is chosen to serve the king. The book's hero deals with a lot including a new faith, a new future, death and the challenges of a new body with new desires. 
Author Rick Talyor is a retired solider and high school teacher. He draws on his own experiences to make his characters come to life. And, he uses his spiritual and literary background to surround them with layers of meaning. On becoming an author, he said says: "I didn't really decide. One does not choose this kind of work; one is driven internally to pursue it." Keep up to date of his latest news on the Rick Taylor website.
Stephanie Coontz
Stephanie Coontz is the director of research and public education for the Council of Contemporary Families and emeritus faculty of History and Family Studies and The Evergreen State College. She has published five books on gender, family and history. Her most recent book is "The Way We Never Were: American Families and the Nostalgia Trap," which covers misconceptions about family life in previous eras and how none of them "work" for the modern family.
Ken Carlson
Ken Carlson is a Tumwater author who recently had a successful Kickstarter for his first comic, "Hellbound Slant 6." The comic is a heavy metal hot rod horror about a young woman who drives a classic muscle car to Hell and battles demons.
It was actually because of the pandemic that Carlson turned toward a comic he had left sitting since 1998. "In early 2020, my team and I were gearing up to launch a crowdfunding campaign to shoot a film over the summer, 'Enter the Mind Dungeon,' for which we'd shot a proof-of-concept piece in 2019," he explains. "Then the pandemic hit, and our plans for filming anything in 2020 kind of went out the window. With a bit of extra time on my hands, I turned my attention to a comic book that I wrote and drew in 1998, but never did anything with."
He is currently working on several films, a fantasy novel and the next issue of "Hellbound Slant 6." You can purchase his works and read his latest news on the KENZOFKC website.
Melissa Robbins
Melissa Robbins is a local Olympia author that is fairly new to publishing. "I first started developing my craft as a writer when I was in high school and have been writing ever since," she says. "I have recently had a long-time dream come true by having my first novel published in 2018 and a second book published this past year in 2020."
Her two books are "Dragon Country," and "Keep Your Enemies Closer." Though the titles may make you think they are fantasy fiction, these are more mystery/drama fiction, suitable for older teens and adults. The first book in the series follows Ashleigh Sullivan, a 30-something woman dealing with a lot of loss in her life, while trying to start over as a college student. She makes an unlikely friend while unraveling a dangerous campus mystery. She is currently working on a third book, set here in the Puget Sound, and continues to blog about health, wellness/meditation and healing.
Lauren Danner
Olympia writer Lauren Danner is the author of "Crown Jewel Wilderness: Creating North Cascades National Park." Danner was moved to write about the formation of the North Cascades National Park while looking for a case study in graduate school. She was surprised to not see one book on how the Park came to be, so she began working on it. 15 years later, her book is highly praised by anyone looking for a good history story. Think the history of a National Park is dull? Think again. Her book is full of intrigue and politics that make for a compelling plot.
Jennifer Crooks
Jennifer Crooks is a local history writer with a long list of published books and papers, including a chapter in "Water, Woods & Prairies: Essays on the History of Washington's Capital County," edited by Sandra A. Crowel and Shirley A Stirling. She just loves history! "I've been interested in history ever since I was a kid," Crooks says. "Growing up with a historian father, I learned to love how history offers insight into how our world has developed and offers a different perspective than our society's obsession with the present." Her latest work will be published later in 2021 and is entitled, "Images of America: Washington State Capitol Campus."