If it's summer, it is time to get outside, and one way to do that is to enjoy a round of disc golf. While the sport is year-round, summer is a perfect time to celebrate disc golf in Thurston County. With National Disc Golf Day happening on the first Saturday every August, there is no better time to try out this fun game if you haven't yet. August also marks the anniversary of when the Delphi Golf Course in Olympia opened its new disc golf course in 2020.

Delphi Clubhouse Manager Don Parr says it's been great for the course to embrace disc golf along with traditional golf. "We love having the disc golfers out," he says. "It's been a nice addition to our golf course. And they fill in the times when other golfers might not be out, like when it's raining. It helps us out that way."
Disc golf is like traditional golf, but a player throws plastic discs down the course into elevated chain link baskets ("holes"), rather than using a club to hit balls into holes in the ground. Delphi's verdant course is in the foothills of the Capitol Forest's Black Hills in southwest Thurston County and is open to the public. The manicured course has 9 traditional and 18 disc golf holes that feature moderate hills, mature fir and cedar trees, and water hazards. The disc golf course is a par 57 and just under 7,000 feet in length.
The South Puget Sound Disc Golf Association (SPSDGA) promotes disc golf in the local area. The association was instrumental in working with the Delphi Homeowners Association (the HOA operates the course) in 2020 to establish disc golf at Delphi.
Tony Benjamins, Delphi's committee chair for club operations, helped coordinate with the SPSDGA on the project last year. While previously unfamiliar with disc golf, he says he was quickly impressed with the sport and the players. Benjamins adds that he was initially not sure how the traditional golfers would view disc golfers sharing the course, but their kind welcome exceeded his expectations. "It's been really good," he says. "And the community tells me, 'We love to see the discs flying.'"
SPSDGA President John Anderson agrees the cooperative effort benefits the local community. Anderson, who is also the staff pro at Olympia's PackEx Disc Golf store, says SPSDGA volunteers installed the baskets and tees at Delphi. The SPSDGA hosts a Saturday "Quack of Dawn" league at Delphi. And SPSDGA helps to maintain the disc golf course. "It's constant improvements," he says. "For example, we needed to move a tee box. That's what's cool about disc golf. You can move tees and be flexible to deal with things such as (player traffic) flow issues and safety issues."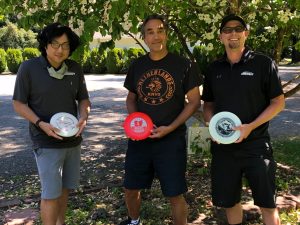 Josh Kendall is also an avid disc golfer, serving as the SPSDGA vice president and another volunteer who helped to get the Delphi disc golf course up and running. He says he began playing disc golf years ago when invited by some friends. He now plays the Delphi course (at par), the course he helped to inaugurate. For a playing tip, Kendall says golfers tend to keep their favorites discs close at hand. He does not like to lose his favorite discs in the woods because he becomes accustomed to their feel. "They change characteristics, say, when they hit a tree," he says. "It's called 'breaking in a disc.'"
Kendall and Anderson describe that disc golf has a large following. Benjamins says that fact was also new to him. "It's amazing how big a sport this is," he says. The 2021 Disc Golf Growth Report documents that golfers played more than 50 million rounds of disc golf worldwide in 2020, the majority in the U.S. The report also says there are more than 11,500 disc golf courses with 3.5 new courses added each day.
Golfers can compete at local, regional, national and international disc golf tournaments, sometimes for money. Some professionals' income from disc golf is impressive. Paul McBeth, winner of the Professional Disc Golf Association world title five times, earned more than $500,000 from the sport so far. McBeth recently signed a 10-year endorsement contract worth $10 million with equipment manufacturer Discraft.
Anderson says club-level disc golf at colleges has also shown major growth. The 2021 national collegiate championship hosted 123 teams. Anderson says in addition to promoting the sport to adults, the SPSDGA works with younger future players at area schools, including at the Thurgood Marshall Middle School where his association donated baskets and discs. Benjamins agrees with that strategy. "Just like any other sport, you need to get them early," he says.
The Delphi course is at 6340 Neyton Drive Southwest, Olympia. Rates are $10 (first round) and $5 (second round), with a $15 "Tightwad Tuesday." Book tee times by calling the clubhouse at 360.357.6437 or scheduling online. More information is also on the Delphi Golf Course Facebook page.