In less than a year, Capital High School sophomore Caroline Penner has gone from being known around campus as Chris Penner's little sister to soccer phenom.
Tearing up 3A South Sound Conference defenses to the tune of 20 goals last year as a freshman will have such an effect on one's reputation.
Chris Penner, who is now a freshman guard for the Seattle Pacific University basketball team, has since graduated, leaving a legacy behind highlighted by multiple school records in both football and basketball.
Now, it's Caroline's turn to leave her mark and blaze her own trail as a Cougar and she's off to about as strong a start as you could ask for.
"What she brings to the team is that heart, passion and talent," Capital girls soccer coach Adriana Montes said. "The girls see that. They see the effort and work she puts in and it just lifts them all up. They see that and it makes them want to put in the work too. I've only coached a handful of players like her. She brings so much to the program."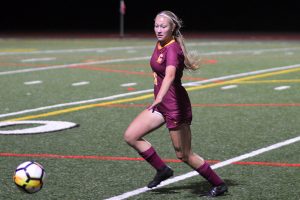 Including a strong bloodline as both her parents were standout soccer players at the University of Washington, where they still hold school records. Her mom, Kathleen, who has been Caroline's club coach with Black Hills FC for the last five years, was also a 2018 inductee into the Olympia High School athletic hall of fame and remains the Bears' record holder for goals in a season.
If that wasn't enough from one family tree, older brother, Scott, currently plays for Whitworth University.
"Soccer has always been my family's thing," Caroline said. "Chris is the odd man out. For the rest of us, soccer is all we do."
Despite still having nearly three years left of high school soccer to play, Caroline has already received scholarship offers from Seattle University and Seattle Pacific. But college ball can wait. She is now fully focused on helping turn around a Cougars' program.
Playing in a tough conference that featured last year's 3A state champion Gig Harbor, the Cougars had six freshmen, including Caroline, on their varsity roster last year. The team took their lumps early on before finding their footing late in the season.
"We were so young last year and I think we needed those 'oh my gosh' moments as a team during the first part of the season so we could improve," said Caroline, who was a first-team all-conference forward last year. "And we did. We really turned it around the second half of the season. We started to learn how to play with each other, and now we're just trying to improve on that this year."
Capital has done just that. During the early portion of their schedule this year the Cougars already hold a win over Timberline, a team they went 0-2 against in 2018, and tied Peninsula, a team they lost to last year, 6-0.
"It's exciting to see this team grow and develop together," Caroline said. "This is just a fun group to play with. Everyone is striving to get better and win. We're still a young team, but we're going to keep growing over the years. We want to get to playoffs this year and we want to go as far as we can."
This new team outlook was on display in its first match against Peninsula as Capital led late into the contest before the Seahawks found the equalizer. Last year the team would have been happy with a tie. That wasn't the case this year.
"We've had some tough losses, but we've also had some great wins and they see that and they now know they can make it happen. They're motivated to win," Montes said. "It's so fulfilling to watch these girls grow as players and as a team."
Montes describes it as "baby steps," but knows it won't be long until her team is in a full-on sprint.
"It's been a 180 from last year to this year with this team," Montes said. "The girls have changed their mentality and their vision. They are set to accomplish their goals and that's to make it to the playoffs. These girls will battle to the end and they have worked so hard to really build that team chemistry, and when you're a young team, it's one of the most important things a team can have. They're learning from each other and they're doing it together every step of the way."
"The coaching staff believe in these girls and we see the potential," Montes added. "They are starting to see it now, too, and the potential is lethal."