North Thurston defeated Timberline 3-2 Tuesday, October 8, 2019, at the boys tennis South Sound Conference in Lacey. The win moves North Thurston (3-4, 2-3 SSC) up in the standings closer to its Lacey neighbor host Timberline (4-6, 2-2 SSC) in South Sound Conference standings.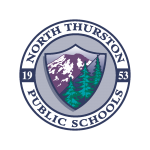 Fred Reed, North Thurston's coach, was extremely proud of his team. "The singles players really stepped up and played two amazing matches against good singles players from Timberline."
North Thurston clinched the win with a tiebreak third set win by Chase Clark in the singles number two match. The match lasted for 2.5 hours as Marcos Diaz, an exchange student from Spain, played hard for the Blazers but lost 6-3, 6-7, and 6-7.
Timberline coach Kristine Mosher was excited about her team as it moves into the final weeks of the season. "We are more competitive this year than in years past," stated Mosher. The Blazers play Gig Harbor, Yelm and Capital as they look to the SSC Tournament held October 18 at Central Kitsap High School. North Thurston will face Shelton and Central Kitsap for the Rams' remaining schedule before they head to the SSC Tournament.