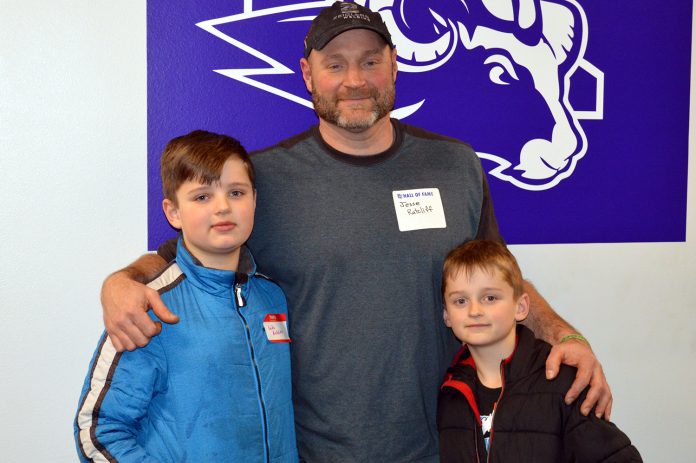 Brian Midles already had a smile on his face the moment he stepped inside the foyer of the North Thurston High School gymnasium, but when he got a look at what he and some of his fellow former Rams had accomplished, he was beaming.

"We've been working on this for the last three years," said Midles, who was the state discus champion during his senior year of 1964. "And here it is."
This was not a hall of fame induction. In fact Midles and 13 other North Thurston standouts who were also present were already members of the school's athletic hall of fame – some, like Midles, for the past 30 years.
Consider this a re-opening of the North Thurston High School Athletic Hall of Fame, something that may have taken as much time and effort for the individuals involved as it did to accomplish some of their previous sporting feats.
After a near 20-year hiatus, the North Thurston High School Athletic Hall of Fame is officially back up and running following a re-opening ceremony on January 25. The event, which was attended by Hall of Fame members, their friends and family and school officials, was highlighted by the unveiling of the new Hall of Fame plaques, which are now prominently displayed in the gymnasium's foyer.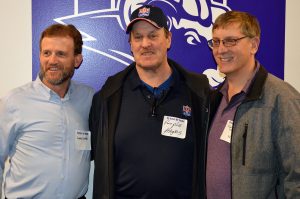 "There is a lot of tradition here," said Paul Kelly, a 1973 graduate. "We were the only high school in the area that didn't have a physical hall of fame."
In fact, North Thurston, which opened its doors in 1955, did have a hall of fame, which Kelly, through his stellar track and field exploits, was inducted into during its infancy.
The Rams' inaugural Hall of Fame class was introduced in 1988. A total of 32 members, including Midles, received entry into their alma mater's hall of fame that year. Each were given a plaque created in the school's wood shop class.
More inductees were added the following years, but over time interest had stagnated. By the late 1990s, the Hall of Fame became a thing of the past.
The plaques were boxed up. Over time they made their way into storage at the school district's bus barn.
"I couldn't believe it when I heard it was discontinued," said Pat Hayes, a 1976 graduate and original Hall of Fame member. "History is what you learn from. You learn about who came before you and set your goals on what they did. You can't discontinue history."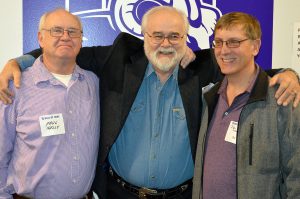 Hayes was hardly alone in this line of thinking.
"Brian Midles was instrumental in getting the hall back up and going," said Hall of Famer John Schultz, a 1976 graduate. "He was the driving force behind all of this."
Kelly remembers meeting Midles three years ago and the conversation quickly shifted to the now defunct North Thurston High School Athletic Hall of Fame.
"We were just having coffee and I remember Brian saying, 'This is no good,'" Kelly said. "We made the decision that we were going to see what we could do."
Kelly drafted a letter and sent it out to Hall of Fame members, inquiring what the interest was to bring back the Hall of Fame, which had been dormant for nearly two decades at that time.
"We had about 20 hall members from the original 32 that wanted to be involved," Kelly said. "Several have passed and others have moved far away, but the interest was certainly there. When I moved here as a sophomore in the fall of 1970 from Aberdeen, I'd look at things like the record board and those guys were like gods to me. I just wanted to perform a service for all my heroes. I wanted to make sure they got back up there were they belonged. I didn't have a lot of interest in my thing. I just wanted everybody to be back up there."
The group began meeting with North Thurston school administrators and the Rams' booster club officials over the next few years, eventually leading to the re-opening of the hall of fame.
"I am just so happy for this," Miles said. "This is character. This is what the kids need. These are role models, and this is just a beginning."
According to Kelly, the hope of the committee is to have an annual hall of fame induction ceremony tied in with other North Thurston High School fundraising events.
"We're going to have an ongoing process that hasn't completely been fine tuned yet," Kelly said. "The committee will meet bi-annually and continue to review future nominations. There's been a lot of athletes go through here. We have a lot of names to look at, but we're excited everything is back up where it should be."