Along with warmer temperatures, sunshine and longer days, another perk of spring is the blooming wildflowers. Our local area offers many hikes that are an excellent way to experience the flora that comes this much-anticipated change in season.
In Washington, our wildflower season lasts from March to August. While every trail in Thurston County is sure to be a delightful way to spend a day and enjoy the sunshine, these trails have been noted as exceptionally good hikes to see wildflowers.
When hiking this time of year, visitors can expect to see wildflowers such as trilliums, fawn lilies, foxglove, camas, forget-me-nots, irises, red columbine, lupine and California poppies, along with many others. Remember to stay on designated paths, bring food and water, and to be respectful of others enjoying nature by not picking or disturbing the wildflowers.
This time of year, the 600-plus-acre Mima Mounds Natural Area Preserve boasts a variety of wildflowers. The main attraction of this area is the mounds, whose origin is unknown, and remains a debated topic with theories from earthquakes to UFOs, but this time of year, Mima Mounds is also known for its colorful display of wildflowers. The preserve has a half mile ADA accessible trail followed by two more miles of unpaved hiking appropriate for all skill levels. On clear days, you can spot a view of Mount Rainier and Mount Saint Helens. The trailhead for several other hikes, such as the Mima Falls Trail and Sherman Creek Loop are close nearby. A Discover Pass is required to park here.
Located about an hour away from Olympia in Olympic National Park, the first two miles of this well-maintained trail follows along the Skokomish River, giving a breathtaking view. The hike is a perfect day trip, and is appropriate for hikers of all ages and experience levels. Along with blooming wildflowers, expect to catch a view of a new bridge crossing the North Fork of the Skokomish River. Explore the surrounding trails for more challenging hiking.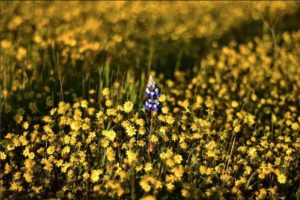 Fifteen miles south of Olympia is the Scatter Creek Unit of the Scatter Creek Wildlife Area, a prairie ecosystem that boasts both an array of wildlife and wildflowers. This preserve contains some of the last remaining native grasslands and oak trees in the area. Look for prolific wildflowers such as camas, small pale blue, deep blue, white and lavender flowers. Horseback riding and dogs are allowed. The Scatter Creek Wildlife Area as a whole includes several other units where visitors can enjoy wildflowers in the sun, such as the Davis Creek Unit and West Rocky Prairie Unit.
The Yelm-Tenino Trail, and Chehalis Western Trail, running perpendicular to each other, were both previously railroads, and now serve as nature trails that connect the communities in Thurston County. The 14.5 mile Yelm-Tenino Trail passes through Yelm, Rainier, Tenino, Tumwater, Lacey, Olympia and Woodard Bay. The Chehalis Western Trail runs north-south through Thurston County, going through the middle of Lacey and then crossing the Yelm-Tenino Trail, encompassing an estimate of 49 miles of natural beauty. Both trails pass through a variety of different ecosystems such as wetlands, farmlands, forest and prairies, and serve as an important part of the history of the Thurston County area.
This nine-mile hike climbs up the Black Hills of Capitol State Forest to provide views of Mount Rainier and the Pacific Ocean. The trail begins by going through the forest for four miles, and then transitions into a 2,659-foot climb to the second-highest summit in the Black Hills. Be on the lookout for wildflowers such as hostas, oxalis and Oregon grape, along with wild blackberries and raspberries. This hike is recommended for moderately skilled or intermediate hikers. A Discover Pass is required to park, and looking ahead at a forest map for directions is recommended.