Matthew Morgan was just 12-years-old the first time he refereed a youth soccer game – not much older than the players he was officiating.

"My first match was very interesting to me," Morgan said. "I was put in the middle of a 9U game. I was super nervous because it was my first game and I was just out there (and) I did not really know what was going to happen or how good I was going to be at first, but I took it as a learning lesson."
Lessons were certainly learned as six years later it's safe to say Morgan has the answer to how good he is.
Morgan, who recently graduated from River Ridge High School, was named the 2018 Washington State Young Male Referee of the Year by the Washington State Youth Soccer Association in May.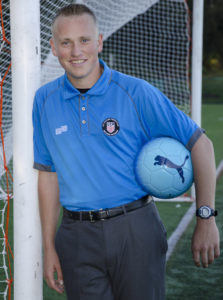 "I am honored to have received it. There are so many people out there who have helped me get where I am today," Morgan said. "To me, receiving this award is just me working hard and people recognized me working hard and always trying to get better, but I definitely could not get here where I am today without family, friends and fellow referees support and help."
Morgan was one of eight soccer officials to represent the state of Washington at the 2018 US Youth Soccer Far West Presidents Cup in Salt Lake City, Utah, June 12-17. The event featured boys and girls teams in the 13U through 18U age groups competing for a regional championship and a berth at the 2018 US Youth Soccer National Presidents Cup.
"I look forward to meeting people from different states and having national coaches come watch games and give us feedback so I can get better as well as help people in my area get better," Morgan said prior to the event. "So I am taking it as a time to get better and get feedback on what I can improve on for the next time I referee."
Interestingly, Morgan has actually never played soccer, instead electing to play baseball. He was the starting catcher for the Hawks during his four years of high school and will play this summer for the Black Hills Bandits.
"I don't think there were many challenges from transitioning from being a baseball player to refereeing soccer," Morgan said. "Refereeing soccer is like a sport and you have to treat it like a sport by working out and practicing all the things you would do if you're playing a sport."
Morgan's involvement in officiating occurred while he was attending his brother's soccer game at 12.
Boredom had set in while watching and with little desire to be subjected to being a soccer spectator again, his mother inquired after the game about how he could become a referee.
First, Morgan participated in an entry-level clinic for refereeing. A written exam followed before he received his credentials to be a competitive youth soccer referee.
He has since steadily worked his way up the ranks.
"It's easy to be a spectator or a player and just start yelling and blaming the referee, but until you actually become a referee people won't understand how hard it is. I also get how to talk to players about how to manage players which can help in real life. Communication is key in life and it is always key while reefing," Morgan said. "Being a player, it can be frustrating, but you got to understand (referees) are trying and working hard."
Morgan has now set his goal at becoming a grade 3 or 4 referee with hopes to one day referee Major League Soccer (MLS) as an assistant referee.
"Refereeing is hard. You have to put in time to get better and try. I am doing higher level games in different parts on the state," Morgan said. "So putting the time in and getting better and improving is a key part in refereeing because the higher you go up it gets harder, the speed is much faster, and the skill is much better as well. But putting in the time and effort can help you and it can bring you a long way in this career."