Summer means freedom from routine, spending time outdoors, and enjoying lazy days with friends and family. But the first few weeks after school is out often finds kids recuperating from the year's hectic pace. Stick close to home without missing a beat thanks to Lacey Days.
City of Lacey Community Liaison Mary Coppin explains that "Lacey Days was the brainchild of the Lacey South Sound Chamber and is conducted in partnership with the City of Lacey. What people may not know is that Lacey Days is not a singular event, it's a jammed-packed two weeks of affordable fun right here in town. Families can kick-off their summer break without fighting I-5 traffic or spending money on hotels. And it's a great time to invite out-of-town friends to visit and enjoy events together!"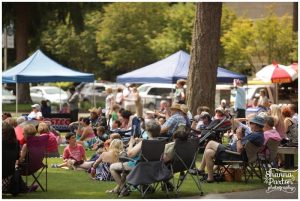 Sierra Burton, Executive Director of the Lacey South Sound Chamber, is excited for this year's festivities. "Lacey Days is a great event because it is an opportunity for our community to enjoy a great summer without having to leave town or break the bank. We really have worked hard to make sure that everyone can enjoy this event from our active crowd, our foodies, or even people who just like to sit back, relax and enjoy some music and the great outdoors!"
This year's fun runs from June 25 until July 9 and includes activities all over town. There are hikes, concerts, movies, fundraisers, and festivals on the calendar every day. Continues Coppin, "In addition to promoting already existing events such as the America's Classic Jazz Festival, Black Hills Triathlon in Lacey, Flapjacks for Backpacks, Thrive 5K, July 3 Fireworks Spectacular and Freedom Concert, Lacey in Tune, and the South Sound BBQ Festival, the Lacey Days committee is working to encourage businesses and organizations to participate by adding activities and restaurant specials during the two week period of Lacey Days."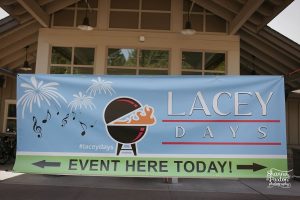 Because there are so many different types of activities, check the daily online calendar or Facebook page for times and locations. Volunteers are often needed daily; interested parties are encouraged to contact the host business or group directly.
Want to be a Lacey Days sponsor? Read up on sponsorship levels and included benefits and fill out their online form to apply. Join your fellow small-business superstars in kicking off a great summer.
Even if you're unable to attend that day's events, check the Lacey Days Facebook page often. There you will find tips for traveling around town, upcoming donation drives, and details about local business sponsors.
Sometimes it can be difficult to slow down, even in the summer. But no matter your age, schedule, or finances, Lacey Days offers something for everyone. Whether your passion is fitness, fundraising, or film, there's an activity with your name on it.
Between work, family, politics, and chores, life can feel overwhelming. But, as Van Gogh said more than 100 years ago, "Great things are done by a series of small things brought together." Spending sunny summer evenings on a blanket in the shade, while music plays and kids dance on the grass is never a bad thing. And Lacey Days starts things off perfectly.
Message questions about activities to the event's host or through the Lacey Days Facebook page. Check back frequently for newly added calendar entries and fun ways to stay, play, and explore.