Submitted by Thrive Community Fitness
In partnership with the City of Lacey, Thrive Community Fitness will be hosting the 2016 Lacey Days Thrive 5k at 9:00 a.m. on Saturday July 2. This will mark the fourth year of the event with the addition of an exciting new kid's dash complete with an obstacle course! 
All proceeds from the Lacey Days Thrive 5k will be donated directly to our local Boys & Girls Clubs of Thurston County (BGCTC) where the mission is to inspire and enable youth to realize their greatness. They do this by providing four Clubs – one each in Olympia, Rochester, Tumwater and Lacey – that are safe and positive places for kids.
Since 2001, BGCTC has provided thousands of youth with a safe place to learn and grow, ongoing relationships with caring adult professionals, life enhancing programs, character development experiences, hope and opportunity. They do this by providing fun and engaging activities every day after school and in the summer in the following areas; Recreation, Health and Lifeskills, The Arts, Character and Leadership Development and Academic Assistance.
BGCTC is a local nonprofit and most of their operating dollars come from right here in Thurston County. Therefore, they rely on the support of local businesses, service organizations, and donors to help keep their doors open and the membership fees low so all kids can belong.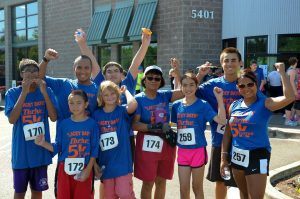 Both the Kids Dash and the Thrive 5K route will begin in the Thrive parking lot. The 5K route will then connect to the Chehalis-Western Trail for most of the scenic 3.1 miles as runners will go out and back from Thrive. After everyone crosses the finish line medals will be awarded for the top finishers of both men and women in seven different age brackets (11-19, 20-29, 30-39, 40-49, 50-59, 60+).There will also be snacks, drinks, and a free raffle drawing for prizes from different local businesses that have sponsored the event.
You can sign up in person at Thrive Community Fitness or on-line here. The cost will be $35 until race day when it goes up to $40. Check in will begin at 7:30 a.m. in the Thrive parking lot the morning of the race. Please join Thrive for a fun family event and to help support our local Boys and Girls Clubs of Thurston County.