There's something extra special about live music. You may know a recording inside and out but hearing it in person is magical. And nowhere is this more vibrant than with the fluid, improvisational world of jazz.
June 23 – 26 is the 26th annual America's Classic Jazz Festival organized by the Greater Olympia Dixieland Jazz Society and hosted by Saint Martin's University and other venues across town. With bands from near and far, this year's Festival now includes a special swing music dance venue for visitors who itch to do more than just tap their toes.
Society Director Walt Bowen finds it "pretty amazing that an all-volunteer force can put on something the size of this." With 96 performances from more than a dozen bands starting at 7:00 p.m. on Thursday, June 23 and playing until well into Sunday evening, June 26, this has become an annual highlight of our region's musical scene.
Bowen laughs that a friendly rivalry has arisen between the America's Classic and similar festivals in central Florida and San Diego. The three share both attendees and performers on a quest for bragging rights as the best.
The Saint Martin's campus will host a majority of shows in their Marcus Pavilion, Worthington Center, Student Union building, and outdoor greenspaces. Tickets can be purchased at the door for the entire 4-day extravaganza or just specific days and times. Discounts are available for young adults or students, so have your school ID handy.
Bands will also be playing at the Olympia Farmer's Market on Friday, June 24, United Churches of Olympia and Tugboat Annie's on Sunday, June 26. A full schedule of the weekend's entertainment can be found online or at the door.
Visitors from out of town—or Olympians looking for that perfect staycation—can contact Bowen about on-site RV parking. He recalls that in previous year's campers set up tables and camp chairs near the outdoor venue and "it ends up becoming an 18 hour jam session; there's music playing at all hours."
Attendees needing a few more creature comforts can call local area hotels and ask for the Jazz Rate. Space is limited with this discount code so call early. Several of these hotels are donors to the Greater Olympia Dixieland Jazz Society so your support for local music is doubled.
Thanks to such a longstanding history, many returning visitors make friendships that are rekindled every year. Bowen and his fellow volunteers are excited at "a whole new community" who attend again and again. Attendance covers all ages, including young families and students…especially fledgling musicians wanting to see the full range of their chosen instrument.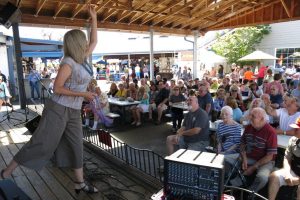 Want to attend but don't have the extra money for tickets? The Festival is always looking for volunteers to help out. Interested parties can read about available positions and call Bowen to sign up.
The North Carolina Symphony sums things up nicely: "Attending a concert is always a unique and irreplaceable experience. A live performance of the same repertoire is never exactly the same from night to night. Audiences on Friday will hear a different rendition than the audience on Saturday…Going to concerts is a community experience and audience participation is as much a part of music making as playing the notes on the page."
Come play a part in both the history and future of our nation's greatest treasure: jazz.
Sponsored