"When life gets rough, I like to hold on to my dream, of relaxing in the summer sun, just lettin' off steam…" While Olaf's blissful summer wishes are now endlessly looping in your head (you're welcome, by the way) let them serve as a reminder that long, school-free days are almost upon us. Though our region offers summer day camps for every kiddo, why not enjoy balmy evenings together as a family, thanks to Lacey in Tune's free Children's Entertainment Series.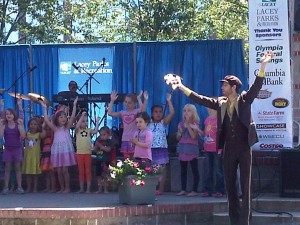 From June 21 through August 2, every Tuesday night at 6:30 p.m. is the perfect excuse for a picnic. Hosted by Lacey's Parks and Recreation department and held at Huntamer Park, these shows are free, family-friendly, and an ideal end to the day.
Lacey Recreation Supervisor Jeannette Sieler is "super excited about this summer of great entertainment! We have some fun new performers along with some great repeats. Recess Monkey, my all time favorite kid's band, is kicking off our children's series."
Recess Monkey is "an acclaimed family music band from Seattle…Drew, Jack and Korum are three teachers who make kid's music that grows out of their days in their classrooms. They continue to be praised across the country for singable, danceable songs that parents enjoy as much as their kids." They'll open the series on June 21.
June 28 brings the magical talents of regional favorite Jeff Evans. A performer who puts on more than 250 shows a year, his interactive show is consistently full of laughter, amazement, and participatory fun.
Keep your Independence Day spirit alive on July 5 with a steel drum dance party. Seattle-born Ian Dobson will help you "take your family on a musical Caribbean vacation. Journey with Ian to explore different cultures through music and see how you can use your creativity and resourcefulness to create music from anything."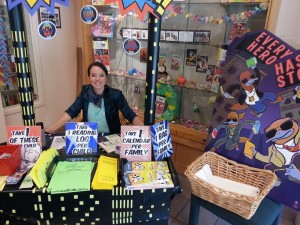 If summer's long, hot days sap your energy, come enjoy storytelling at its best on July 12. Chris Fascione "acts out the best of classical and contemporary children's literature and folktales in fun-filled, participatory shows tailored for specific age groups or family audiences. His unique combination of storytelling, mime, juggling and comedy creates colorful characters from literature who tell their stories as laughter abounds."
But enough sitting, this is the season for running free! On July 19, Oregon's W.E. C.A.R.E. Sports will have kids on their feet throwing, catching, juggling, playing, and—shhh, don't tell—learning about compassion, cooperation, creativity, and perseverance.
July 26 showcases the ventriloquist talents of Vikki Gasko Green, who uses an array of puppets and stuffed pals to prevent bullying and build friendship skills. A performer "since the age of five…Vikki delights audiences nationally as well as internationally with her unique blend of drama, magic, education, and audience participation exciting young and old alike."
The season wraps up with the scales and tails of the Reptile Man and his traveling menagerie. The #1 school assembly in our state for the past 25 years, this show promises hands-on, up close visits with alligators, tortoises, snakes, and iguanas.
All shows are free but bring blankets, folding chairs, snacks, and your dancing shoes for getting out the pre-show wiggles. Located behind the Lacey Fred Meyer and Intercity Transit Center, there is plenty of street parking or bus access available. Food and craft vendors are often on-site as well.
Join friends, neighbors, and your community every Tuesday night; feel free to start a Frozen sing-along while waiting for the show to start.
Thrifty Thurston highlights inexpensive family fun in Thurston County. The weekly series focuses on family-friendly activities throughout our community. If you have a suggestion for a post, send us a note at submit@thurstontalk.com. For more events and to learn what's happening in Olympia, Lacey, Tumwater and the surrounding area, visit our complete event calendar.