Forget about Derek Downey's speedy 86 mph fastball and his nifty change-up that leaves batters swinging at nothing but air.
What's most intimidating about Downey when he steps on the pitcher's mound isn't his fastball or his catch-the-corners curveball. It's him. At 6-foot-9, Downey, a first-team, all-league pitcher for Olympia High School, can be a menacing sight for batters at the plate.

But it's not just his size that creates worries for batters. With his long arms, it's his high rise, skyline delivery.
"It creates a whole different angle," said Steve Roth, Olympia's head baseball coach. "I call it the Randy Johnson effect."
At 6-foot-10, Randy Johnson, the Major League Baseball Hall of Fame pitcher and former Seattle Mariner, had a special delivery because of his size. His release was unique.
"Everyone used to talk about how his ball came downhill," Roth said. "Derek throws the same down angle."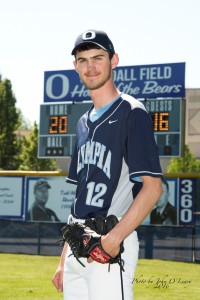 It's a different motion from other pitchers, resulting in the ball zooming downward through the strike zone and not sailing along flat.
"In high school, you see kids drop down and kind of go sidearm," Roth said. "Derek's motion is a whole different thing coming over the top from that height."
The results are impressive. This spring as the Bears' No. 1 pitcher for the second straight year, Downey, a junior, finished with a 6-2 record in nine starts, losing only to playoff-bound Gig Harbor and Timberline. He had a stingy 0.89 ERA, striking out 42 and walking only seven in 55 innings.
"His strikes to walks ratio are just pretty much off the charts for us," Roth said. "We don't live on strikeouts. We tell kids to make guys put it into play. Our whole goal for our program is on or out for every batter in three pitches."
With a 1-2 count, Downey likes going for the strikeout, not the groundout.
"I like to strike guys out," Downey said. "There have been a few of my outings I haven't been feeling it, so then I'm more of a contact pitcher."
His season best was eight strikeouts. In a win against Bellarmine, Downey threw a complete seven-inning shutout, striking out five and allowing only four hits. For the season, he pitched 55 innings and gave up only 43 hits and 19 runs, helping the Bears finish at 14-8.
"That's pretty impressive," Roth said.
Teams batted an anemic .210 when Downey was throwing, keeping the Bears in the game every time he pitched.
"Anytime it's under .250 it's pretty impressive," Roth said. "The ironic thing is I thought he'd be setting a few records, but I started looking at the records and we've got some pretty ridiculous stuff with the kids who have come through Olympia."
With his size, Downey, who is two inches taller than what he was last year as a sophomore, is often asked if he plays basketball. He'll smile, shake his head no and say, "Too much running."
Even as a kid, Downey has always been more attracted to throwing strikes than making a jump hook shot.
"Baseball was always what I was really into," said Downey, who has been playing baseball on a team since he was six. "Basketball, I never really got into it."
And from that first year when he began playing on a team 11 years ago, Downey has been a pitcher. He's used to being "the guy," the player who is on stage and makes every pitch.
"I'm pretty carefree and relaxed at this point. Nothing gets to me anymore," Downey said. "It's really hard for me to get angry on the mound. I'm just relaxed, chilled, calm and collected. That's the best way to go."
He's learned to ignore the double down the line or the infield error.
"No matter what happens to you, you've pretty much got to laugh it off and go at it again," Downey said. "You always have another chance."
He's learned there's nothing he can do about the error. His focus is the next pitch. Downey is quiet intensity on the mound, but there are moments he can't contain his enthusiasm. In a tight game against South Kitsap this season, Downey pumped his fist after getting a strikeout.
"He gave what I call a Tiger Wood's fist pump sort of deal," Roth said. "That's the thing I want to see. As a coach, you know it's there. He's so even keel – not too up, not too down. That's what we talk about, especially on the mound. We really preach, and Coach (Todd) McDougall used to say this, no emotion."
Downey's high school season is over for this spring. But his summer league team with the Olympia Legion is about to begin. The quest for that college scholarship continues. Despite his size, his all-league stature and his stingy ERA, Downey's phone hasn't been ringing off the hook with every D-I coach on the west coast calling. But Roth said that day still might come.
"He's on the radar for it, but no one has knocked down his door, which I'm surprised at," Roth said. "The potential is there."
Roth remembers Adam Conley, a former pitcher for the Bears who went on to pitch for Washington State University and is now pitching for the Miami Marlins, not getting a D-I offer until his senior year.
"Adam didn't get looked at until the summer between his junior and senior year," Roth said. "Derek is going to get looks."
And it's pretty certain he'll get his strikeouts, too.